7 Things to Consider When Selecting Spartan Vs Bad Boy Mowers
If you're in the market for a new lawn mower, you may be wondering whether to choose a Bad Boy or Spartan mower model.
Both brands offer a range of mowers with different features like- engine capacity, transmission system, suspension, and other specifications.
Thus, it's important to compare them side by side to choose the best one for your needs. Continue reading to learn more about their full comparison_
Quick Spec Comparison Chart: Bad Boy vs Spartan
Check out the distinctions through their specs-
| | | |
| --- | --- | --- |
| Specifications | Bad boy Mowers | Spartan Mowers |
| Cutting Width: | 42" – 54" | 54" – 72" |
| Horsepower: | 18 – 26 HP | 21.5 – 40 HP |
| Top Speed: | 8 miles per hour | 8.5 -12.5 miles |
| Fuel Tank: | Up to 8 gallons | Up to 11 gallons |
| Cutting Height: | Up to 4" tall | Up to 6" tall |
| Ground Speed: | 2.8 – 4.8 miles per hour | Up to 2.7 miles per hour |
| Warranty: | 3 years | 5 years |
Quick Company Overviews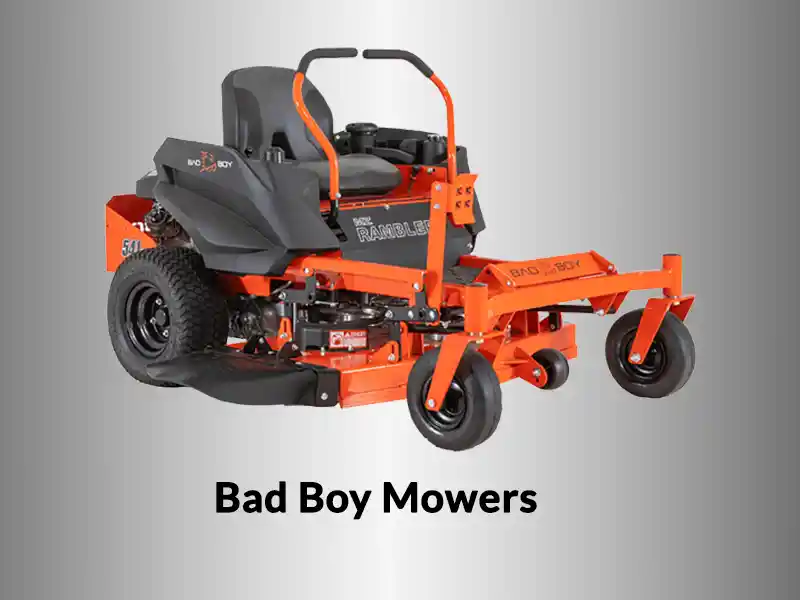 Bad Boy was established in 2002 in the Ozark Mountains with only 20 employees.
That same year the company launched its first mower model at the Lawn and Garden Expo event in Louisville, Kentucky. Even that model won the Product of the year title at the 2002 Expo event. Read the full timeline behind the success of Bad Boy company!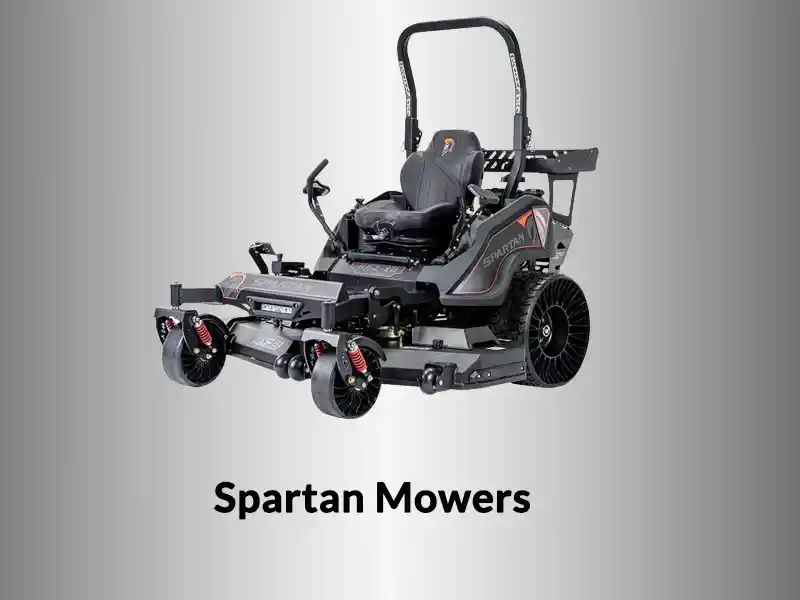 In 2013, Robert and Becky Foster, a newlywed couple with a vision of making the best side-by-side founded the Intimidator Group in Batesville, Arkansas.
They officially launched the first Spartan model in 2015 at the GIE+Expo event in Louisville, Kentucky. Learn the whole story of Spartan mowers' legacy.
Related Post: Bad Boy Mower Deck Problems (Troubleshooting Guide)
Differences Between Bad Boy And Spartan Mowers Based on Their Features:
Check out the detailed comparison based on their feature:
1. Bad Boy High-performance Engines Vs. Spartan High-Capacity Air-cooled Engines:
Bad Boy engines are a series of air-cooled high-performance racing engines.
These engines are designed for drag racing and have a unique two-valve design to create more power and consume less fuel than standard engines.
They are available in various sizes from 4.8 liters up to 8.2 liters and are suitable for a wide range of applications.
Spartan Mowers are engineered with powerful air-cooled engines. They are available from 18 up to 40 horsepower and 427 up to 689cc capacity.
These are especially ideal for maintaining larger yards or lawn spaces.
However, these are a bit more expensive than Bad Boy engines.
Spartan mower engines are ideal if the job consists of handling lots of tough mowing jobs. Bad Boy engines are more like a cheaper option compared to Spartan.
2. Belt-driven Transmission System Vs. Hydrostatic Transmission System:
Bad Boy mowers are equipped with a belt-driven transmission system, that is known for its durability and reliability.
This transmission system is available in both a manual and an automatic version.
It works better for smaller mowers because it's simpler to operate, more affordable, and requires less maintenance.
Spartan mowers feature Hydrostatic transmission. It's also available in manual and automatic versions.
This system offers superior performance and power over a wide range of speeds with smoother operation and greater control.
Spartans are better suited for larger engines, harder terrain, and larger yards with longer grasses. The Bad Boy is ideal for small to mid-sized yards with average-length grasses.
Related Post: Scag Vs Spartan: Selecting the Best Mower for Your Garden or Yard!
3. Coil-over-shock Suspension Vs. Hydro-pneumatic Suspension:
Bad Boy mowers are constructed with a coil-over-shock suspension design that uses springs to absorb impact and shocks. Several Bad boy models come with EZ-Ride® GEN2 3-Link Trailing Arm Suspension System.
This legendary off-road suspension pattern improves traction and hillside stability, allowing the mower tires to have more contact with the terrain.
Its innovative independent cast front iBeam suspension rails make each ride powerful yet pleasant.
Spartan mowers include a Hydro-pneumatic Suspension System that uses hydraulic fluid to absorb impact and reduces vibration.
The suspension system also includes adjustable shock absorbers, heavy-duty springs, and a reinforced steel frame.
It ensures fewer wear and tear issues on your mower. But it requires frequent adjustments and follow-ups.
It also improves traction and stability on rough terrains, allowing you to tackle the most difficult trails.
The Bad Boy suspension costs less and is easier to install. Yet, it lacks the supreme steadiness and control of Spartans.
4. Patented Wheel Drive System Vs. Advanced All-wheel Drive System:
The Bad Boy wheel drive system offers outstanding traction and stability over a wide range of terrain. Its exclusive Anti-scalping wheels are double-bracketed and even more rugged.
The improved baffling system and deep 5.5 inches cutting depth of this system create more lift.
It allows the mower to have greater discharge and a cleaner cut.
However, this wheel drive can be a little handful because these wheel drive systems are optimized for specific tire types. Therefore, you must use the proper tires, or they will not perform properly.
Contrarily, Spartans feature an advanced all-wheel-drive system designed for both off-road and on-road use.
It features a unique differential system that adjusts power delivery to each wheel.
This system also has adjustable suspension geometry, better ground clearance, and improved traction control for the best performance in difficult circumstances.
The Bad Boy wheel drive system is suitable for off-road use, while Spartan is ideal for off-road and on-road uses.
5. Bad Boy Vs. Spartan Cutting Deck:
The unrivaled strength of the Bad Boy cutting deck, robust all-welded 1/4″ steel structure, and 1/4″ welded skirt at the front edge provide legendary cutting performance on any terrain.
Bad Boy included a front chamber on the mower's sloped nose. It lets the grass stand straight before being sliced by the cutting blades, resulting in a more efficient and exact cut.
Spartans are designed with 7-gauge commercial-grade decks with Enhanced Xtreme Turf Flow Deck System that reduces vibration.
This cutting deck has a curved lip at the back that adds strength and eliminates hang-ups.
It also features a typical rubber chute to avoid debarking trees and solid anti-scalping wheels with greased jerks.
Spartan cutting deck delivers superior performance than Bad Boy. Even Spartan is more durable and lasts longer than Bad boy decks.
6. Bad Boy Vs. Spartan Mower Starter System:
Bad Boy mowers use a 24V electric start system with a 4-amp hour battery that powers the ignition and fuel systems of the engine.
The Bad Boy starter motor also has a solenoid and an override button to make it easy to start in any weather.
Spartan mowers feature a reliable 12V electric, including a heavy-duty solenoid and starter motor to start faster, even in cold weather.
The Spartan starter also has adjustable preload settings for easy starting and an overdrive setting for better fuel economy.
Since Spartan mowers feature 12 V and Bad Boy features 24V, Spartan mowers start faster than Bad boy mowers.
7. Revolutionary Steering Control System Vs. GT-trac Precision-controlled Steering:
Bad Boy Mowers are equipped with a revolutionary steering control system that provides ultimate precision and control.
This ergonomic, intuitive joystick control system offers easier maneuvering and operation. They also feature a dial speed control for better performance.
Spartan mowers are designed with GT-Trac precision-controlled steering and standard 24" rear tires.
This precision steering system provides responsive and precise handling. Spartans also have an easy-to-use dial speed control for better performance.
Spartan mowers feature a more traditional steering setup with a steering wheel, while Bad boy mowers feature a joystick-style steering setup.
Related Post: 7 Common Bad Boy Mower Transaxle Problems and How to Fix Them!
Bad Boy vs Spartan Mowers: Which One Is Better?
Spartan mowers have greater power, cutting speed and depth, entire control, and operating comfort.
Bad Boy mowers are well known for their performance, durability, and low cost.
But they will not provide the same amount of power, speed, stability, traction, control, and comfort as Spartan mowers. Bad Boy mowers are more like a cheaper alternative to Spartan.
If high-quality construction, high performance, and legendary comfort are what you prioritize the most, Spartan is the best choice.
Frequently Asked Questions (FAQs)
How frequently should the oil in a Spartan Mower be changed?
Every 100 up to 500 hours (about 3 weeks) of use.
Who are Bad Boy Mowers' rivals?
The top competitors of Bad Boy mowers are_
Exmark Mowers,
The Grasshopper Co,
Ariens Co, and
Schiller Grounds Care Inc.
How long do Bad Boy mowers last?
Every Bad Boy mower is designed & built to last long. They can last more than a couple of years if maintained accordingly.
Are Spartan and Bad Boy lawnmowers interchangeable?
No, they are not interchangeable because they're from two different manufacturers.
Which company makes Spartan mowers?
Schiller Grounds Care, Inc.
Related Posts: