Gravely vs. Hustler: Which Brand Offers the Best Deal?
Two renowned mower brands, Gravely and Hustler, have become well-known in the vast field of lawn care, where the appeal of well-kept landscapes flourishes.
The debate over "Which one is better?" continues between Gravely and Hustler in the never-ending search for the best mowing experience.
The best way to determine the final answer between two mower brands is to compare their common features, such as:
Engine efficiency,
Cutting quality,
Maneuverability,
Comfort ability, and
Affordability.
Instead of being confused by the differences between Gravely and Hustler, compare them with one another and decide which is best for your requirements.
What Are the Differences between Gravely vs. Hustler Mowers?
Check out the thorough comparison of these two well-known mower brands based on their distinctive features and qualities:
1. Gravely vs. Hustler: Engine Capacity & Performance:
Gravely mowers are renowned for their durable and dependable engines that provide outstanding performance in a variety of mowing tasks.
To power their mowers, they use engines from well-known manufacturers like Kawasaki, Kohler, or Briggs & Stratton which enables them to roar to life and handle 14.5 – 38.5 HP.
For instance, the Kawasaki® FS600V engine in the Gravely PRO-WALK® 48 has 18.5 horsepower. Even in difficult mowing settings, the engine's torque output and the mower's large cutting deck enable precise and effective cutting.
Also, V-twin engines are one of the ways Gravely mowers gain their reputation for powerful performance. Consider the engine as the mower's beating heart; the V-twin arrangement gives it an extra burst of energy.
Hustler mower powers most of its mowers with:
Kawasaki FR Series
Briggs & Stratton 810cc Commercial Series , or
Kohler7000®Series™ engine models.
However, walk-behind and zero turn mowers from Hustler typically use engines like:
Kawasaki FS Series,
Kohler Command Pro CH270 or
Briggs & Stratton 875 Professional Series
Typically, the 10.5 to 40 horsepower (HP) range represents the power output of the engines utilized in Hustler mowers. With this power range, it is possible to mow effectively over a variety of surfaces and grass types.
Raptor XDX from Hustler is an instance that is powered from 21.5 to 25 HP by Kawasaki engines. Because of the mower's zero-turn capability and engine power, it is possible to mow around landscaping features and obstacles with speed and accuracy.
Nevertheless, since the available engine options might vary based on the exact model and the customer's preference, not all Hustler mower models might have V-twin engines.
Related Post: Who Makes Hustler Mowers? Detailed Brand Information
2. Gravely vs. Hustler: Cutting Performance: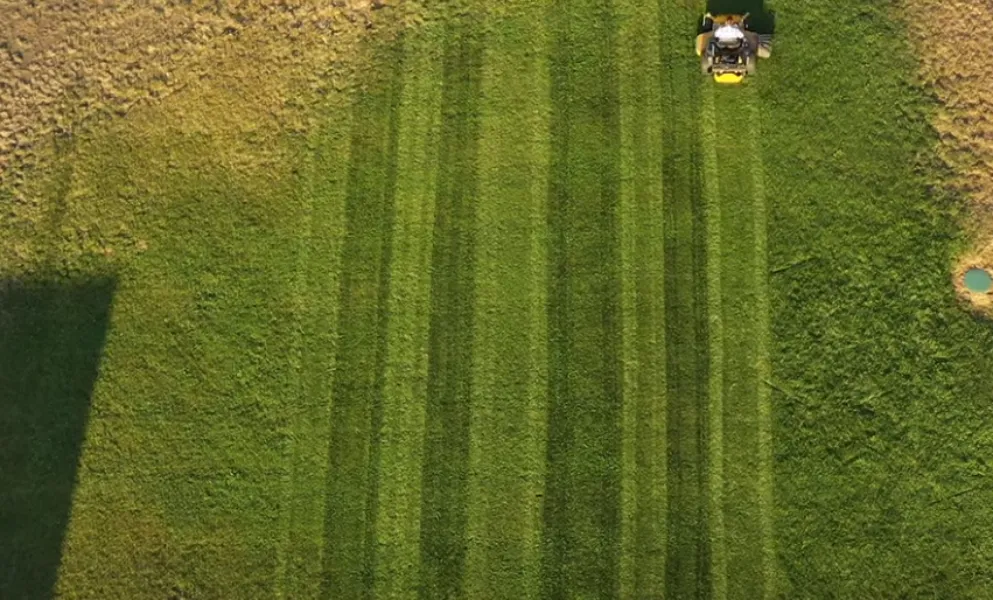 Gravely equips each model in its series with a unique cutting system to satisfy various mowing requirements, including:
The "X Factor II" cutting technology is a reliable and effective feature of the Gravely ZD HD Series. It has a strengthened leading edge and constructed steel deck, which promotes longevity.
Pro-Turn ZX series employ the "EZ Lift Deck System." The equipment has a foot-activated deck lift that enables users to quickly change the cutting height while in use.
The Pro-Walk series of walk-behind lawn mowers features a cutting technology called the Pro-Walk Gear Drive. To provide dependable power to the cutting blades, this system combines a tough gearbox with a belt drive.
To boost strength and protection during mowing, Gravely mower decks are built with anti-scalp wheels. The standard range for decks of Gravely mowers is 34 to 72 inches.
On the contrary, The "HyperDrive" mechanism is the primary cutting technology used in Hustler lawn mower designs. The HyperDrive cutting system includes a number of essential components, including
The VX4 deck or Velocity X4, which is made of sturdy materials and has a welded steel design.
Height-of-Cut Adjustment.
Blade Technology.
Hustler mowers are suitable for household, commercial, and professional applications thanks to the HyperDrive cutting system, which also guarantees a high-quality cut over a variety of grass species and terrain conditions.
In order to ensure a clean and even cut, the XR-7 deck system for Hustler zero-turn mowers offers the best airflow for effective grass cutting and discharge.
Hustler mowers' deck size ranges around 34 to 104 inches.
3. Gravely vs. Hustler: Overall Control & Maneuverability:
Pneumatic wheels, which are inflated with air to cushion the ride and improve traction, are frequently found on gravelly mowers.
Additionally, Gravely mowers can maintain grip while minimizing lawn damage due to the unique tread pattern of turf tires.
Furthermore, the Suspension Seat and Adjustable Deck Suspension on the Gravely mowers provide for comfort and an enhanced user experience.
On the other hand, users will discover the Flex Fork Deck Suspension System on the Hustler Raptor SD, Raptor Limited, and FasTrak SDX mower series.
The Flex Forks system makes use of adaptable front caster forks that increase suspension and ride quality while minimizing the effects of uneven terrain and rough terrain.
According to the preferences and the conditions for mowing, operators can adjust the suspension settings to stiffen or soften the suspension system.
To deliver the best performance and longevity, Hustler tires are carefully designed. The tires' sturdiness and future are guaranteed by outstanding rubber formulations and building techniques.
4. Gravely vs. Hustler: Durability & Reliability:
Gravely is known for its advanced engine technology, such as:
Kawasaki FX and FT Series Engines,
X-Factor® II Deck Engines,
EFI (Electronic Fuel Injection),
Pro-Turn® 400 Series Engines
Together, these engine technologies allow the mower to cut through thick or tall grass with ease, producing cleaner, more precise cuts.
Also these engines' torque makes sure that the blade speed remains constant, enabling even cutting across diverse terrains.
Similarly, Hustler mowers also come with several advanced technologies, such as:
VX4 Deck and the HyperDrive System,
SmoothTrak™ Suspension or Flex Forks,
Hydrostatic Drive System, and
EFI (Electronic Fuel Injection) to ensure reliable performance, offer smooth operation, and improve fuel efficiency.
The engines for Hustler mowers are built to resist the demands of heavy use and tough mowing conditions, providing dependable operation for a protracted period of time.
Also, the advanced air filtration and cooling techniques contribute to the protection of the engine and its increased lifespan.
Gravely vs. Hustler: Pricing Comparison
| | | | |
| --- | --- | --- | --- |
| Gravely | Price | Hustler | Price |
| PRO-TURN® Z | ($7,499 – $ $7,799) | Raptor Series | $4,149- $6,449) |
| PRO-TURN® 100 | $10,749 – $11,149) | Hustler Super Z Series | ($28,299 – $32,999) |
| ZD HD Series | ($6,399 – $7,399) | Super S | ($10,199-$17,999) |
| COMPACT-PRO® Series | ($7,999 – $8,299) | FasTrak | ($$7,899-$18,799) |
| PRO-WALK® | ($7,299 – $8,899) | TrimStar | ($6,799- $8,299) |
Gravely vs. Hustler – Which Is Right for You?
Both brands offer fantastic choices to their customers. Nevertheless, studies show that experts consider Gravely mowers over Hustler mowers for their professional tasks.
For severe mowing circumstances, professionals need mowers that can withstand heavy use. Gravely mowers are renowned for their sturdy construction, which includes durable frames and top-notch parts.
Because of their strength, Gravely Mowers can handle the demanding burden of professional tasks and deliver dependable performance for a long time.
Furthermore, their cutting systems are built to easily manage an array of lawn forms and thicknesses, resulting in an even and appealing appearance.
Professionals can select multiple cutting widths, engine configurations, and extra features from Gravely to match their unique needs.
The usage of either of these two brands, however, will ultimately depend on personal preferences and requirements.
So, before comparing them, it's important to take into account the kind of lawn you have, the unique characteristics, and your needs.
Related Post: John Deere Vs Gravely: Which Is The Better Choice?
Gravely vs. Hustler – FAQs
When should you change the oil in your Gravely zero-turn mower?
A brand-new Gravely zero-turn lawn mower requires a transaxle oil change after the first 75 hours of use, but only once every 400 hours after that.
What is the maximum speed of a Gravely zero-turn mower?
With a top speed of 9 mph, the Gravely zero-turn mower will help you rapidly cut the lawn.
When should you sharpen the blades of the Hustler mowers?
It would be a good idea to sharpen the blades at the start and somewhere in the midst of the season.
Is it possible to use Hustler mowers on hills?
Hustler mowers can operate on a variety of surfaces, including slopes and hills.
Related Posts: