Scag vs. Toro Zero-Turn Mowers: 5 Key Differences
Scag Power Equipment and Toro are the two most popular and well-respected names in the lawn care industry. They offer some of the most reliable and sturdiest zero-turn mowers that make lawn or yard maintenance fun and quick.
However, features like Engine type & capacity, deck structure & quality, suspension system, cutting performance and others state the key differences between Scag and Toro mowers.
Keep reading the following article to learn more about the 5 main differences between Scag and Toro.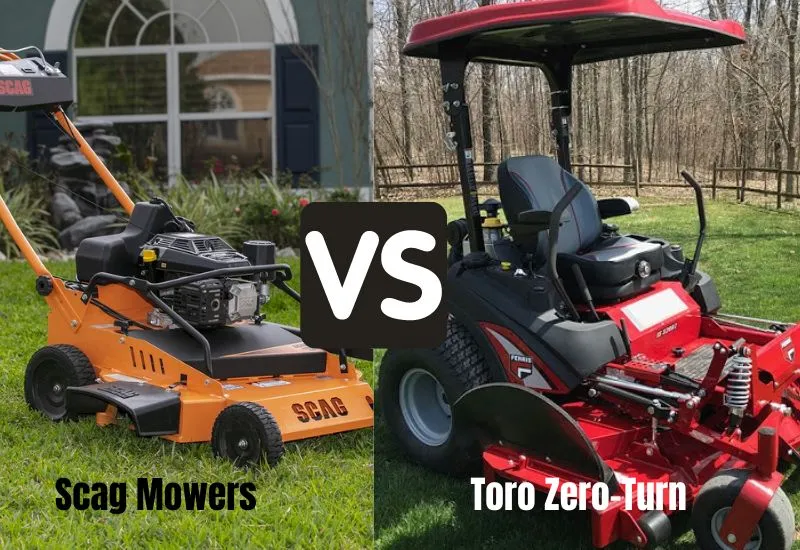 Quick Spec Comparison Chart: Scag vs Toro
Check out the distinctions through their specs-
| | | |
| --- | --- | --- |
| Specifications | Scag Zero-turn Riding Mowers | Toro Riding Lawn Mowers |
| Displacement: | (160 – 725) cc | (18.5 – 26.5) cc |
| Available Deck Sizes: | 36 up to 61 inches | 48 up to 70 inches |
| Horsepower: | 11 – 25 HP | 16 – 24 HP |
| Top Speed: | 12 mph | 12 mph |
| Fuel Tank Capacity: | 3 to 6 gallons | 2 to 5 gallons |
| Deck Material: | 10-gauge steel or 7-gauge steel/aluminum hybrid | 10-gauge steel or 11-gauge aluminum |
| Cutting Heights: | 1″ – 5″ | 1″ – 4″ |
Quick Company Overviews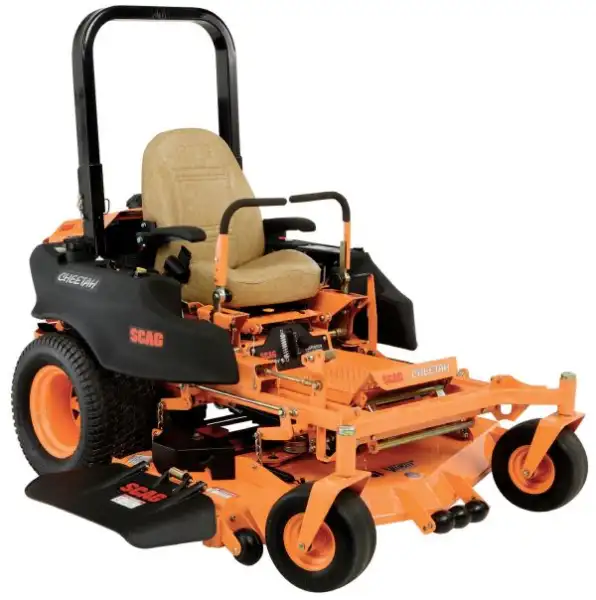 Scag Power Equipment was established in 1983 under Metalcraft of Mayville and started its manufacturing journey from its first production plant located in Mayville, Wisconsin.
But in 1986, Metalcraft entirely acquired Scag Power Equipment. Read the full story of how Scag became one of the largest commercial mower manufacturers in the USA.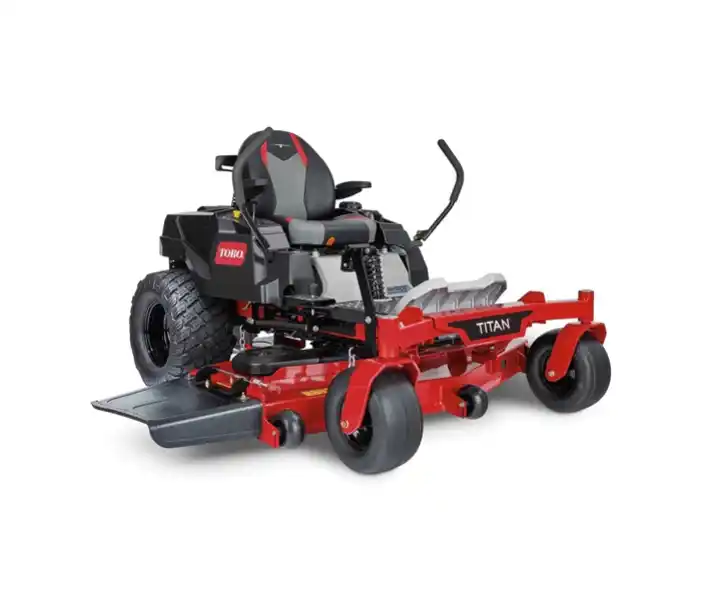 The Toro company was founded on 10th July 1914 with the vision of making engines for the United States number 1 tractor firm.
Toro launched its first power mower in 1924. But Toro officially entered the lawnmower business in 1948 with its Whirlwind Company acquisition. Read the entire Timelines of Toro Motors.
What Are the Differences Between Scag Vs Toro Zero-turn Mowers Based on Their Features?
Check out the detailed comparison between Scag and Toro based on their features_
1. Scag Vs Toro Engine Type, Efficiency & Performance:
Most Scag models are powered by Kawasaki, Kohler, or Briggs Vanguard engines.
However, some Scag gas-powered models are equipped with either Kubota Diesel or Kohler propane engines.
Most Scag models have horsepower between 11 HP and 25 HP. But some high-end Scag models, like the Scag Cheetah mowers, feature air-cooled engines with 27 up to 37 HP.
They are highly capable engines and meet EPA emission standards. Most Scag mowers have up to 20% fuel efficiency rating, and the tank can hold 3 to 6 gallons of fuel.
On the contrary, Toro has powered most of the zero-turn mowers with a wide range of Kawasaki and Kohler engines.
These engines have 16 to 24 horsepower. Even the fuel tank can take a minimum of 2 to 5 gallons depending on the model.
These engines also meet EPA emission standards, and most Toro engines have up to a 15% fuel efficiency rating.
Which Has Better Engine Efficiency & Performance?
Scag mowers come with larger reliable engines that offer more power and torque. That means if you need a more powerful option, Scag will be perfect and will last longer too.
But if you are looking for a mower that won't consume too much fuel and will be more fuel efficient, you should go for Toro.
2. Scag Vs Toro Deck Quality:
Scag has designed all its mowers with Velocity Plus™ Cutter Deck, which provides unsurpassed power, accuracy, and performance to meet the demands of professionals.
These Scag® cutter decks are designed with massive openings and a redesigned cutting chamber. That's why they can deliver high-velocity discharge and precise cuts at faster ground speeds.
These decks are available in 48", 52", 61", and 72" widths ranges. They not only provide greater cutting performances, but they also ensure maximum clipping distribution in any condition.
Contrarily, Toro mowers are constructed with its exclusively patented IronForged® Decks that are built to last longer than usual.
These IronForged® Decks feature a 10-gauge High Power fabricated steel deck shell, reinforced leading edge throughout the deck, huge 6-inch spindles, and belts supported with bulletproof material.
Toro cutting decks are available in 30-inch to 60-inch width ranges. But some larger models, like the Toro ZX700, come with a massive 70-inch cutting deck.
They are also designed to deliver smooth and even cuts while reducing vibration and noise. That means they offer top-level reliability and performance without generating excess noise disruptions.
Which Features Better Cutting Deck Options?
Both offer high-quality constructed cutting decks to ensure optimum cutting performance. So, none of them will disappoint you much in performance.
Toro is a good option if extra noise and vibration get into your nerves easily.
3. Scag Adjustable Suspension Vs Toro Rear Suspension System:
Most Scag Zero-Turn mowers feature an adjustable suspension system. That means you can customize it according to your need to make the ride more comfortable.
The Scag suspension system includes a coil spring, shock absorber, and an anti-sway bar for improved performance.
This suspension also has adjustable preload settings for adjusting the ride for different conditions. It will make riding more comfortable and smoother, even in the most difficult terrain.
Toro has designed its mower models with its patented MyRIDE® Suspension System. This system features a suspended, fully floating rear and front shock-adjustable operator platform.
Toro rear-wheel suspension system is designed to provide excellent traction and stability on uneven, sloppy, or bumpy terrain.
Which Suspension System Performs Better?
Both suspensions can handle most terrains, but you will have the customization facility only with the Scag suspension.
The Toro mower might be a better option if your yard has a lot of bumpy or uneven terrain.
4. Scag Vs Toro Strength & Productivity:
The tough cutter-blade spindles and Tri-Plate construction of the Scag mower provide solid performance and long life.
Also, the replaceable trim-side wear pad protects the deck from damage, and the maximum clipping distribution facility ensures maximum productivity.
However, Kevlar® has designed the spindles, blades, and deck belts for Toro mowers to maintain the durability of professional applications.
So, you will also get reliable performance from Toro mowers.
Which One Is Better?
Scag mowers offer better strength and productivity than Toro due to their additional features.
5. Scag Vs Toro Cutting Speed, Maneuverability & Customization Facility:
Most Scag mowers can easily reach up to 10 mph. But Toro mowers can only reach up to 8 mph even though they claim to reach 12 mph.
Due to their optimized designs and enhanced power, Scag mowers deliver improved cutting efficiency with less time spent on cutting grass.
Toro mowers feature advanced technology, like Smart speed control and auto turn radius adjustment for better maneuverability. Since these mowers are lighter, they are more flexible in reaching the tightest spots.
Scag Custom-Cut™ Front Baffle System lets you customize the deck according to your preference to increase productivity and overall mower performance.
Such a customization option is not available with Toro zero-turn mowers.
Which One Ensures Maximum Cutting Experience?
Scag mowers have can cover more ground in a shorter amount of time and have customizing options. But Toro will provide better maneuverability.
Scag vs Toro Zero-turn Mowers: Which One You Should Choose?
Both Scag and Toro mowers are built with high-end components and advanced technology to ensure high-end performance.
However, Scag mowers are excellent for those seeking more power, strength, speed, and productivity. Scag mowers even save time by covering more ground in a shorter span.
But when you need more to handle the roughest terrains and extreme conditions, Toro mowers will be more effective.
Also, Scag mowers tend to be more expensive than Toro. Thus, if you have a budget limitation, you should choose Toro over the Scag models.
Frequently Asked Questions (FAQs)
Is Toro powered by Honda engines?
Some of the Toro Walk behind Self-propelled models are powered by Honda engines.
Who manufactures Scag mowers?
Metalcraft of Mayville, Inc.
Is Scag a company based in the United States?
Who acquired Scag mowers?
Related Posts: