Kohler vs Briggs vs Kawasaki vs Honda Mower Engines– Which Engine Should You Choose?
Kohler, Briggs & Stratton, Kawasaki, and Honda are the most well-recognized brands for offering an exceptional range of mower engines. But what if you must choose only one brand's engine from them?
Factors like each brand engine's durability, reliability, performance, efficiency, compatibility, and comfort indicate the real difference between them.
Thus, if you cannot decide between Kohler vs Briggs vs Kawasaki vs Honda engine brands, continue reading the article to comprehend their differences in detailed.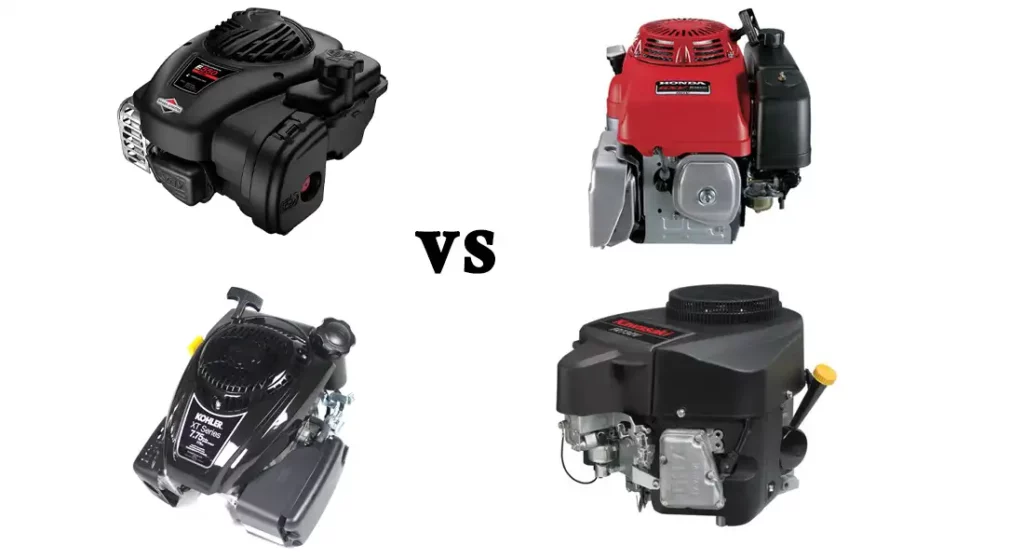 Quick Company Overviews
Kohler:
In 1873, John Michael Kohler II founded Kohler company but began engine manufacturing in the early 1920s. 
Kohler started producing and marketing small engines in 1948. However, the company diversified into the lawn and garden industry in the 1990s. Continue reading the full timeline.
Briggs & Stratton:
In 1908, inventor Stephen Foster Briggs and investor Harold M. Stratton joined their alliance to establish Briggs & Stratton Corporation. But the company began manufacturing engines for agricultural and military applications in 1920.
The first Briggs lightweight aluminum engine was developed and introduced in 1953. Learn more about Briggs & Stratton.
Kawasaki: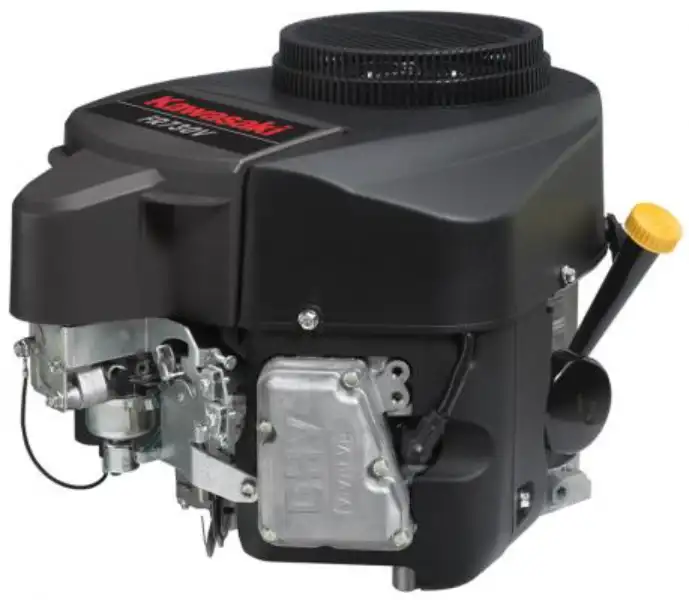 Shozo Kawasaki initially founded a shipyard, which has gone through numerous diversification phases and became today's Kawasaki Heavy Industries Group. Kawasaki engines are also a part of this Kawasaki Group. Check out this video to learn more.
Honda: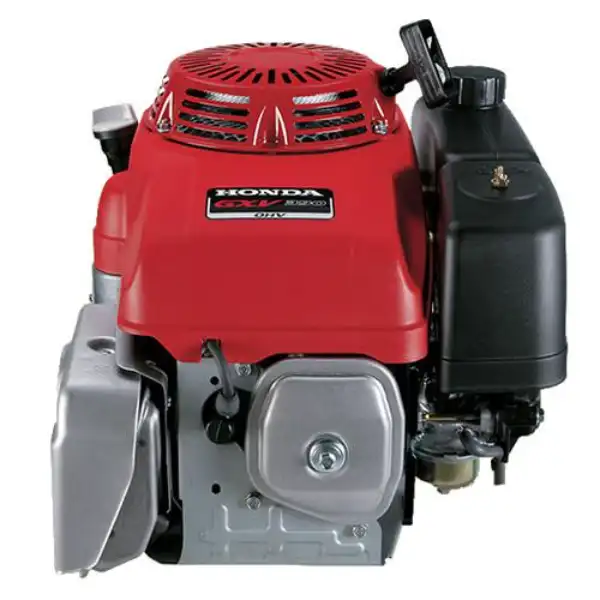 Honda was formed in 1948 in Hamamatsu, Japan, and opened its first U.S. storefront in 1959 in Los Angeles, CA.
Honda started as a small enterprise with eight hardworking employees but swiftly expanded to incredible heights. The first Honda walk-behind lawn mower was introduced in August 1978. Learn more about Hona Heritage.
Kohler vs Briggs vs Kawasaki vs Honda Engine: What Makes the Difference?
Here are the five primary traits that distinguish the four most popular lawn mower engine brands_
1. Starter System & Maneuverability:
Kohler: The Kohler Engine Starter System (KESS) is an advanced, self-contained starter system. It is designed for a dedicated and efficient starting experience.
But they can be challenging to start in certain situations, especially in cold or snowy weather.
Kohler engines offer better maneuverability due to their smaller size and lightweight construction.
Briggs and Stratton: The Briggs & Stratton starter system is a dependable and easy-to-use system. This is designed to start lawnmowers quickly and easily.
Most Briggs engines are smaller and lighter than Kohler engines, making them easier to maneuver. They are also easy to start in cold weather.
Kawasaki: engines offer a good balance between power and agility. While being simple to start in cold weather, they may not give superior mobility to Briggs or Kohler.
Honda: engines are also easy to start and work great on different terrains. But they may require more effort in rough or extreme weather conditions.
Kohler and Briggs & Stratton engines are known for their easy starting capabilities.
2. Durability & Reliability:
Kohler: designs all engines with high-quality construction and durable parts to ensure a longer life span.
Briggs and Stratton: engines feature premium packages and provide better durability and longevity.
Such as_ 
Full Pressure Lubrication System, 
Advanced or Cyclonic Debris Management, 
Super-Finished Crank Shaft,
Premium Oil, and
Fuel Filters.
Even their iron cast sleeve resists wear and abuse for extended durability. This feature also guarantees improved oil control and ensures less waste.
Kawasaki: make engines that withstand the toughest conditions and provide long-term performance. Kawasaki uses premium components and advanced technology for maximum power, efficiency, and longevity.
Honda: engines tend to be versatile, equally durable, and reliable. Honda even has some models that last longer than most top-branded engines cannot.
In general, Kohler and Briggs engines tend to offer better durability and reliability than Kawasaki and Honda.
3. Performance & Efficiency:
Kohler: has vertical-shaft and horizontal-shaft engines. These engines are used in various applications, from lawn tractors to pressure washers.
Kohler uses an advanced debris management system or a streamlined air intake system. These features reduce emissions and increase their performance levels.
Briggs and Stratton: also have long-lasting horizontal-shaft and vertical-shaft engine models. These engines also provide more power output than equivalent models from other brands.
They also feature an advanced debris management system or a streamlined air intake system. These features reduce emissions while increasing performance levels.
However, Briggs engines tend to consume more fuel than Kohler's models.
Kawasaki: is one of the top commercial-grade engine manufacturers. Kawasaki engines feature advanced features, such as fuel injection systems & high compression ratios. These features guarantee their improved efficiency and performance.   
Their OHV (Overhead Valve) technology helps enhance combustion efficiency. Also, the electronic spark ignition system ensures reliable starting in any weather condition.
Honda: engines feature advanced combustion system designs that help to lower emissions. Also, it delivers greater output power than most brands' engines.
Honda engines also feature either electric start capability or automatic decompression. These features provide higher performance and improved efficiency.
Honda and Kawasaki are known for their superior performance and fuel efficiency.
4. Compatibility To Power Other Brands Mowers:
Kohler: has a broad range of engine models dedicatedly designed for most residential and commercial grade mowers.
That's why Kohler engines are also used to power other brands' (Craftsman, John Deere, Poulan, & Toro) mowers.
Briggs and Stratton: also offer a wide range of engine models used in other brands like– Craftsman, Husqvarna, and Poulan to power their mowers.
Kawasaki: Kawasaki engines are used in powering several Husqvarna lawn mower models.
Honda: Honda engines are also compatible with a few mower models but cannot win against Briggs & Kohler.
Kohler and Briggs offer a better range of engine models that are compatible with mower models of other top mower brands.
5 .Quiet & Comfortable:
Quiet:
Honda and Kawasaki engines are known for being the quietest. Kohler and Briggs engines are also tolerable and relatively quieter than several other brands' engines. But not as much as the other two brands.
Comfortable:
Kohler and Briggs & Stratton both design their engines to be comfortable during rides. So, you will experience smooth operation and low vibration with Kohler and Briggs models.
Honda and Kawasaki engines are equipped with noise or vibration-reduction technology and other additional features to guarantee smooth and comfortable operation. But only particular Honda and Kawasaki engine models can provide such a quieter and smoother experience in every ride.
Kohler vs Briggs vs Kawasaki vs Honda – Which Engine Should You Choose?
Kohler engines offer easier start and better mobility to handle tough mowing jobs.
Besides durability and power, if you also need easy-to-start and maintain options, Briggs engines will be perfect.
For better fuel efficiency and reliability, Honda engines are a great choice.
Kawasaki engines have enough speed and power to get the job done as quickly as possible.
Remember, any brand's engine durability, reliability, performance, efficiency, compatibility, and offered comfort can be determined by its particular design, quality of materials, and additional components.
Frequently Asked Questions (FAQs)
Which engine is better Kohler or Kawasaki?
Kawasaki mower engines produce more horsepower and have a greater top speed than Kohler engines. That's why if you must choose between Kohler and Kawasaki engines, Kawasaki will be better for commercial applications.
Who makes the most efficient small engines for mowers?
Honda is still the best for producing the most reliable small engines.
Are Honda engines better than Briggs & Stratton mower engines?
Honda commercial and consumer-grade engines are not better than Briggs & Stratton commercial models.
Where do Kawasaki engines come from?
They are assembled from the USA-based factory of Kawasaki.
What caused Briggs and Stratton to decide on discontinuing?
Financial difficulties the corporation has faced as a result of the coronavirus pandemic.
Related Posts: