Exmark vs Ferris Mowers: The 8 Key Differences
Exmark and Ferris are the two most famous lawn or garden care tool brands. Both brands offer unique mowers with special benefits that make them stand out from the rest. But Exmark Vs Ferris: what makes them different?
Engine type, cutting performance, Suspension technology, ECS, pricing, original parts availability, and other features state the obvious differences them.
The following article compares and contrasts these two mower brands. So that you can choose the best among them.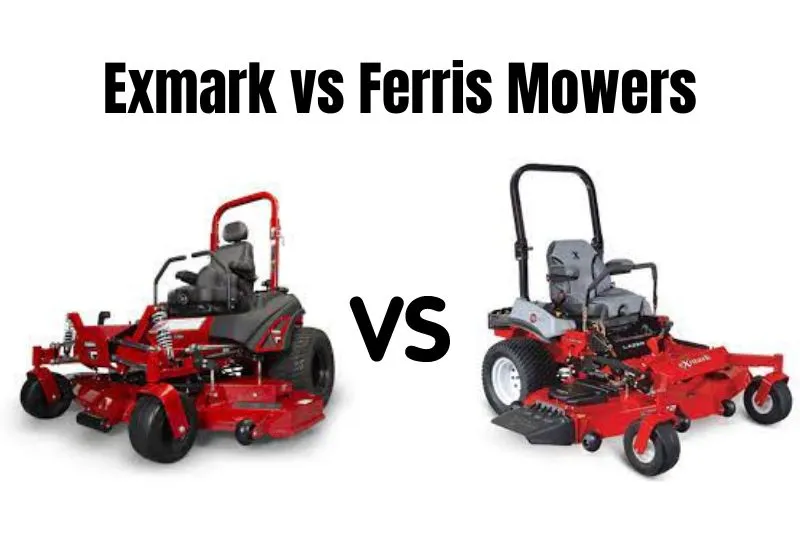 Exmark vs Ferris: Quick Comparison Table
Check out the difference through their specs-
| | | |
| --- | --- | --- |
| Specifications | Exmark Mowers | Ferris Mowers |
| Fuel Type: | Gas Carbureted | Electric & Diesel |
| Engine Options: | Kohler or Kawasaki | Kawasaki or Briggs & Stratton |
| Horsepower: | 23-27 HP | 21.5-48 HP |
| Available Deck Sizes: | 48 up to 60 inches | 48 up to 72 inches |
| Deck material: | 7-gauge steel | 10-gauge steel |
| Starter | Solenoid | Electric |
A Quick Brand Overview:
Based in Gage County Industrial Park in Beatrice, Exmark has more than 35 years of experience. But Exmark started its independent manufacturing journey in May 1982 with seven employees.
Emark added a commercial zero-turn and riding mower lineup in 1987 due to rapidly growing demand and competition. Read the full timeline history of Exmark.
Ferris was formed in 1909 but started manufacturing commercial mowers in 1986. It introduced its first patented hydrostatic drive walk-behind mower in 1987.
In 2000, Ferris company introduced its first Zero-turn mower family and achieved the tittle of Commercial Mower Specialist™ in the industry. Check out the entire timeline history of Ferris.
Related Post: Exmark 708cc Engine Problems: DIY Fixes Explained!
Exmark Vs. Ferris Mowers: What Makes the Difference Based on Their Features?
Let's compare these two mower brands based on their features and specialties.
1. Single Cylinder & V Twin Vs. Vanguard® EFI & ETC Engines: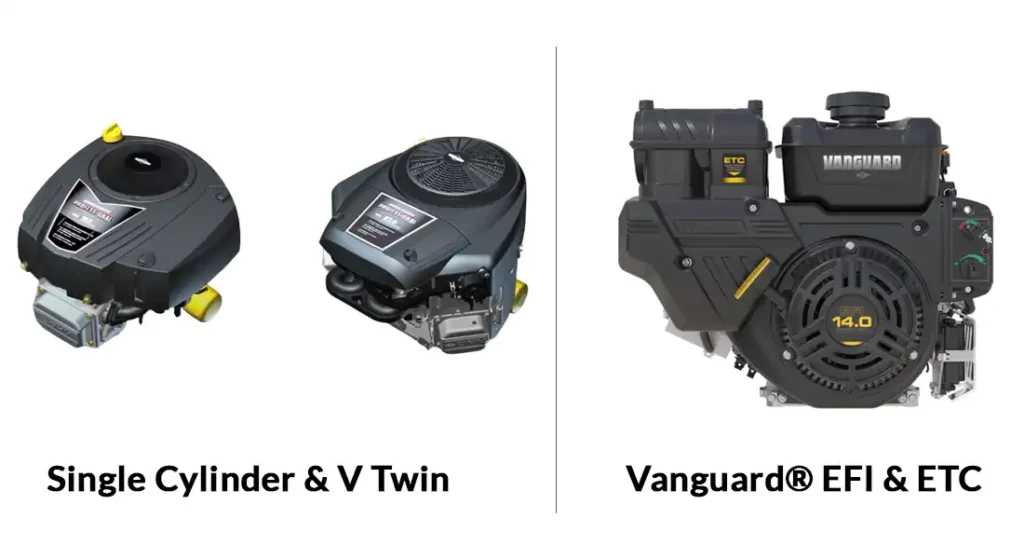 Exmark offers two types of engine options:
Single cylinder (452cc) and
V Twin (708cc) engines.
But Ferris offers Vanguard®
Electronic Fuel Injection (EFI) &
Electronic Throttle Control (ETC) engines.
Now the question is, which one is better?
The Exmark single-cylinder engine is lightweight and easy to maneuver. So, it is ideal if your yard requires a lightweight mower to push through and reach most tight locations.
If it's a larger yard and you need a lot of torque and power, opt for the Ferris Vanguard EFI or ETC engine mower.
In terms of power and emission levels, Exmark V twin engines exceed Vanguard engines. Even they run cooler and cleaner than the Ferris Vanguard engines.
2. UltraCut Flex Vs. iCD™ Cutting System:
Exmark mowers are equipped with UltraCut Flex adaptable and adjustable cutting system. This system uses lasers to cut through wood, metal, and plastic precisely. The bonus benefit is it is adaptable and adjustable according to your cutting need.
On the other hand, Ferris mowers feature an exclusive iCD™ Cutting system. This cutting system uses a plasma torch to cut and is more suitable for cutting thicker materials quickly.
Both cutting systems are popular and powerful.
But you will get more robust and faster cutting experiences from Ferris.
3. Patented Suspension Comfort System™ Vs. Multi-Patented 3-Wheeler Suspension System™:
Exmark mowers feature Suspension Comfort System™, independent shocks, and springs for smoother rides. Also, feature Smart Ride Technology™ to reduce fatigue during long mowing sessions.
But Ferris features a 3-wheeler Multi-Patented Suspension System™
Perfect for uneven turfs.
Offers more consistency during mowing.
Provides superior comfort, stability, and traction
More mowing efficiency.
Exmark and Ferris both design their mowers with advanced suspension technologies.
So, when your yard has uneven turfs, choose a Ferris mower for more stability, traction, and comfort.
4. Exmark Vs. Ferris Enhanced Control System (ECS):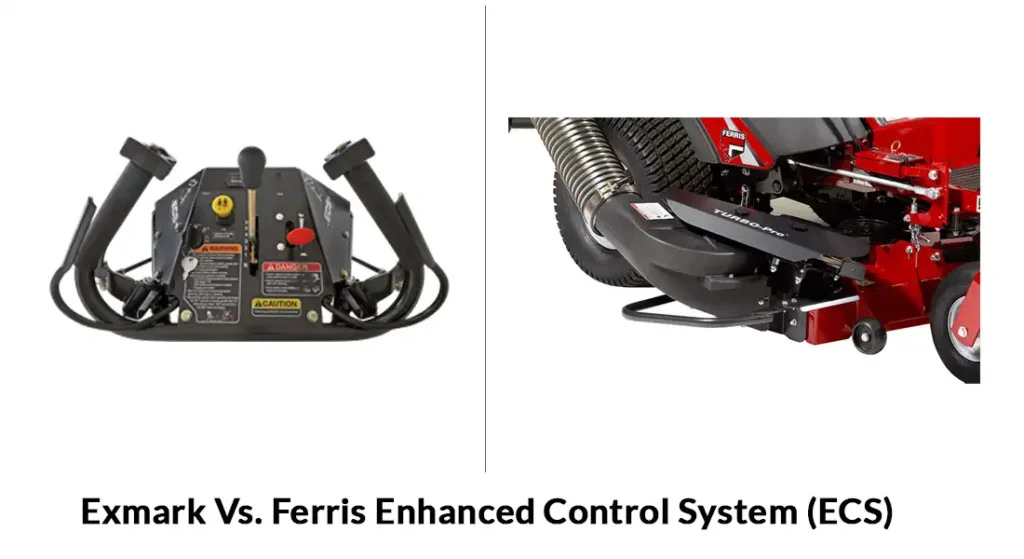 Exmark has installed its patented Enhanced Control System (ECS) in its walk-behind mowers. Even helps protect the hands of the user from hitting objects that stick out.
It reduces fatigue while lowering vibration. Also, allows you to work with greater comfort and less arm stress.
Ferris mowers feature Enhanced Control System that provides_
Better control,
Higher flexibility and
Increased productivity.
So that mower can deliver improved performance with increased efficiency and leading productivity. Ferris mowers can adapt according to needs without compromising on quality or performance.
If your work needs more flexibility and control than a traditional control system, the Ferris mower will be more effective.
5. Technology Onboard Intelligence Platform (RED) Vs. Vanguard Oil Guard System:
Exmark has included RED Technology Onboard Intelligence Platform in its several models. This exclusive platform provides users with real-time data on their mower's performance.
Also, keeps the user updated about their mower's
Engine speed,
Blade tip speed, and
Fuel consumption.
It also allows users to track and adjust their mower settings remotely.
Ferris mowers have the Vanguard Oil Guard System-
A fully automatic oiling system that offers extended oil change intervals.
Uses sensors to observe the oil levels of your mower engine
Automatically dispenses oil when needed.
It ensures increased productivity, more cutting time, easier maintenance, and reduced servicing costs.
Exmark does not have the Oil Guard feature, but it does offer 500 hours of oil change intervals, as does Ferris. It also has the RED platform, which keeps you informed about the health of your mower.
6. Exmark Vs. Ferris Affordability:
The Exmark entry-level mowers are available from $2,000 and can go up to $4,500 for the advanced models.
Exmark commercial-grade mowers range in price from $5,500 to $10,000 for wider cutting decks, air suspension systems, and LED lights.
The entry-level Ferris mowers are available at around $2,500 and its advanced models range up to $4,500.
Ferris commercial-grade mowers start at $5,500. But can reach up to $10,000 for larger cutting decks, air suspension systems, and LED lighting options.
Therefore, Exmark mowers are cheaper than the Ferris even though Exmark mowers have unique extra features.
7. Exmark Vs. Ferris Original Parts Availability:
Both brands offer high-quality mowers, but if you are looking for original parts availability, Ferris is the clear winner.
Ferris provides a wide range of original parts and is reasonably priced too.
That means it's pretty easy and convenient to modify your mower with its original parts.
It does not mean Exmark does not offer original parts for its product and some original parts are available. But those are difficult to find and pretty expensive.
Thus, Ferris provides a better user experience due to its available range of original parts.
8. Exmark Vs. Ferris Service Warranty:
Exmark offers a three-year limited warranty for all the products. It also provides a two-year commercial warranty for mowers and a five-year limited warranty on its engines.
Exmark will provide free repair or replacement within these warranty terms.
On the contrary, Ferris offers a limited two-year warranty for all its mowers. It also offers a four-year extended warranty for some specific models.
Ferris will perform any servicing or replacement for your mower at no cost during this time.
That means you will get better warranty service from Exmark than Ferris.
Related Post: Ferris Vs Scag: Which One is the Right Choice for You?
Which One To Choose Between Exmark and Ferris?
Exmark and Ferris mowers both have their benefits and downsides.
So, which one is better varies depending on the user's needs and personal preferences_
Ferris mowers are durable and suitable enough for heavy-duty uses.
But Exmark models are more powerful, easier to manage, need less maintenance, and are cheaper than Ferris.
Even Exmark mowers have features such as – RED technology, Tractus airless drive tires, Lezar Z seating arrangements,and Flex Wing decks.
Ferris mowers do not feature such advanced features. But they offer more flexibility, control, stability, traction, and comfort for uneven turfs.
Exmark designs mowers with high-performance cutting systems & durable decks suitable for commercial use. Ferris designs mowers with air-cooled engines & adjustable transmission speed ideal for residential use.
Frequently Asked Questions (FAQs)
What features does Exmark mower oil have that other types of motor oils do not?
Exmark oil is rich in zinc, phosphorus, and anti-corrosion compounds.
What type of cutting deck does a Ferris mower feature?
Ferris designs its mowers with an exclusive two-belt cutting deck.
Are Exmark mowers superior to Scag mowers?
Both brands have models with similar speeds and acceleration. Both also have mowers with an exceptional 12-14 mph forward and 5-6 mph reverse speed. This is one of the few indicators of a mower's efficiency during each ride. That means both Exmark and Scag mowers are better in terms of quality and performance.
Are Ferris Zero-turn mowers worth investing in?
Ferris mowers are constructed to be strong, versatile, powerful, and reliable enough to last long. So, definitely Ferris mowers are worth spending money on.
What makes Exmark mowers so popular?
Simply, because Exmark makes quality mowers, and these mowers feature several unique attributes that are missing in other mowers.
Related Posts: