FasTrak vs FasTrak SDX – Which One is Right for You?
FasTrak and FasTrak SDX are the two famous zero-turn mower lineups from Hustler. Many people mix up the FasTrak and FasTrak SDX models because they are built on the same platform.
However, Engine Type or Capacity, Fuel Efficiency, Deck Performance, Transmission System, Traction, Affordability, and other factors differentiate them.
Thus, if you are trying to decide between FasTrak vs FasTrak SDX, keep reading this article to find out.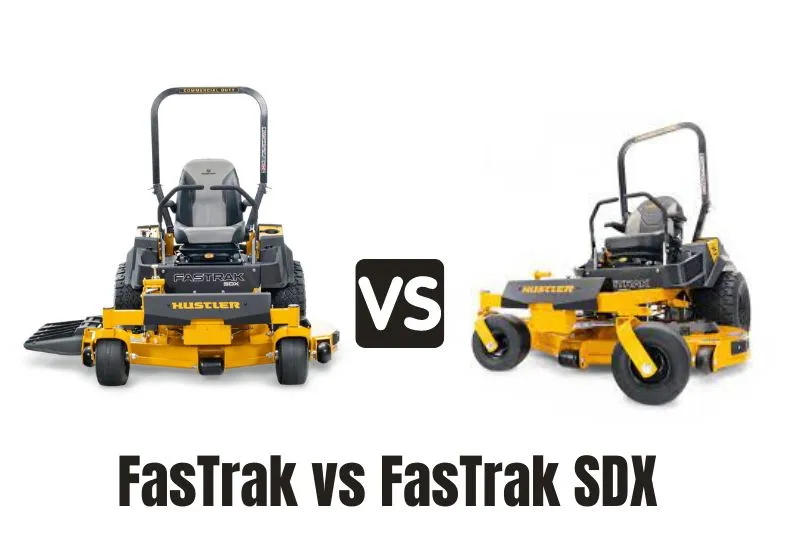 A Quick Company Overview
FasTrak and FasTrak SDX are two popular lineups from Hustler Turf Equipment company. Hustler was initiated by John Regier when he realized the need for riding mowers in 1964. But he could not continue the production work due to the rapidly growing demand in the market.
Luckily another renowned tractor cab manufacturer Excel was also planning on expanding its product line around that time. So, the timing was perfect for both companies, and John took that opportunity to join hands with Excel Industries Group. Continue learning the full story.
What Are the Differences Between FasTrak And FasTrak SDX Mowers Based on Their Features?
Check out the detailed comparison based on their features_
1. Engine Type & Capacity: FasTrak Vs FasTrak SDX
FasTrak mowers are powered by Kawasaki V-Twin engines which are built to last.
These Kawasaki engines are_
known for power and speed.
help the mower to mow large lawns quickly and easily.
also great for tackling tough terrain.
However, FasTrak mowers can be a bit difficult to handle.
Contrarily, The FasTrak SDX models are equipped with Kawasaki FX Series engines and cast-iron cylinder liners. They might seem a little slower than FasTrak engines, but they ensure more torque and power.
FasTrak SDX engines are perfect for tackling extremely rough terrain and larger lawns.
These engines also come with a heavy-duty remote canister air cleaner, which_
helps to keep the engine running smoothly.
prevents dust and other particles from entering the engine.
reduces wear and tear on the system.
improves overall engine performance and efficiency.
The FasTrak SDX model features a more powerful engine, allowing it to tackle tougher grass and debris.
2. Overall Fuel Efficiency: FasTrak Vs FasTrak SDX
Both are equipped with a fuel injection system that helps ensure efficient combustion and consistent performance.
FasTrak mowers feature slightly bigger fuel tanks than the SDX models. That means having to refuel the tank more frequently than any SDX model.
However, it also allows the user to mow for longer periods than the FasTrak SDX.
On the other hand, most standard FasTrak mowers do not feature a dual fuel tank like the FasTrak SDX.
Also, FasTrak SDX models feature an improved fuel injection system than the typical fuel injection system.
Even the additional remote canister air cleaner feature of SDX models reduces fuel consumption by removing excess strain from the engine.
Since FasTrak SDX mowers use a high-efficiency engine, they consume less fuel than any standard FasTrak mower and offer maximum fuel efficiency.
3. Transmission System: FasTrak Vs FasTrak SDX
FasTrak mowers are equipped with a hydrostatic transmission system. It's an automatic transmission system that uses fluid pressure to control the speed and direction of the mower.
This type of transmission is better than manual transmission and ensures smooth operation and better control.
On the contrary, FasTrak SDX mowers are constructed with a Hydro-Gear ZT-3400 transmission.
It's an enhanced version of hydrostatic transmission that offers greater precision and control than other transmission systems, including hydrostatic.
It is more durable in nature and provides more reliable performance than a typical Hydrostatic system.
The FasTrak mower transmission system is perfect for most mowing jobs. But if you wish to get maximum performance and reliability from your mower, you should go for the FasTrak SDX.
4. Suspension: FasTrak Vs FasTrak SDX
FasTrak mowers are designed with a unique suspension system that helps reduce the vibration felt by the user during the operation.
This suspension system_
absorbs shock and reduces noise levels by utilizing a pair of independent levers and a hydraulic damper.
makes mowing more pleasant and stress-free.
helps keep the blade in contact with the ground for better cutting performance.
FasTrak SDX mowers also feature an upgraded version of the previously mentioned suspension.
The SDX model's suspension system utilizes a dual A-arm design with adjustable shocks to provide superior comfort and stability while increasing traction.
Also, FasTrak models are designed with extra high-back suspension seats with armrests to ensure a more comfortable ride in difficult situations.
Due to the dual A-arm design with adjustable shocks and additional features like extra high-back suspension seats, FasTrak SDX mowers offer a smoother ride and improved cutting performance.
5. Wheel Drive System & Tires: FasTrak Vs FasTrak SDX
FasTrak mowers feature an all-wheel-drive system consisting of four individually powered wheels. This allows the mower to tackle even difficult terrain with ease.
They also have high-quality tires that are resistant to punctures and wear and are made of a durable rubber compound. Their tread pattern is also optimized for grip and control.
On the other hand, FasTrak SDX mowers use a transmission-type wheel drive system that allows the mower to move forward and backward at varying speeds.
This drive system is designed to_
provide superb control and maneuverability.
offers an easier navigation facility during mowing.
helps to reduce strain on the engine by confirming an equal power distribution across all four wheels.
FasTrak SDX mowers also feature high-quality tires that can provide maximum traction especially suitable to handle rough terrains.
FasTrak SDX mowers are designed with a more advanced four-wheel drive system with individually powered wheels, making them way more powerful to tackle the toughest terrain.
6. Frame Structure & Cutting Deck Performance: FasTrak Vs FasTrak SDX
FasTrak mowers are constructed with a Heavy-duty welded (1.5 x 3) inches fully tubular steel frame and a high-quality Welded cutting deck.
These steel frames are durable and long-lasting.
Even the cutting decks are made from robust materials to deliver superior performance.
FasTrak mowers also feature adjustable cutting heights for maximum operator comfort.
Similarly, FasTrak SDX mowers also feature highly durable and long-lasting heavy-duty steel frames, which gives them superior strength and stability.
The cutting deck of the SDX model features a 3-in-1 design that allows you to choose between mulching, bagging, and side discharge options. Even these decks are wider than the FasTrak mower decks.
FasTrak SDX models can handle steep slopes and tough terrain by adjusting their cutting heights according to the need.
Even though the frame structure and cutting deck performance are acceptable enough for most applications, you will get greater durability and precision from the FasTrak SDX.
Read Also: 5 Lawn Mower Bad Spark Plug Symptoms to Look Out For!
FasTrak vs FasTrak SDX – Which One is Right for You?
The decision highly depends on your need and preferences_
Besides that, FasTrak mowers excel at mowing on any flat, level terrain, such as lawns, golf courses, and other large turf areas.
On the other hand, FasTrak SDX mowers excel at mowing slopes, hillsides, and other hilly or unevenly rough terrains.
Both FasTrak and FasTrak SDX mowers are built with high-quality materials, advanced technology, and other special features.
But FasTrak SDX models are considered more appealing because SDX models are the upgraded versions of FasTrak models.
Frequently Asked Questions (FAQs)
What Acre can the FasTrak SDX 60″ Zero-Turn Mower mow per hour?
Up to 4.36 acres per hour.
Do FasTrak Mowers feature Cast Deck Lift Hangers?
How long does FasTrak battery last?
It depends on the usage. FasTrak batteries usually last minimum 2 years to maximum 5 years.
Who makes FasTrak and FasTrak SDX mowers?
What makes FasTrak and FasTrak SDX different?
Both are built on the same platform, but the FasTrak SDX is the upgraded version of the FasTrak lineup. SDX models include a few extra features that FasTrak models do not.
Does Costco sell FasTrak?
Related Posts: