Scag Vs Spartan: Selecting the Best Mower for Your Garden or Yard!
Scag and Spartan both have a variety of models. However, Scag mowers are popular for commercial landscapers, while Spartan mowers are designed for residential users and offer a more comfortable ride. So, which one would you choose?
Identifying differences between two brands' products by comparing their shared characteristics will help you find out the genuine comparison between them_
Engine capacity, Speed & Performance
Cutting Performance,
Suspension System & Operator Comfort,
Durability & Reliability.
Instead of being confused between Scag and Spartan, compare their features, specialties, pros, and cons side by side to choose which is best_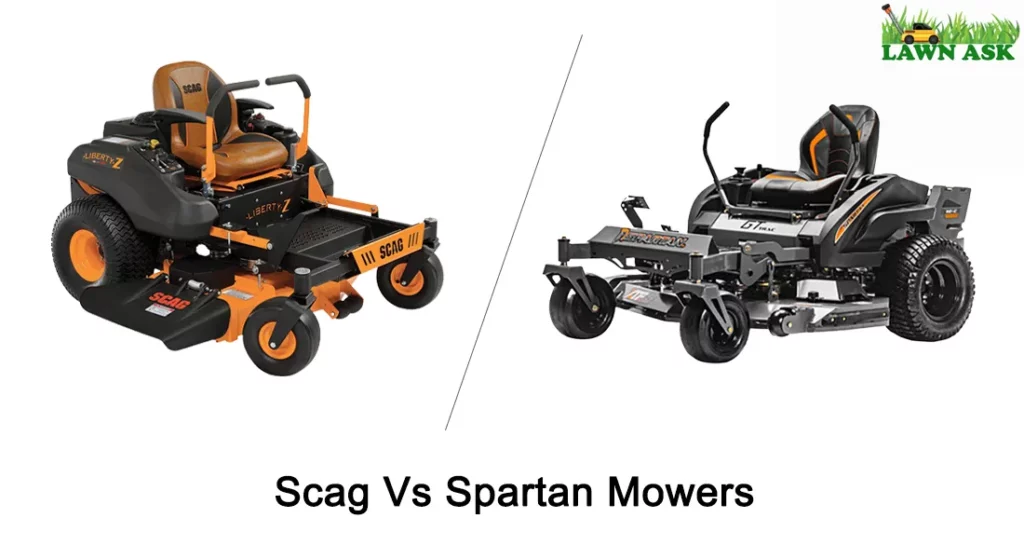 Quick Company Overviews
Scag:
Scag Power Equipment, one of America's major commercial mower manufacturers was founded as a subsidiary of Metalcraft Of Mayville (MOM) Inc. in Mayville, Wisconsin in 1983.
Scag upgraded three-wheel riding mowers in 1985 and released its first walk-behind mower in 1986, after being acquired by Metalcraft. In 1989, Scag produced the first Hydro walk-behind mower with two pumps and dual engines. Learn the Full history of Scag.
Spartan:
The journey began when a young newlywed couple named Robert and Becky Foster purchased their first business 40 years ago.
The Foster pair founded Intimidator Group in 2013 in Batesville, Arkansas to create the greatest side-by-side that excels at both work and play.
Robert built the first Spartan Mower in his garage from the ground up, inspired by the idea of a bigger mower, and Spartan made its debut in October 2015 at the GIE+Expo in Louisville, Kentucky. Learn more about the Spartan legacy.
What Are the Differences Between Scag vs Spartan Based on Their Features?
Check out the complete comparison of Scag and Spartan mowers based on their primary features and specialties:
1. Scag Vs Spartan Engine Capacity & Performance:
Scag mowers are powered by EPA-compliant engines like_
Kawasaki®FX Compact Series,
Vanguard®BIG BLOCK™, or
Kohler®7000 Series™ engines.
But their gas-powered models like the SCAG®V-Ride II™ Stand-on,SCAG®SFC-30 & SCAG®SFC21 Walk-behind models are equipped with_
Kubota®Diesel, or
Kohler®PRO®EFI engines.
Most Scag engines have 11 to 25 HP, a top speed of up to 8 miles per hour, a fuel economy rating of up to 20%, and a fuel capacity of 3 to 6 gallons.
Scag also has premium models, such as SCAG®72″ Turf Tiger II or Scag®72″ Cheetah II have air-cooled engines with up to 38 Horsepower to outperform competitors.
However, if you want a cleaner and quieter operation, the SCAG®EVZ mower model can be your best friend.
Contrarily, Spartan series models offer different engine options to meet user needs.
For instance, Spartan's RZ-HD model with four engine options:
25/27 HP Briggs,
23HP Kawasaki FR691, and
24HP Kawasaki FR730 engine
While the RZ model with three engine options:
25HP Briggs,
23HP Kawasaki FR691, and
24HP Kawasaki FR730.
For those looking for an ideal commercial solution in a compact design, Spartan has RZ-C with available engine options: the 25HP Briggs & 21.5HP Kawasaki FR651.
For those who require higher capacity motors for high-performance commercial jobs, Spartan has two ideal choices:
The KG-XD model with 37HP Vanguard® Big Block EFI engine.
The KGZ-XD with 40HP Vanguard® EFI engine.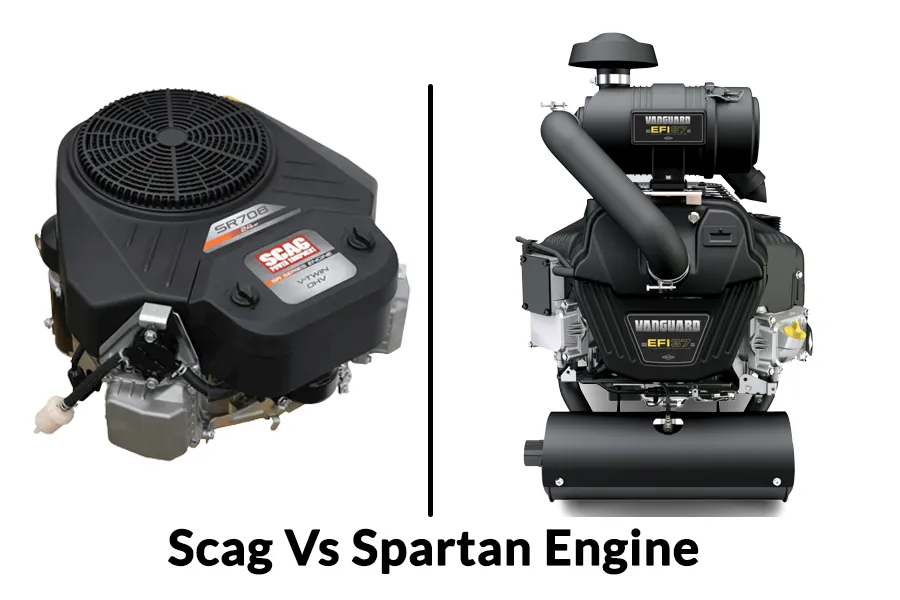 Related Post: Ferris Vs Scag: Which One is the Right Choice for You?
2. Scag Vs Spartan Cutting Performance:
Scag models are designed with a three-blade patented Velocity Plus™ Cutter Deck system provides to meet the standard of most professionals.
It also provides improved cutting performance and optimum clipping dispersal under any conditions due to massive openings and redesigned cutting chambers.
Scag® mower deck produces high-velocity discharge and beautifully groomed cut, even at increased ground speeds.
The Scag® Velocity Plus™ Front Baffle System allows deck adjustment for increased productivity and performance.
Most Scag mowers have a cutting speed of up to 10 mph and Scag offer 48, 52, 61, and 72-inch cutting widths.
Scag's strong cutter blade spindles and Tri-Plate design assure long-lasting performance. The replaceable trim-side wear pad also protects the deck.
Even its newSFC-21 Walk-behind model ensures the ultimate finish cut with fine-tuned simple height adjuster feature.
Spartan constructs its RZ series models with a 5-inch deep, reinforced 7-gauge extreme turf flow (XTF) deck, but the RZ-C model comes with a 4-inch deep XTF deck.
Spartan's SRT and RT series models are designed with a 6-inch deep, reinforced 7-gauge extreme turf flow (XTF) deck.
Other key features that enhance Spartan models cutting performance are:
Deck height pin with 12 adjustable cut heights and locking travel height suitable for a range of decks.
Precision Deck foot lift with shock-assisted deck height dial that can be adjusted on the go.
One-piece deck with baffling for all grass types.
GT Trac for incline traction and 360-degree seat plate.
A curved lip at the back of the cutting deck strengthens it and prevents hang-ups.
Spartan mowers also have a standard rubber chute to keep trees from debarking and solid anti-scalping wheels with lubricated jerks.
Related Post: Scag vs. Toro Zero-Turn Mowers: 5 Key Differences
3. Scag Vs Spartan Suspension System & Operator Comfort:
Scag models have adjustable suspension and preload features to customize the ride for different conditions.
Some Scag zero turn/riding mower models like the Cheetah II™ come with Cheetah™ Operator Suspension System to ensure greater operating comfort during operation.
This special system has five suspension settings that allow the operator to tailor the ride from firm to gentle.
This modification is simple to make while seated.
The Scag Cheetah™ Operator Suspension System outperforms "cushioned" caster forks and pivot points are kept to a minimum with only three moving parts, including a shock absorber, coil spring, and anti-sway bar.
On the other hand, Spartan's spring suspension system lowers shock to the mower chassis and the user's body. This advantage has a unique Winamac® Spring Suspension in the rear for increased grip and a smoother ride.
It also allows the wheels to follow the contour of the turf and boost production by getting the job done faster.
Adjustable shock absorbers, heavy-duty springs, and a reinforced steel frame are all part of this suspension system. It ensures that your mower will last longer, but adjustments and follow-ups are required on a regular basis.
This suspension also improves traction and stability on rough terrains, allowing you to tackle the most difficult trails.
Even the Spartan® Smart Ride Technology on the SRT mower models ensures major comfort by preventing any shock or jostling that may arise during operation.
All Spartan mower models include a set of Front Suspension Fork with Fender to keep mud and debris off the operator and to provide a smoother ride.
Related Post: Spartan Mowers Are Junk: Detailed Brand Information
4. Scag Vs Spartan Durability & Reliability:
Scag designs models to meet both commercial and residential needs, with varying engine sizes, sizes, power, and costs.
Scag mowers are built with high-quality materials and components to ensure long-lasting durability and reliable performance. They are built to resist harsh mowing conditions and deliver great results every time.
Scag mowers are not only durable and dependable due to their high build quality, but they are also among the most low-maintenance lawn care tools made in the United States.
On the other hand, Spartan models feature a simplistic design optimized for precise cutting, smooth riding, easy maintenance, and long-lasting durability. They are made in the United States to meet the special needs of American lawn care.
Spartan Mowers are made of American steel and inventiveness, making them durable and long-lasting. Their powerful engines and aggressive appearance provide commercial-grade performance.
Each Spartan mower features a Powder Coated Fusion-Bonded (1.5x 3)-inch Solid Steel Bridge Frame. It's made of the same tough material as the Intimidator UTVs.
Pricing Comparison Between Scag vs Spartan Mowers
| | | | |
| --- | --- | --- | --- |
| Scag Models | Price Range | Spartan Models | Price Range |
| Turf Tiger II™ | ($16,199 – $23,999) | RZ® Series | ($4,929 – $7,569) |
| Liberty® Z | ($5,554 – $6,792) | RT® Series | ($8,819 – $10,349) |
| V-Ride II™ | ($$9,499 – $13,349) | SRT® Series | ($11,149 – $12,349) |
| SWZ Hydro-Drive | ($7,749 – $10,799) | KG® Series | ($10,199 – $11,969) |
| SFC-21 | ($1,708 – $1,967) | KGZ® Series | $17,339 |
Scag Vs Spartan – Which One Is Right for You?
Both manufacturers develop and build their models with powerful engines, sophisticated cutting systems, and other high-quality components.
Therefore, the right choice highly depends on individual preferences and task requirements.
However, when many criteria are compared, the following results are obtained:
Design: Scag and Spartan mowers are popular for commercial landscapers and homeowners due to their heavy-duty construction and high-quality components.
Maintenance: Scag and Spartan offer easy-to-maintain machines with accessible parts and user-friendly designs, but Scag is more durable and long-lasting.
Performance: Scag has better maneuverability and precision in tight spaces, while Spartan has more power and speed.
Cost: Scag mowers are more expensive due to their advanced features and larger size, while Spartan mowers offer a more affordable option.
Frequently Asked Queries:
Is Spartan Mowers a decent brand?
Of course, Spartan is a decent and reliable mower brand. Spartan mowers are some of the most sturdy and long-lasting on the market.
Who Makes Spartan Mowers?
All spartan models are designed and manufactured by Intimidator® Group.
Spartan or SCAG – Which makes better Zero turn mowers?
Both brands have models that are versatile, powerful, and dependable enough to exceed their rivals. However, if you are on a budget, Spartan will be more affordable than Scag zero-turn models.
Related Posts: