Ariens Vs Gravely: Choosing The Right Mower for Your Garden
Ariens and Gravely are the two of the most well-liked brands that give top-of-the-line lawn and garden care equipment. But if you must pick one of them, which one would you choose?
But differentiating between these two exceptional brands' models can be overwhelming unless you identify differences between the two brands' products by comparing their shared traits, such as:
Engine capacity
Speed & Performance
Cutting deck & Maneuverability,
Durability and
Warranty support.
Rather than becoming bewildered between Ariens vs Gravely, compare their features, specialties, pros, & cons side by side to choose the right one.
Quick Company Overviews
Ariens:
Ariens is a family-owned company founded in 1933 when Mr. Henry Ariens invented his first gas-powered roto-tiller. At a period when other American manufacturers were still experimenting with foreign tillers, Ariens launched the first commercial tiller models. Initially, the journey started with only four people, including Mr. Henry and his three sons from their family home in Brillion, Wisconsin. AriensCo. has grown from four people to over 1,500 employees across the US, UK, and Norway.
Dan Ariens, the fourth-generation member of the Ariens family, is continuing the legacy of Henry Ariens' successful family-run manufacturing company. The company currently offers a wide range of products, including zero-turn mowers, walk-behind mowers, snow blowers, and finishing equipment. Learn full history.
Gravely:
Gravely began its journey as "Gravely Motor Plow & Cultivator Company" when Mr. Benjamin Franklin Gravely first invented the motor plow in 1916 and earned its sole patent. The first production took place in Dunbar, West Virginia.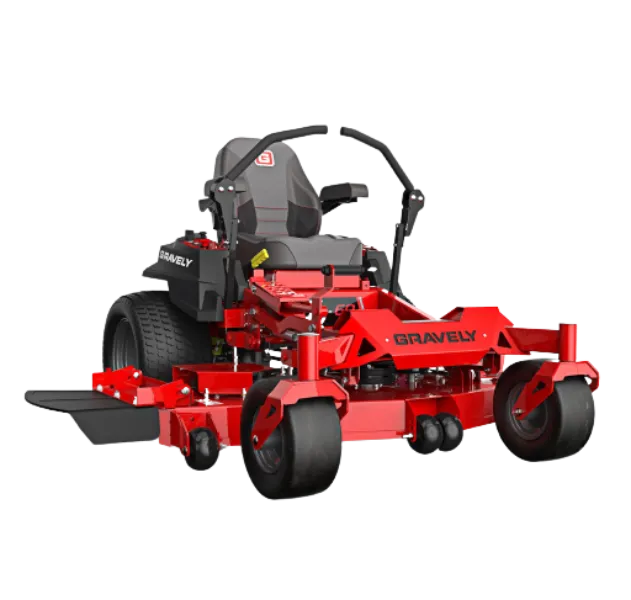 The company was renamed Gravely Tractor, Inc. in 1937 after D. Ray Hall acquired enough stock to become president. Between 1953 and 1970, it was acquired multiple times until Ariens Company purchased it in 1982. Read the Full Journey of Gravely.
Related Post: Gravely vs Kubota: Recognize The 6 Key Differences
What Are the Differences Between Ariens vs Gravely Based on Their Features?
Check out the detailed comparison between these two popular Zero-Turn models based on their key features and specialties.
1. Ariens Vs Gravely Engine Capacity:
Ariens mowers are built with tough commercial-grade engines that provide 20 to 24 hard-charging Horsepower and are ideal for weekend mowing and more.
AreiensCo mainly uses Kohler (single & two-cylinder), Kawasaki, and Briggs brands engines to power their mower models.
For instance, Ariens ZENITH 60 is powered by Kawasaki FX V-Twin commercial-grade engine with 23 HP, its APEX® 48 model has a 23 HP Kohler® KT730 engine, While the Ariens Edge series models are powered by either a 21.5 HP Kawasaki® FR651 V-Twin or a Briggs & Stratton® 20HP EXi2000 Twin.
Contrarily, Gravely has far more reliable & robust options in their residential and commercial lines since Gravely offers engines with 18.5 up to 38 Horsepower.
Most Gravely mowers are powered by powerful Kawasaki engines. However, certain models useGRAVELY® 764cc V-twin engines.
For instance, Gravely PRO-STANCE® 32 features an 18.5 HP Kawasaki® FS600V, while its PRO-TURN® 672 model is powered by 38.5 HP Kawasaki® FX1000 EFI.
Gravely also worked with Yamaha to build a unique engine for its mowers, and Yamaha engines are now used in Gravely PRO-TURN® ZTR models.
Ariens engines can produce up to 24 Horsepower for their mower models, while Gravely engines can produce up to 38.5 Horsepower for its mowers.
2. Ariens Vs Gravely Speed & Performance:
Ariens mowers have a dial to switch between multiple cutting settings that allows you to make cutting adjustments based on your needs.
Most Ariens mowers have a top speed of 8 miles per hour, which is sufficient for any use except larger commercial cutting tasks on large sites.
On the contrary, Gravely offers 180 degrees of maneuverability, which lets you turn comfortably without going back and forth while changing positions.
Gravely mowers can move at various speeds with the same persistence.
Gravely models can easily exceed 8 miles per hour, but some Gravely models, like- the Pro-Turn® 500 and Pro-Turn® 560 60 Kawasaki® can even move at a speedy 15mph.
Ariens mowers can go up to 8.0 MOH top speed, while Gravely mowers can reach up to 15 MPH top speed.
3. Ariens Vs Gravely Cutting Deck & Maneuverability:
Ariens designs its ZENITH® and APEX® series with its 10-gauge steel and 5-1/2-inch Deep Commercial-style Envy™ Elite cutting system deck to optimize the Airflow and cut quality.
Ariens IKON series decks are designed with an 11-gauge fabricated and 4 1/2-inch Deep Envy™ Elite cutting system deck.
Ariens has designed its Edge series with:
Smaller models, like the Edge 34" have stamped decks that fit through regular gates and are robust enough to effortlessly handle medium-sized lawns.
Larger models such as the Edge 52′, have 11-gauge manufactured decks inspired by commercial deck designs.
The Caged anti-scalp wheels protect your grass from minor bumps and scrapes. Ariens cutting deck widths ranging from 34 to 60 inches.
Contrarily, Gravely mowers use a unique cutting mechanism that:
employs a series of sharp blades
produce clean cuts &
allow the mower to mulch leaves and other detritus.
This cutting process is especially effective for lawns with thick or dense grasses.
Gravely offers a variety of deck sizes ranging from 34-inch to 72-inch max with optimized grass lift for better fuel efficiency.
Gravely also offers Self-adjusting belts to maintain steady tension and blade tip speed for longer belt life and more precise cutting results.
Smaller options, like- the Gravely Compact Pro 34" deck is suitable for homeowners with small barriers to avoid.
Larger options like- the Pro-Turn 600 72" deck is ideal for large acreage properties and professional landscapers looking to upgrade their capabilities.
However, Gravely models cannot travel around all curves and fail to reach the tightest spaces.


4. Ariens Vs Gravely Use: (Residential or Commercial)
Gravely has a wide range of lineups specially dedicated for commercial use, such as:
COMPACT-PRO®,
PRO-STANCE®,
PRO-STANCE® EV,
PRO-TURN® EV,
PRO-TURN® Z,
PRO-TURN® ZX,
PRO-WALK® and
Z-Stance.
Similarly, Gravely also has a wide range of residential models, while Arien Apex, Edge and Ikon series models are mainly suitable for residential use.
That means Gravely has a broader range of options to choose from, while Ariens has added Zenith to its commercial-focused mower lineup.
Even Gravely has up to a 72-inch cutting deck and up to 38.5 HP suitable for heavy-duty commercial use, while Ariens only offers up to a 60-inch deck and 23.5 HP engine under its commercial lineup.
5. Ariens Vs Gravely Durability & Warranty Support:
Gravely has a more robust and broader selection of mowers equally suitable for residential and heavy-duty commercial use. They are equipped with powerful engines, and excellent cutting decks, and are built with sturdy high-end materials.
That's why they are as durable and powerful as possible.
Ariens also designs and built its mower models with high-quality components, these models are more suitable for residential and less heavy-duty commercial use.
That means Ariens' model will be comparatively less durable than Gravely's heavy-duty models.
Both mower brands offer decent warranties and often stand by their guarantees.
Ariens mowers will have a 2-year to 4-year guarantee or a 150 to 750-hour warranty, while Gravely mowers are warranted for 4 to 5 years and 500 to 1500 hours on average.
However, Gravely has a better warranty guarantee than Ariens.
6. Ariens Vs Gravely Overall Riding Comfort:
Gravely's seat design combines comfort and effectiveness with armrests and seat isolation to reduce tiredness. Gravely's unique seat design ensures both comfort and efficiency.
For instance, Gravely ZT X has a plush high-back seat with armrests, while its ZT HD has seat isolation to reduce fatigue.
Contrarily, Ariens models feature a high back and luxurious seat with no ventilation. The seats are typically high back for better support and seat springs or seat isolation.
Both brands' models also feature suspension systems that provide a smoother ride over rough terrain.
Pricing Comparison Between Ariens and Gravely Mowers:
| | | | |
| --- | --- | --- | --- |
| Ariens Models | Price | Gravely Models | Price |
| ZENITH 60 – Kawasaki® | $7,999 | COMPACT PRO® 34 Kawasaki® | $7,999 |
| APEX® 52 KAWASAKI | $5,899 | PRO-TURN® 152 Kawasaki® | $10,949 |
| IKON 60 Kawasaki® | $4,799 | PRO-TURN® Z 48 Pro | $7,499 |
| EDGE 52 KAWASAKI | $3,699 | Pro-Turn® EV 60 Battery Included | $32,959 |
| APEX® 48 KOHLER | $5,899 | PRO-TURN® 652 Kawasaki® | $14,799 |
Ariens Vs Gravely – Which Is Right for You?
Both mower manufacturers design and construct their models with powerful engines, innovative cutting systems, and other high-quality components.
But which one will be more suitable for a particular user will depend on each user's personal preferences and work requirements.
However, if you are looking for a heavy-duty commercial mower model that can handle the roughest terrain yet last longer, Gravely will be the ideal choice for you.
On the contrary, if your work doesn't need too much heavy-duty commercial work or you're more into compact and lightweight equipment, Ariens will be your ideal option.
Related Post: Dealing with Ariens IKON XD Problems: Known Issues and Solutions
Frequently Asked Queries:
Are Ariens lawn mowers made in China?
No. All Ariens products are designed and built in Brillion, East Central Wisconsin, and Oxford, England.
Does Ariens make a decent zero-turn?
Yes. Ariens makes a wide variety of reliable and sturdy zero-turn models, such as its IKON X series, which is a popular choice among homeowners seeking power and mobility. They work best in large yards with plenty of level areas but can also tackle hilly terrain.
Gravely or SCAG – Which makes better Zero turn mowers?
Both brands offer models that are versatile, powerful, and reliable enough to outperform their competitors' models. But if you have a budget limitation, SCAG will be less expensive than Gravely zero-turn models.
Related Posts: