John Deere Vs Gravely: Which Is The Better Choice?
Both John Deere and Gravely are well-known makers of garden and lawn care equipment. Both offer a range of mower and tractor models with impressive characteristics. But how do you know which one is best for you?
Compare the common characteristics of the two brands' products, such as:
Performance
Cutting System
Grip, Control & Maneuverability
Cost
Technology
Maintenance & User Comfort
Rather than becoming confused between John Deere vs Gravely, consider their general shared traits before determining which one is best for you.
Quick Company Overviews
John Deere:
John Deere was an established blacksmith in Vermont when he set up his shop in Grand Detour, Illinois, in the 1830s. He found a broken steel sawblade and reshaped it to create a first-of-its-kind success, which he used to build a business and refine the product.
In 1837, he produced an ingenious steel plow, which was commercially successful, and his business was booming by 1849. Today, the company is a driving force in the world with its 180 years of innovative success. Read John Deere's full history.
Gravely:
Gravely was founded in 1916 as the "Gravely Motor Plow & Cultivator Company" by Mr. Benjamin Franklin Gravely, who created and patented the motor plow. Gravely started production from its first manufacturing plant located in Dunbar, West Virginia.
D. Ray Hall purchased enough shares to become president and renamed the company "Gravely Tractor, Inc" in 1937. Gravely was acquired several times between 1953 and 1970 until it was purchased by Ariens Company in 1982. Read more about Gravely.
Related Post: Gravely vs. Hustler: Which Brand Offers the Best Deal?
Differences Between John Deere Vs Gravely
Check out the detailed comparison between John Deere and Gravely based on their share traits_
1. John Deere Vs Gravely Engine Capacity, Efficiency & Performance:
John Deere's individual series models are powered by powerful self-developed engines as well as engines from other popular brands.
For instance, John Deere's S100® series models are either powered by (17.5-19) HP single cylinder, 22 HP V-twin, or 24 HP V-twin ELS, while their X500® series models are powered by 24 HP iTorque™ Power or 25.5 HP EFI gas and diesel engines.
John Deere engines feature Electronic Fuel Management and five-Step Cyclonic Debris Management to ensure easier starting and longer engine life. John Deere engines are built to keep all types of contaminants out of the mower engine.
Gravely powers most of its mower models with strong Kawasaki engines. However, some models featureGRAVELY® V-twin 764cc model engines.
Gravely PRO-STANCE® series, for example, is powered by a Kawasaki® FS600V, while PRO-TURN® 600 series is propelled by Kawasaki® FX1000 EFI.
Yamaha has been making unique engines for some Gravely mowers like Pro-Turn® Z series models as an act of their business collaboration.
Gravely models tend to have more powerful engines and higher speeds than John Deere models, especially in the Pro-Turn ZX and Pro-Turn Z lines.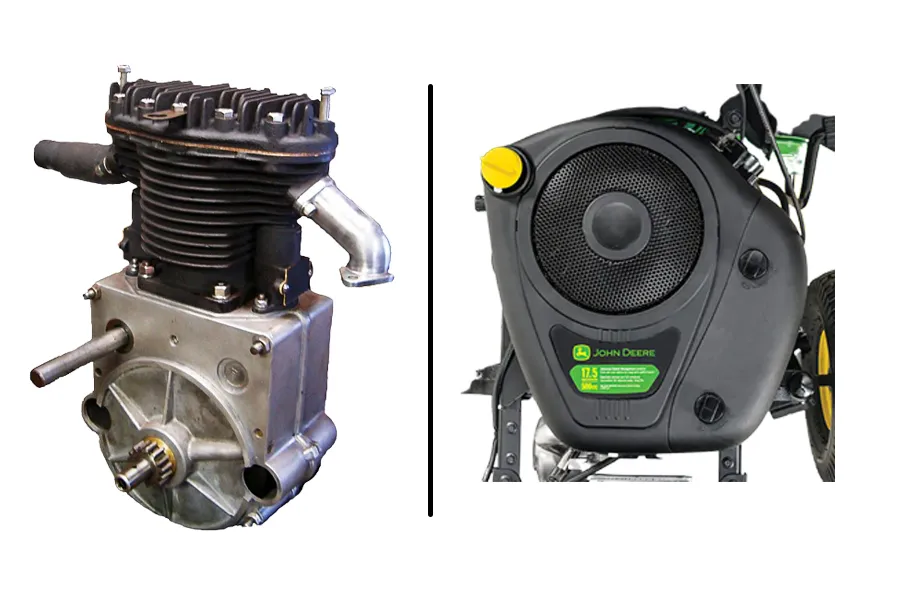 2. John Deere Vs Gravely Cutting System:
John Deere designs models with different cutting systems, such as:
The S100® series models are designed with Edge™ Cutting System and STARLOCK™ blade design for superior mowing performance, convenience, and reliability.
The 200®, X300® Select, & X500® Select series models have a 13-gauge, 0.09" (2.3-mm) Accel Deep™ Deck and flat-top design that is compatible with the optional MulchControl™ kit for the best performance and dispersion of clippings even at higher mowing speeds or tall grass.
The Z700® ZTrak™ Series models feature High-Capacity PRO mower deep-deck design with heavy, 9-gauge, 0.15" (3.8-mm) steel welded reinforcements.
These decks also feature an anti-scalp wheel for added strength and extra protection. The deck sizes offered by John Deere range from 30 to 72 inches.
On the contrary, Gravely mowers have a distinct cutting mechanism that_
deploys a series of razor-sharp blades
make precise cuts &
the lawn mower to mulch any fallen leaves or debris.
This strategy is ideal for lawns with dense or thick grasses.
The available deck sizes offered by Gravely brand range from 34 to 72 inches, with maximum grass lift for improved fuel efficiency. Gravely's self-adjusting belt maintains constant tension and blade tip speed for longer life.
Gravely's smaller decks are ideal for homeowners with small barriers like- the Compact Pro 34-inch model, while Gravely's larger decks are perfect for big-acreage homes and professional landscaping like- the Pro-Turn 600 72-inch model.
John Deere provides a more amazing and creative cutting system than Gravely. So, JD models will provide more precise and effective cutting performance than any Gravely models.
3. John Deere Vs Gravely Grip, Control & Maneuverability:
Most John Deere models are designed with an ergonomic steering wheel with adjustable tension for improved control.
Larger and more expensive Deere models come standard with 4-wheel hydraulic power steering for greater handling and stability on tough terrain.
The John Deere suspension system also provides a smooth ride while boosting control and stability.
John Deere mower models also have a turning radius of 18 to 21 inches (45.7-53.3 cm) to ensure excellent maneuverability.
On the other hand, Gravely offers a range of features designed to improve grip and control. Gravely's X-Factor deck is designed to improve cutting performance and maintain optimal traction in wet or uneven conditions.
Gravely also makes tires that are designed to provide great grip and handling in a range of terrains.
All Gravely mower models have a 0-turn radius for maximum maneuverability.
Gravely models are more maneuverable than John Deere models due to their zero-turn radius, but John Deere models' 4-wheel steering can provide improved maneuverability in some situations.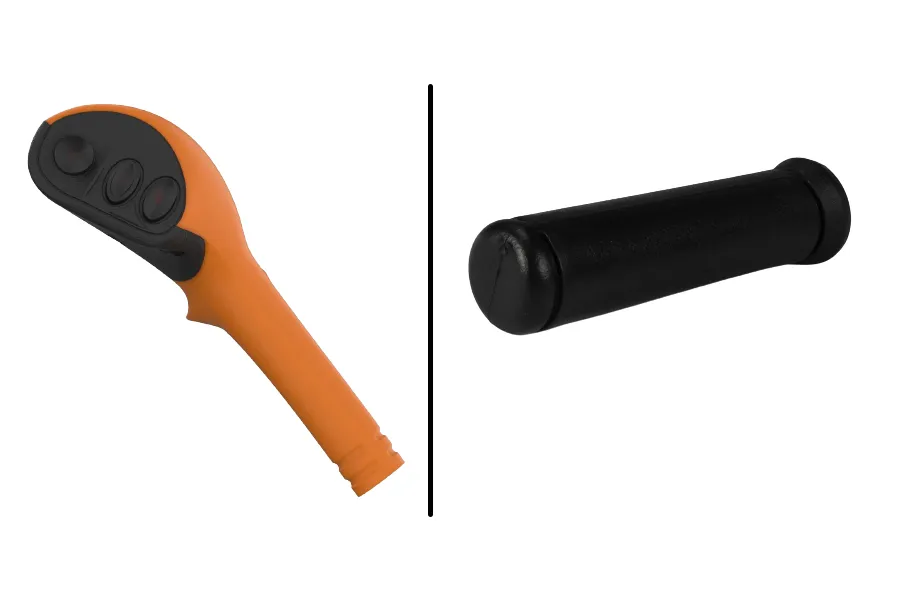 4. John Deere Vs Gravely Technology:
John Deere is known for its advanced engine technology, such as the iTorque ™ power system, Edge™ Cutting System, Accel™ Deep mower deck, Electronic™ Fuel Management, and 5-Step Cyclonic™ Debris Management, which provides faster cutting speeds and improved material flow.
Gravely is known for its advanced cutting advantages, such as X-Factor® III cutting deck, bigger discharge hole, integrated baffles, and slanted front end.
Gravely special features like optimized grass lift, Self-adjusting belts, 180-degree maneuverability, ergonomic controls, and an adjustable suspension system are designed to improve the operator's experience.
Both John Deere and Gravely offer models with automated features, such as the ability to adjust cutting height and speed, but John Deere is known for its more advanced automation technology.
5. John Deere Vs Gravely Maintenance & User Comfort:
John Deere mowers offer easy maintenance and user comfort features, such as quick oil changes and service points.
On the other hand, Gravely mowers offer ergonomic controls, maintenance-free spindles, and adjustable suspension systems to customize the ride for maximum comfort.
However, JD models tend to have higher maintenance costs due to their more advanced technology.
Baggers, mulching kits, and snow blowers are just a few of the accessories and attachments available from John Deere and Gravely to help with maintenance and user comfort.
Gravely mower models, on the other hand, are noted for their comfy seats, such as High Back Support rider seats, armrests, and footrests that provide good support for long periods of use.
Related Post: John Deere Vs Scag: Which Is The Best Value?
Pricing Comparison Between John Deere vs Gravely Mowers
| | | | |
| --- | --- | --- | --- |
| John Deere Models | Price range | Gravely Models | Price |
| X350®Lawn Tractor with 42-inch Deck | ($3,999 – $4,599) | COMPACT PRO® 34-inch | $7,999 |
| X570® Lawn Tractor with 48-in. Deck | ($7,799 – $8,099) | PRO-TURN® 152 | $10,949 |
| X739® Signature Series Lawn Tractor | ($14,669 – $16,469) | PRO-TURN® Z 48" Pro® | $7,499 |
| ZTrak™ Z994R Diesel 24.7 HP (18.4-kW) | Zero-Turn | ($9,599 – $24,500) | Pro-Turn® EV 60 | $32,959 |
| S240® Lawn Tractor with 42-in. Deck | ($3,699 – $3,399) | PRO-TURN® 652 | $14,799 |
John Deere Vs Gravely – Which Is Right for You?
John Deere is a premium brand with a reputation for durability, reliability, and advanced features. They offer a wide range of models with various cutting widths, horsepower, and transmission options.
On the contrary, Gravely mowers are designed with a focus on operator comfort but may not have the same advanced features as John Deere mowers.
John Deere mowers are known for their advanced engine technology and connectivity features, making them ideal for those who prioritize advanced engine technology and connectivity.
On the other hand, Gravely mowers are known for their advanced cutting technology and user comfort features, making them the best option for those who prioritize advanced cutting technology and user comfort.
Frequently Asked Questions (FAQs)
Who makes the engines for Gravely mower?
Ariens' commercial lawn business provides engines for all Gravely models.
Who makes John Deere mowers?
John Deere company makes all its mower and tractor models by itself.
Who makes lawn mower engines for John Deere?
Most of the engines are made by either Kawasaki or Briggs and Stratton brands.
Are John Deere engines made in America?
John Deere engines are produced in several plants across the world, including France, the United States, Mexico, India, and Argentina.
Related Posts: