Toro vs Cub Cadet: Which Brand Offers the Best Zero Turn Mower for Your Needs?
When it comes to choosing the right zero turn mower, Toro and Cub Cade are two popular brands that come to mind. Both companies have been in the lawn care industry for decades, and have established themselves as reliable manufacturers of high-quality mowers.
Both of the mowers are reliable but they have different Engine, Transmission, Durability, Life Expectancy, Fuel Capacity, Deck Size, Weight and other features. But which one should you choose?
This article will compare the Cub Cadet and Toro zero turn mowers and help you decide which one is the best for you.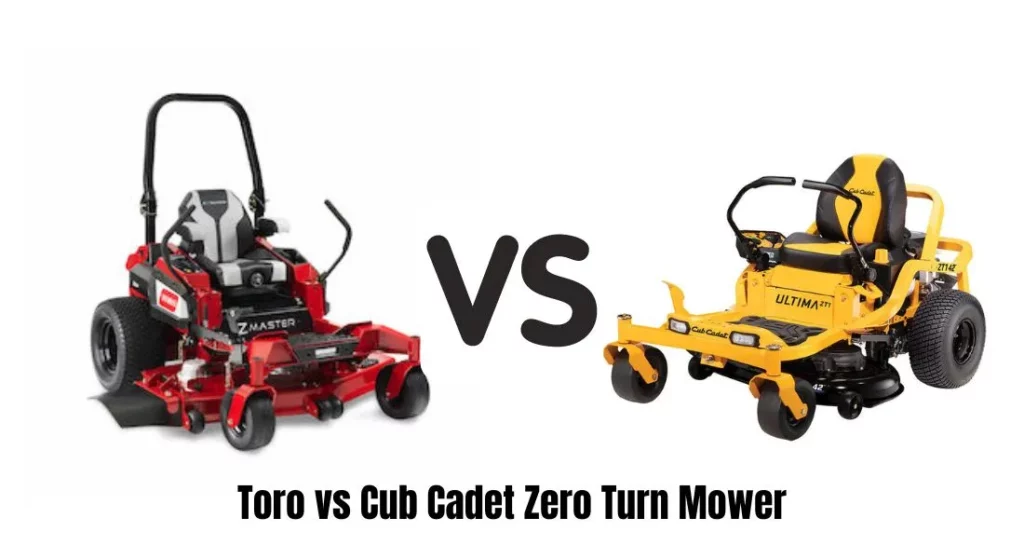 Quick Spec Comparison Chart: Toro vs Cub Cadet zero turn
Check out the distinctions through their specs:
| | | |
| --- | --- | --- |
| Features | Toro Zero-Turn Mower | Cub Cadet Zero-Turn Mower |
| Engine | Toro 452cc gasoline engine | Kohler 7000 725cc V-twin engine |
| Engine output | 22.5 HP | 24HP |
| Transmission | Dual Hydrostatic HG-ZT2200 | Hydro-Gear EZT 2200 |
| Blades | 2 | 3 |
| Durability | About 2,000 hours | About 500-1,000 hours |
| Life Expectancy | Average 8-10 years | Average 7-8 years |
| Fuel Capacity | 3 gallons | 3.5 gallons |
| Deck Size | 42 inches | 42 inches |
| Weight | 511 pounds | 500 pounds |
What are the differences between Toro vs Cub Cadet zero turn based on their features?
Check out the detailed comparison based on their features:
1. Engine Performance
Toro zero-turn mowers are equipped with Toro 452cc gasoline engines, engineered for maximum performance and efficiency. These engines boast high horsepower, which means they can swiftly tackle vast areas of grass with ease.
On the other hand, Cub Cadet zero-turn mowers come equipped with Kohler 7000 725cc V-twin high-performance engines that are specifically designed for mowing tasks. These engines prioritize high torque, making them ideal for heavy-duty mowing jobs.
Toro mowers excel in efficiently mowing large areas, while Cub Cadet engines are built for powering through tough and challenging mowing conditions.
Toro engines prioritize fuel efficiency with features like dual-element air cleaners and high-capacity fuel tanks. Some Toro models even have EFI engines for better performance. Cub Cadet engines focus on performance and durability with features like OHV design and advanced cooling systems. Some Cub Cadet models also offer EFI engines for improved fuel efficiency and power.
Cub Cadet engines have high torque, making them ideal for heavy-duty mowing, while Toro engines, make them suitable for mowing large areas quickly and efficiently.
Both Cub Cadet and Toro zero-turn mowers deliver exceptional engine performance. The user's needs and preferences will determine if they need high torque or high horsepower.
Related Post: Who Makes Cub Cadet Mower Engines: Manufacturer Information
2. Transmission
Toro zero-turn mowers feature a Dual Hydrostatic HG-ZT2200 transmission. This type of transmission uses hydraulic fluid and hydrostatic pumps to control the speed and direction of each wheel independently.
On the other hand, Cub Cadet zero-turn mowers, on the other hand, are equipped with the Hydro-Gear EZT 2200 transmission. This hydrostatic transmission is designed for efficiency and reliability.
Toro's Dual Hydrostatic system provides seamless maneuverability and responsive operation, while Cub Cadet's EZT 2200 transmission offers smooth power delivery and precise control. Both transmissions are known for their durability and performance in different mowing conditions.
The choice between the two transmissions ultimately depends on personal preference and specific needs, as both offer reliable performance in controlling the zero-turn mower's movement.
3. Deck Size
It is important to consider the size of the property being mowed and the amount of time and effort the user is willing to invest in the task.
For large or commercial properties, Toro's wider range of deck sizes (42 to 72 inches) allows for covering more ground in less time, making them an excellent choice.
Cub Cadet offers deck sizes ranging from 42 to 60 inches, catering to a slightly smaller range.
However, for smaller residential properties, a Cub Cadet mower with a smaller deck size may be more practical. The size of the deck determines the width of grass cut in each pass, and a smaller deck size is more maneuverable in tight spaces.
Ultimately, the choice between Cub Cadet and Toro mowers in terms of deck size will depend on the specific needs and preferences of the user.
4. Chassis Build Quality
In terms of chassis build quality, Toro mowers boast IronForged technology for added durability, along with a fully welded unibody frame.
On the other hand, Cub Cadet zero-turn mowers feature a 2 x 2-inch tubular frame made from high-quality steel, offering optimal dependability and strength. They also utilize 11-gauge fabricated Aeroforce Deck technology for high lift and excellent cutting results.
Both brands prioritize high-quality materials and construction, ensuring long-lasting performance for lawn care professionals and homeowners alike.
Ultimately, the build quality of both brands contributes to their reputation for delivering long-lasting and dependable performance in the field of lawn care.
5. Performance on Flat or Hilly Terrain
When it comes to handling flat or hilly terrain, there are some differences between Cub Cadet and Toro zero-turn mowers.
Toro zero-turn mowers, on the other hand, are typically designed with a focus on flat terrain and obstacle-free areas. While they can still handle some degree of uneven ground, their maneuverability on hilly terrain may be limited compared to the Cub Cadet models. Toro mowers are generally more suitable for flat surfaces and may not offer the same level of performance and control on hilly landscapes.
Cub Cadet zero-turn mowers are known for their versatility in handling various terrains. They are equipped with 20-inch rear wheels, which provide excellent traction and maneuverability. This makes them well-suited for navigating obstacles and hilly landscape features, allowing for smoother operation in challenging terrain.
If you have a predominantly flat lawn or one with minimal obstacles, both Cub Cadet and Toro zero-turn mowers can be effective choices. However, if you have a hilly terrain or anticipate encountering obstacles frequently, the Cub Cadet model may offer better performance and maneuverability.
6. Durability
Toro zero-turn mowers, on the other hand, have exceptional endurance and are built to last for 1,000 to 2,000 hours. They are engineered to withstand rigorous use and provide reliable performance over an extended period.
Cub Cadet zero-turn mowers are known for their durability and can typically be used for 500-1,000 hours without any interruption. They are designed to handle high-load work scenarios and can potentially last even longer if well-maintained.
Toro is again a clear winner here. However, maintenance and terrain may have an impact on durability.
7. Warranty
Toro offers a three-year, unlimited-hour warranty for residential use. Toro will cover any material or workmanship faults throughout the warranty term, regardless of the mower's usage. This guarantee gives zero-turn mower users piece of mind.
Cub Cadet zero-turn mowers have a 3-year limited guarantee. The warranty covers flaws in materials and workmanship but may not cover severe wear and tear or inappropriate usage. This guarantee is useful and lasts a while.
For consumers desiring complete warranty protection, Toro's guarantee is greater than Cub Cadet's 3-year limited warranty.
Related Post: Toro 3000 Series Vs 4000 Series – Which Is Right for You?
Toro vs Cub Cadet Zero Turn: Which One is Better?
A comparison between the Cub Cadet and Toro zero-turn mowers reveals that both of these mowers are powerful and efficient machines.
With their exceptional maneuverability, durability, and cutting widths, they are ideal for any homeowner or lawn care professional looking for a high-performance mower.
While Toro zero-turn mowers are slightly more maneuverable than Cub Cadet zero-turn mowers, the latter is a more powerful machine that delivers a smooth and efficient mowing experience.
Furthermore, it is worth noting that Cub Cadet mowers may cost a little more than Toro mowers, but the additional investment is well worth it for those who desire a reliable, powerful, and long-lasting mower that can keep their lawn looking fresh and beautiful every day.
Ultimately, the choice between Cub Cadet and Toro zero-turn mowers comes down to personal preferences and needs. Whichever mower you choose, you can be confident that it will deliver exceptional performance and efficiency for many years to come.
Frequently Asked Questions (FAQs)
Where are Toro zero turn mowers made?
The Toro Company, headquartered in the Minneapolis suburb of Bloomington, Bloomington, Minnesota, U.S.
Is Toro Customer Service good?
Toro has over 3000 service locations to support their customers, and this product can be delivered within a few weeks to your local store or residence.
How long does the battery on a zero-turn Cub Cadet last?
Cub Cadet's batteries come with a three-year manufacturer's warranty and, according to tests, typically last five to six years before needing replacement.
Related Posts: