Gravely vs Kubota: Recognize The 6 Key Differences
Gravely and Kubota both make outstanding Lawn Care equipment. Their mowers and lawn tractors are tough, strong, comfortable, and dependable.
However, do you know that they have significant differences based on their features?
Features like- Engine Capacity, Cutting Performance, Transmission, Suspension, Cost, Durability, OEM parts availability, and others distinguish them.
The following article compares these two popular brands. So, you may compare them and choose the best one_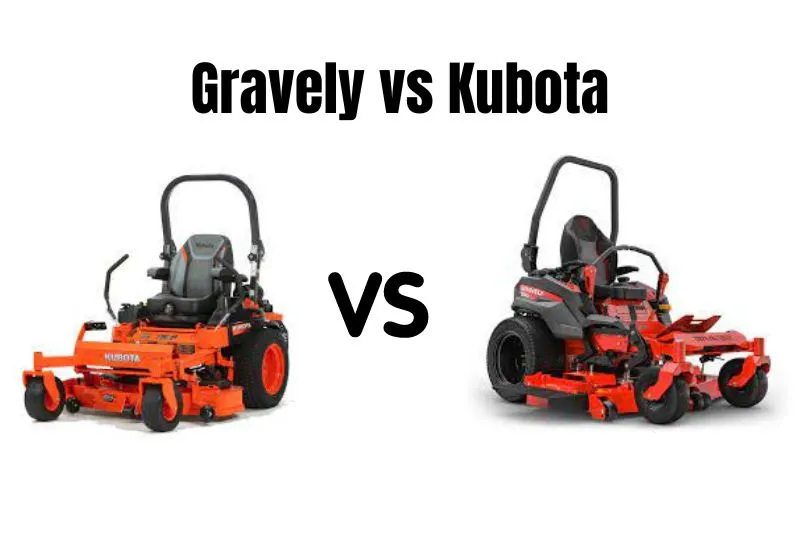 Gravely vs Kubota: Quick Comparison Table
Check out the difference through their specs-
| | | |
| --- | --- | --- |
| Specifications | Gravely Mowers | Kubota Mowers |
| Fuel Capacity: | 1.25 – 7 gallons (4.7 – 26.5 liters) | 7.9 – 26.4 gallons (30 – 100 liters) |
| Horsepower: | 7 – 25 HP (5.2 – 18.6 kW) | 24 – 140 HP (18 – 104 kW) |
| Available Deck Sizes: | 21 – 72" (53.3 – 182.9 cm) | 36 – 54" (91.4 – 137.2 cm) |
| Powered By: | Gas, battery & electric | Diesel |
| Transmission | Gear-driven | Hydrostatic |
A Brief History of The Two Company
Gravely:
Gravely started its journey over a century ago when Benjamin Franklin Gravely earned his first patent in 1916 for his invented motor plow.
Gravely built each machine with traditional craftsmanship backed by the latest innovation and technology. Check out the 100 years journey of Gravely.
Kubota:
Based in Osaka, Kubota Corporation is a Japanese international corporation founded by Gonshiro Kubota in 1890.
However, the company introduced its first zero-turn mower commercially in 1972. Check out the whole Kubota timeline for more details.
Gravely Vs. Kubota Mowers: What Makes the Difference Based on Their Features?
Let's compare these two mower brands based on their features and specialties.
1. Gravely Vs. Kubota Engine:
Gravely have two types of engine options for all its lawn mowers & tractors:
Two Cylinder and
Four Cylinder V-Twin engines.
Gravely engines are powerful enough to cut through thick grass and weeds easily.
Even require less fuel when running, making them more fuel efficient. That means Gravely mower engines are easy to maintain and need fewer oil changes to keep running.
However, Gravely mower engines are only ideal for garden, lawn, or yard care.
On the contrary, Kubota tractors feature three-cylinder engines. They are more fuel efficient and consume less fuel than Gravely engines due to their lower frictional losses and lighter weight. Also, offer more torque and horsepower than Gravely engines.
Kubota engines also
Emit less emission than larger engines like Gravely.
A little noisier than the Gravely mower engines.
Other than lawn and garden maintenance, Kubota engines are ideal for_
Farming or tilting soil
Towing heavy loads.
That means Kubota engines are multi-purpose engines.
Both offer powerful engines that can deliver high performance. But if you're searching for a more fuel-efficient multi-purpose machine, Kubota is the way to go.
Related Post: 7 Most Common Kubota Zero Turn Mower Problems and Fixes
2. Gravely Vs. Kubota Cutting System:
Gravely mowers use a unique cutting system that employs a series of sharp blades to produce clean & even cuts.
Also, lets the mower mulch leaves and other debris.
This cutting technology is extremely effective when you have a lawn full of thick or dense grasses.
Gravely mowers fail to travel around all curves because of this cutting style.
As a result, they cannot reach most tight spaces and are not ideal for larger lawns or yard areas.
On the other hand, the Kubota tractor cutting system cuts the grass with a spinning blade. This cutting system works well on long grasses but struggles with heavy or dense growth.
Another benefit of Kubota tractors is_
Easy to maneuver and
Reach most tight areas.
That's why they can easily handle lots of obstacles during each mowing session.
Kubota tractors are even ideal for mowing on large lawns or properties.
Kubota is the best choice if you have a large mowing zone with dense grass and obstacles. Gravely works best on small to medium-sized lawns with no obstacles or tight curves.
3. Gravely Hydrostatic Vs. Kubota Gear-driven Transmission System:
Gravely mowers are built with a hydrostatic drive mechanism that powers the mower wheels with hydraulic fluid. But Kubota tractors feature a gear-driven system.
Now the question arises, which one is better?
A hydrostatic transmission system allows you to change the speed and direction of your mower without having to stop and change gears. This system is ideal to reach every tight spot or mow on hillside areas.
However, hydrostatic transmissions are more expensive to repair or rebuild than gear-driven transmissions.
In a gear-driven transmission system, the motor's output shaft is directly connected to the input shaft of another larger gear input shaft. The system then transfers enough power via gears on both ends.
This is a classic transmission system that transfers the correct speed ratio from one shaft to the next.
That's why Gear-driven transmission is more reliable. It can even handle more weight than a hydrostatic gearbox and is also fairly cheap to repair.
But this transmission cannot reach all tight spaces or work well on hillsides.
If you need a mower that can smoothly ride on rugged terrain, choose Kubota over Gravely.
4. Heavy-duty Leaf Spring Vs. Hydraulic Suspension System:
Gravely mowers use a heavy-duty leaf spring suspension system that uses springs to absorb shocks and vibrations.
This suspension provides smoother rides on rough terrains to deliver superior cutting performance.
Kubota lawn tractors are designed with a hydraulic suspension system.
This Hydraulic suspension uses fluid instead of spring to absorb shocks and vibrations.
Because of that Kubota is more comfortable and performs well on rough & uneven terrains.
The Kubota suspension system is also intended for_
Agricultural,
Industrial, and
Construction Purposes.
Choose Kubota if your lawn or yard has challenging terrain.
5 . Gravely Vs. Kubota Price Range:
Gravely offers mowers at various prices to fit different budget criteria. The entry-level mowers start from $1,500. The Gravely top-of-the-line models' price range can go up to $10,000.
Similarly, Kubota also offers lawn tractors at a wide range of prices to suit all budgets. The prices of its entry-level tractors start at around $2,000 and can go up to over $20,000 for its advanced models.
Therefore, Gravely mowers are more affordable than Kubota tractors.
6. Gravely Vs. Kubota OEM Parts Availability & Service Warranty:
Gravely and Kubota OEM parts are widely available and easily accessible. The original parts of Gravely are readily available on Gravely's website.
You can also get them from the brand's authorized dealers, and other retailers such as_
Tractor supply stores,
Home improvement stores, and
Online merchants like Amazon, eBay, and other trusted online marketplaces.
Similarly, Kubota OEM parts are also readily obtainable on the Kubota website.
One can also get these parts from other authorized dealers or retailers of Kubota.
Gravely OEM parts are slightly more expensive than Kubota OEM parts.
All Kubota tractors come with a three-year warranty but Gravely offers a two-year limited warranty.
Even though both provide a wide range of readily available OEM parts, Kubota parts are more affordable. You can even get an extra year of servicing coverage from Kubota.
Related Post: A Comprehensive Guide on Gravely Drive Belt Diagram
Which One To Choose Between Gravely and Kubota?
Gravely and Kubota mowers both have their benefits and downsides_
Gravely mowers have rugged construction and commercial-grade features that can handle rough terrain. They are long-lasting and need little maintenance.
On the contrary, Kubota lawn tractors are suitable for both residential and commercial use. Kubota tractors are reliable and strong, but not as tough as Gravely mowers.
So, which brand will be ideal for you?
If you need a powerful mower that can handle rough terrains with ease, Gravely will be an ideal choice. Especially if you don't plan on using the mower for any other purpose than mowing your lawn or garden.
But if you need something more versatile and easier to maneuver for various jobs like- Hauling Objects, farming, Towing, or Removing Landscaping, Kubota will be a better choice.
Frequently Asked Questions (FAQs)
What are some of the Top Gravely mowers?
Check out the 3 most popular Gravely mowers_
Gravely ZT HD 60,
Gravely ZT X 60, and
Gravely Pro-Turn 152.
How long does a Kubota tractor last?
If maintained accordingly, the Kubota tractor can last around 4,500 up to 5,000 hours of operation.
Does Kubota make quality zero-turn mowers?
Yes. Kubota builds its mowers with powerful engines, durable components, efficient cutting systems, and other special features that make them ideal for commercial and residential use.
Who makes Gravely mowers?
All Gravely products are manufactured by Ariens company.
Which company makes the engines for Kubota zero-turn mowers?
Briggs & Stratton makes its Commercial Turf Series engines especially suited for Kubota zero-turn mowers.
Related Posts: