Who Makes Gravely Mowers: The Durable Commercial Mowers
Since 1916, Gravely has been providing lawn care and gardening tools that has become popular for its performance and durability. Some of them are technically build like a entry level commercial mower in the package of a residential mower.
The Wisconsin based company Ariens Co. bought Gravely in 1982 and since then Gravely mowers are made by the Ariens company. Before that Gravely started by the hand of Benjamin Franklin Gravely.
Now dig into this article to find out more about who makes Gravely mowers including their products and services.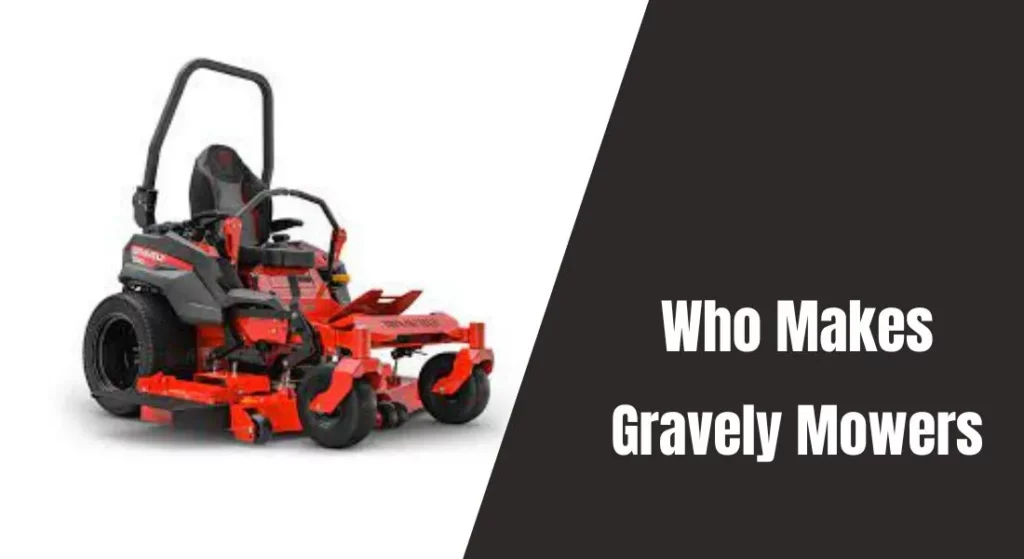 Who Makes Gravely Mowers– About the Company
In 1916, the very first Gravely mowers were built by Benjamin Franklin Gravely in Dunbar, West Virginia. The incorporation of the company was done in 1922.
But he pushed his ventures with a few businessmen and a very special friend F. W. Wilcox. With his help, Gravely built a machine shop in Middleport, Ohio.
However, Benjamin Gravely sold his share in 1940.
Studebaker Packard Corporation of South Bend, Indiana bought the company in 1960, and renamed it "Gravely Tractor Inc." In 1968, the company was shifted to Clemens, North Carolina as it got bigger.
D. Ray Hall is credited for making a lot of changes. He bought an amount of stock in 1937 that gave him the power to take control of the company. It took only a few years to expand the company after he took charge of the company. Soon after, the company was renamed Gravely Tractor Inc.
In 1982, Gravely was sold to Ariens Co.,. It was and is an automobile manufacturing company. Since then, Ariens Co. is producing and distributing Gravely mowers in the market.
Initially, Gravely and Ariens had setup in two different states, but now, they are producing mowers together in Brillion, Wisconsin.
Where Are Gravely Mowers Made?
Gravely mowers are fully American-made. The company was built by Benjamin Franklin Gravely from Dunbar, West Virginia in 1916. The goal of Mr. Gravely was to make two-wheeled tractors for agricultural purpose, which turned into mowers later.
Gravely mowers are now being made in a factory in Brillion, Wisconsin. Where, Ariens Co. is producing Gravely mowers since 1982 along with their outdoor power equipment, including their own lawn mowers, snow blowers, and utility vehicles.
The Timeline of Gravely – A Legacy of Quality
Gravely, a well-known name in outdoor power equipment, has a long history that dates back to 1922. It started with Benjamin Gravely but soon it started swimming in unknown waters.
The firm began producing lawnmowers and garden tractors, including the Model L. It was quite popular in both homes and commercial users.
Gravely then expanded its product portfolio in the 1950s by introducing riding tractors and rotary plows. And soon, in the 1960s and 1970s, the firm expanded and diversified even more.
They released new models like the Convertible 7.6. This opened the door for the production of garden tractors and professional-grade zero-turn mowers.
Gravely was purchased by Studebaker-Worthington, the owners of Ariens Company, in the 1980s. They continued to revamp their product portfolio under Ariens, focusing on greater performance, durability, and user-friendliness.
What Types of Mowers Does Gravely Produce?
Gravely is specialized in commercial lawnmowers. They have different types of mowers for how much land you want to mow regularly. Some of the mower types are discussed here:
Zero-turn Mowers
Gravely is popular, especially for their zero-turn mowers. These mowers have two rear wheels to turn independently.
Their mowers are popular for their smooth cutting and durability. Which even makes for a bang for the buck resale value.
Some of the zero-turn models are:
Gravely ZT HD
Gravely Pro-Turn 100
Gravely Pro-Turn 200
Gravely Pro-Turn 400
Check out their zero-turn models here.
Walk-behind Mowers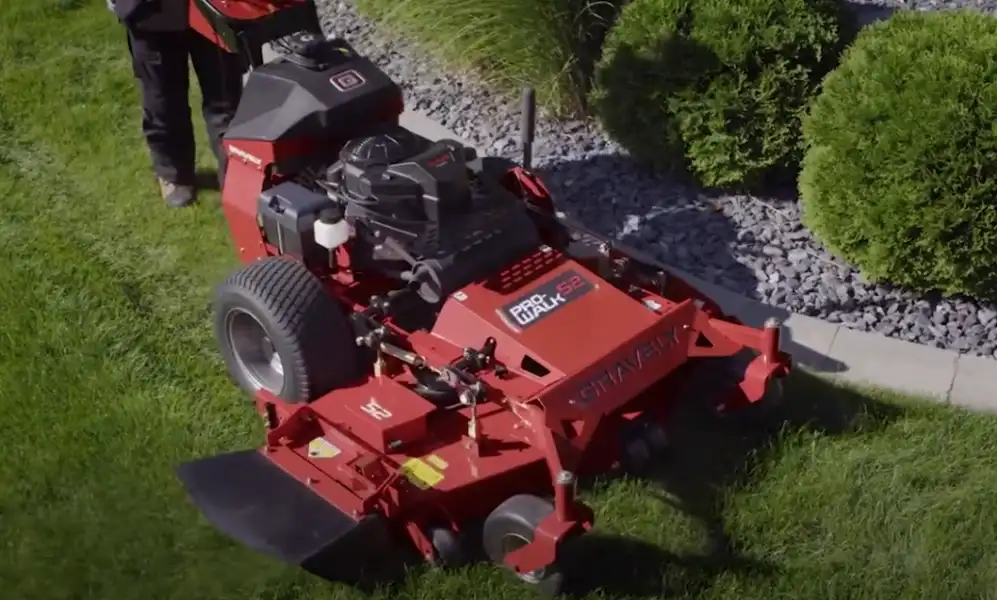 Gravely produces walk-behind mowers are made for mainly medium-sized lawns. These mowers are pushed from behind by walking. They are available in self-propelled type and push type.
Some of the models are:
Gravely Pro-Walk Hydro
Gravely Pro-Walk Gear
Gravely Pro-Walk Standon
Gravely Pro-Walk Hydro Rapid XZ
Stand-on Mowers:
Gravely has stand-on mowers as well, which are designed for more productivity. The operator stands on a platform of a stand-on mower while cutting grasses, with a better viewpoint compared to regular walk-behind mowers.
Some of the models are:
Gravely Pro-Stance 32
Gravely Pro-Turn Stand-On
Gravely Pro-Stance X 36
Gravely Pro-Stance X 60
Related Post: Gravely vs. Hustler: Which Brand Offers the Best Deal?
How Much Does a Gravely Mower Cost?
A good-quality Gravely mower will cost you a little more than average ones. Price range starts from about $5,000 for a PRO-TURN 400, and up to $8,000 or more for the PRO-TURN EV, their electric model.
Accessory kits, extended warranties, deck size and some other features impact the final pricing
You can even buy a used mower, for example, a zero-turn mower with 500 hours on it and used for mowing only one type of lawn.
However, it may be better to purchase a new mower. This way you can have security, and warranty protection, and you will be getting the best performance out of it as it is the most updated model.
Gravely Mowers Price List
| | |
| --- | --- |
| Gravely Mower Models | Price range |
| Walk-behind mowers | $1,500.00- $4,999.00 |
| Zero turn mower | $2,499.00- $9,999.00 |
| Stand on mower | $3,999.00- $11,999.00 |
How Durable Are Gravely Mowers?
If it is used daily for hours, you won't have to go through major issues other than small repairs, oil changes, belt repairs, or blade cleanings once every six months or so.
Gravely mowers are very durable and made for those homeowners who have multiple lawns to clean. They are meant to be tough. And according to customers, it is one of the most durable brands in the market.
These mowers are used to work in rainy, snowy, as well as sunny weather. You can clear snow in the winter using these and clean leaves from your lawns as well.
Does Gravely Mower Provide a Warranty?
Gravely offers one of the best warranty protections in the market for all of their models. A 5-year or (1,000 – 1,500 hours) warranty, with no hour limit for two years. There is a limited lifetime warranty on the deck and frame as well on all models.
Most Gravely mowers are made for corporate use. Their warranty policy is pretty wise considering that they are meant for commercial purposes. You will be relaxed by knowing that you have protection if you need it.
Related Post: A Comprehensive Guide on Gravely Drive Belt Diagram
Frequently Asked Questions (FAQs)
Are Gravely mowers worth your investment?
Only a few mower companies are considered as good as Gravely. Gravely mowers are a very good investment for you. They are built to last long and is durable and good-quality. The reasonable price and long warranty protection is there to help you.
How much does a Gravely zero-turn mower cost?
A Gravely zero-turn mower costs start around $3,599. You will eventually have to spend around $14,499 if you want a commercial zero-turn mower.
How long a Gravely zero-turn mower last?
Gravely zero-turn mower provides a 2-year warranty service. But depending on your maintenance, it can be with you for many years.
Are Gravely Mowers Easy to Use?
Gravely mowers are comfortable and easy to use mostly due to the center of gravity being great. They are smooth and powerful due to the same reason. The deck heights are easily adjustable as needed, and the controls are marked.
Related Posts: