Who Makes Ferris Mowers: A Closer Look at the Manufacturer
Ferris is renowned for producing high-quality mowers that are designed to fulfill the needs of both residential and commercial users. But who are Ferris's manufacturers?
Ferris Mower Corporation, founded in 1994, was acquired by Schiller Grounds Care in 2019 and relocated its manufacturing facility from Munnsville, New York to Greenville, Tennessee.
This article will take a close look at who makes ferris mowers and analyze the reasons for their product's success over the past two decades.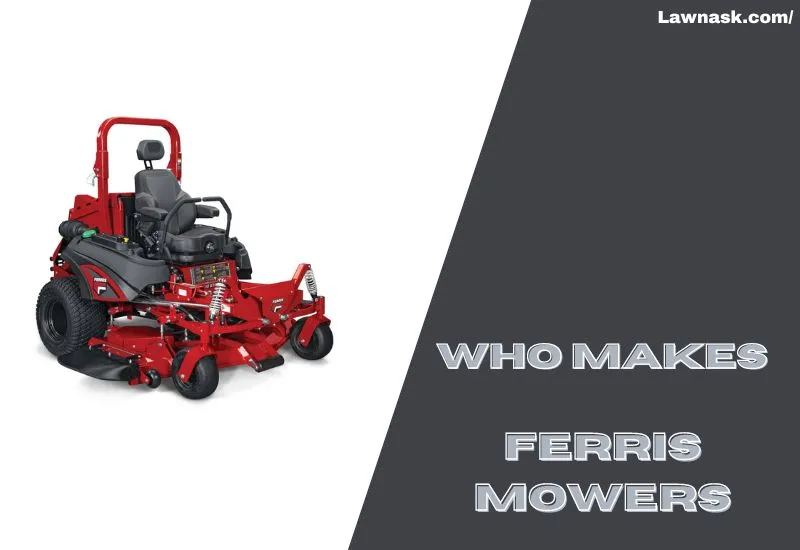 About the Manufacturer – Who Makes Ferris Mowers
Since 1994, Ferris Mower Corporation, a Briggs & Stratton affiliate, has manufactured superior commercial lawnmowers.
Their mowers are powered by Briggs & Stratton, Kohler, and Honda engines. Ferris Mowers are durable commercial mowers with unique suspension technology for smoother operation, longer life, and productivity.
In 2019, the company was acquired by Schiller Grounds Care a global leader in outdoor power equipment.
In partnership with Schiller Grounds Care, Ferris Mowers are now accessible to a larger audience, recognized as a reliable, leading manufacturer of commercial mowers.
Where are Ferris Mowers Made?
Ferris Mowers has proudly manufactured mowers in the US since 1986. With a big manufacturing facility in Central New York, they have assembled and shipped mowers to Europe and Australia.
With 600 skilled employees, they are able to produce more than 200 mowers a day. Every part of the mower is carefully assembled in the production plant.
The company's production site moved from Munnsville, New York to Greenville, Tennessee in 2019 after being acquired by Schiller Grounds Care, a global leader in outdoor power equipment.
They are proud to have been able to deliver their product to customers around the world and continue to strive for excellence in their craft.
What Types of Mowers do Ferris Produce?
Whether you need a Walk Behind, Stand-On, Zero Turn, or Front Mount Lawn Mower, Ferris has the perfect solution to make your job easier and more efficient.
Zero-turn Mower
Ferris is the go-to brand for landscape contractors who need a reliable, productive, and efficient zero-turn mower.
With a range of models that offer suspension technology, CAT turbo diesel engines, and excellent value, Ferris has the perfect mower to cover any ground.
From the top-of-the-line IS 6200 to the compact F60, Ferris has different zero-turn mower models that are sure to meet the needs of any contractor.
IS 6200
ISX 3300
IS 2600
ISX 2200
ISX 600
IS 700
IS 600
500S
400S
300S
F60
Walk Behind Mower
Durable steel construction ensures these mowers will endure job after job. To make the job even easier, Multiple ranges of Ferris Walk Behinds offer comfort features, such as ergonomically-designed parking brakes and cut-height adjusters, as well as useful features like easier-to-access greaseable spindles and enhanced foot pedal support.
Soft Ride Stand-on Mower
The SRS Series of stand-on mowers from Ferris brings a heightened level of productivity to the commercial lawn mower market.
Engineered for precision maneuverability and balanced stability, these ergonomically designed machines offer a range of innovative features that meet the brand's commitment to quality.
Front Mount Mower
With the Ferris front mount mower, no turf is out of reach. Its front-positioned deck allows for maximum visibility and effortless trimming in even the tightest of spaces.
Its three-wheel design and optional attachments make it a versatile and customizable machine, allowing the user to customize it to whatever job they need to complete.
What Engine Do Ferris Mower Use?
Ferris mowers have a wide range of powerful engines depending on the model. They are powered by:
Vanguard
Yanmar
Honda
Kawasaki
-Briggs & Stratton
The ISX™ 3300 and ISX™ 2200 have Vanguard engines, while the IS 2600Z is fitted with a 24hp Yanmar 3 Cylinder Liquid-Cooled Diesel.
The FW15 and FW25 are provided with Honda and Kawasaki engines, respectively.
The F800X series come with a 31hp Vanguard engine and ProCut S mowers feature Kawasaki or Briggs and Stratton gasoline-powered engines.
How Good is Ferris Mowers?
Ferris Mowers are the perfect choice for budget-conscious consumers who want quality and durability in their lawn care equipment. Reasons behind choosing a Ferris mower:
Strong Cutting Deck
The Ferris ISX 3300 offers a 61″ cutting width, adjustable from 1.5"-5" height, and Hercules II Cast-Iron spindles.
The FW15 has a 32″ deck and dual-timed blades, while the FW25 has a 91cm deck with a 3.8-11.4 cm adjustable height.
The F800X has an electric deck lift, either 72″ or 61″, with 1.5-5″ adjustable height and greaseable, heavy-duty cast iron spindles.
Good Fuel Capacity
Ferris mowers offer a variety of fuel tanks, ranging from 5.5 to 19 liters. The ISX 3300 has two 5.5-gallon tanks, the ISX 2200 has 11 gallons with a gas gauge, while the FW15 and FW25 have 2.1 and 19 liters respectively. The ProCut S has a 5.5-gallon capacity.
Comfortable
Ferris mowers stand out for their comfort for the integrated suspension systems which absorb shocks from uneven terrains, providing a smoother and more balanced ride.
Both the ISX 3300 and IS 2600Z have four control rods and coil-over shocks, putting them among the greatest zero-turn mowers.
Related Post: Ferris Vs Scag: Which One is the Right Choice for You?
Which Mowers are the Best of Ferris Brand?
Due to the dependability and quality of its products, the company enjoys a devoted consumer base. Here are the three finest Ferris mowers:
ISX 3300
The Ferris ISX 3300 offers a powerful Vanguard engine with a broad 61-inch cutting deck, two 5.5-gallon fuel tanks, and a comfortable suspension seat. Its foot-operated deck lift offers a range of 1.5-5 inches in cutting height. Enjoy a smoother zero-turn ride with this lawn mower.
FW15
The Ferris FW15 is a popular push mower, offering a powerful Honda GXV 390 engine and easy-to-use controls. With 10.2 horsepower, it's a reliable machine perfect for any lawn care job.
F800X
The F800X lawnmower is a great choice for anyone looking for maximum quality and efficiency. With its cutting-edge iCD technology, electric deck lift and adjustable cutting heights, it offers exceptional performance and precision.
It can mow up to 6 acres of ground in an hour and the maximum speed is 10 mph. With its low-price tag and high-quality results, the F800X is an excellent choice.
Ferris Mowers Price List
Ferris is renowned for its ability to provide quality mowers in different categories and price points. A price list of different models of Ferris mower:
Type of Ferris mowers
Models
Price range
Zero-turn mower
IS 6200
$37,799.00
ISX 3300
$26,798.00
IS 2600
$21,349.00
ISX 2200
$23,488.00
IS 700
$18,688.00
IS 600
$16,688.00
500S
$6,299.00
400S
$12,488.00
Walk behind mower
FW45
$9,349.00
FW25
$7,099.00
Soft ride stand-on mower
SRS Z3X
$12,399.00
SRS Z2
$11,999.00
SRS Z1
$9,449.00
Front mount mower
ProCut S
$13,149.00
F800X
$11,500.00
Does Ferris Mower Provide a Warranty?
Ferrishave custom warranties for each of their mower categories:
Stand-on mowers are covered by a 2+2 limited warranty for the first four years of acquisition, or 500 hours – whichever happens first. The coverage is unlimited for the first 24 months.
For stand-on mowers, 90-day warranties are offered for belts, brake pads, tires, blades, and batteries.
Transaxles are supported by a 3-year limited warranty.
Ferris 400s zero turn mowers come with a 4-year limited warranty, or 500 hours, depending on which first occurs.
Walk-behind mowers are supplied with a 24-month warranty for unlimited hours.
ISX 2200, ISX 3300, and ISX 800, Ferris provides a 3-year limited warranty, or 300 hours.
For those who purchased riding mowers with suspension systems, Ferris offers an impressive 5-year warranty coverage on the coil-over-shocks system components, with no limit on hours.
Related Post: Exmark vs Ferris Mowers The 8 Key Differences
Where to Buy Ferris Lawn Mowers?
Ferris mowers are available through authorized dealers. You can find the closest dealer to you by using the dealer locator on the Ferris website. Other possible dealers are:
Caldwell Outdoor Equipment
Caldwell Outdoor Equipment has rapidly become one of the largest and most recognized Ferris mower outdoor equipment distributors in the Midwest.
Green Acres Powersports
The newest Ferris goods and accessories are available at competitive pricing at Green Acres Powersports.
Frequently Asked Questions (FAQs)
Who makes Ferris mowers?
Ferris Mower are manufactured bySchiller Grounds Care.
Can I order my Ferris mower or any parts direct from the factory?
Ferris dealers sell exclusively. The dealer installs and services Ferris mowers. They stock parts for speedier service. If your dealer doesn't have the part, the Ferris Parts Department can ship it the same day.
Can I find a Ferris mower technical service manual?
Technical Service Manuals are not available from Ferris. Most Ferris mower maintenance information is in the operator's manual. If the operator's handbook doesn't have the information you need, contact your local dealer.
How should I maintain my Ferris mower?
Ferris advises you to adhere to your service maintenance schedule. Your operator's manual should have this information. Clean up any debris that has accumulated on and under the machine.
Related Posts: