Who Makes Husqvarna Mowers: Detailed Brand Information
Since 1689, Husqvarna has made outdoor power equipment. Husqvarna's lawnmowers are among the most popular in the world. Who makes Husqvarna mowers?
Husqvarna lawnmowers have been trusted for decades. This Swedish company, founded in a little town near Huskvarna, manufactures high-quality Husqvarna lawnmowers.
This article will discuss Husqvarna's history, their numerous mowers, and why they are the most reliable mowers on the market.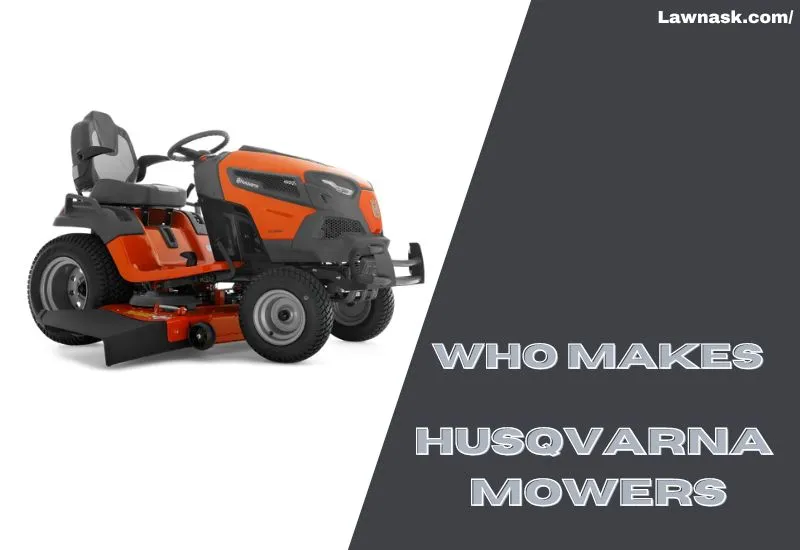 About the Manufacturer – Who Makes Husqvarna Mowers
Husqvarna has been manufacturing lawnmowers since 1918, when it purchased Norrhammars Bruk. In 1959, when it released the first high-powered lawnmower machines, the company first manufactured manual mowers.
Currently, Husqvarna is a prominent manufacturer and distributor of lawn and garden care equipment, including Poulan, Craftsman, Weed Eater, and McCulloch.
Where Are Husqvarna Mowers Made?
Husqvarna mowers are manufactured in Sweden, the United States, China, and other countries.
Husqvarna is a leader in the lawn mower business due to its extensive product line, which includes robotic mowers.
What Types of Mowers Does Husqvarna Produce?
Husqvarna's lawnmowers are unique and reliable. Husqvarna's battery, zero-turn, and robotic lawnmowers are trusted by households and commercial landowners. They are listed below:
Residential Zero-Turn Mowers
Husqvarna's zero-turn household mowers offer the utmost in comfort and performance for lawn mowing.
With modern technology like rubber isolators for a smoother ride, ergonomic controls for on-the-go adjustments, and high-quality seating for less stress and strain, you may have a more pleasant mowing experience. With these advancements, you can effortlessly mow small or lengthy areas. Some of the models are:
Xcite Z350
Xcite Z380
Z248F premium special edition
Z242F special edition
MZ61
Commercial Zero-Turn Mowers
Husqvarna commercial zero turn lawn mowers provide outstanding productivity and outcomes. These mowers produce accurate cuts and great striping because of powerful engines and sophisticated decks.
Husqvarna mowers provide a refined finish for professionals. Premium seat padding, ergonomic controls, and suspension seats allow you to work longer hours with less stress.
Z448
Z454
Z460
Z560L
Z460XS
Z554X
Riding Lawn Mowers
Husqvarna has a variety of riding lawnmowers to help you undertake lawn maintenance duties with ease.
With an electronic or automatic locking rear differential, pedal-operated hydrostatic transmission, easily accessible gauges and controls, and an adjustable sliding seat, you can enjoy comfortable, convenient control with your Husqvarna riding mower.
TS 354XD
TS 248XD
TS 148XK
TS 146XK
Commercial Walk Mowers
Husqvarna's commercial walk-behind lawn mower is high-quality equipment that is built with commercial components and has grease fittings for long-term lubrication. For those searching for a dependable and cost-effective solution, this mower is an excellent choice.
Stand-On Mowers
Husqvarna's stand-on mower for commercial lawn management has great maneuverability and easy service. Even on slopes and difficult grass, the heavy-duty cutting system assists to mow quicker and longer with great cut quality.
Its compact design transfers more units to the job site on one trailer. Husqvarna's stand-on mower offers top performance and usability. Popular stand-on models are:
Robotic Lawn Mowers
The Husqvarna robotic lawn mower is the optimal choice for lawns of any size or level of complexity. Its GPS-assisted navigation and sensors ensure a tailored, efficient experience regardless of the complexity of your landscape.
This revolutionary mower allows you to devote your time to other activities while still maintaining a well-manicured lawn.
Husqvarna comes with multiple models of robotic lawnmowers. Some of them are listed below:
Automower 105
Automower 310
Automower 115H
Automower 415X
Automower 430X
What Engine Do Husqvarna Mower Use?
Husqvarna mowers are powered by:
The engines of Husqvarna mowers are renowned for their superior power and durability. With cutting-edge technology, they are designed to deliver maximum performance and efficiency.
Whether it's low powered 18.5hp Briggs & Stratton Intek V-Twin engine or high powered 25hp Kohler V-Twin engine, each engine is engineered to provide maximum power, torque, and fuel efficiency for Husqvarna. The engines have a high-torque output and are designed to start quickly and easily with minimal maintenance required.
All the engines are built to last. The high-grade components and advanced engineering provide long-lasting durability and reliable performance.
How Good is Husqvarna Mowers?
Now the market is loaded with a sizable number of different lawnmowers, from the petrol-driven type to the gas and even robotic lawnmowers. Reasons behind choosing the Husqvarna lawn mower:
Unique Features
Husqvarna lawnmowers are also equipped with numerous desirable features, such as pedal-operated speed and direction control and ergonomic sitting with a premium budget.
Easy to Operate
Husqvarna mowers are user-friendly. Gas-powered models start easily and include a 3-in-1 cutting system for side discharging, mulching, or bagging.
Some models offer up to 9 cutting heights from 1.25 to 4 inches. Their compact size also makes them ideal for narrow locations and lawns with bushes and trees.
Durable
Consumer Reports gives Husqvarna lawnmowers an amazingly positive review, with an excellent expected dependability rating. When shopping for a new lawn mower, Husqvarna is a name you can trust to deliver a high-quality, durable product.
What is the Best Product of the Husqvarna Mower?
Two best Husqvarna lawn mowers reviewed by customers:
Husqvarna Automower 310
The Husqvarna Automower 310 is perfect for public spaces with a 1,000-metre operating area. It has a rapid cutting speed, 50 mm cutting height, and 40% inclination.
Three razor-sharp blades cut grass in groups and turn it into manure. Its zero emissions make this mower reliable and eco-friendly.
Husqvarna MZ61
Large property owners seeking comfort and productivity should choose the Husqvarna MZ61 lawn mower. Its zero-turn mower has a 9-bushel collection system, a sturdy steel frame, and comfortable cushioning.
A pedal-assisted cutting deck lift and six-inch wide front casters with pneumatic tires improve control and stability.
Husqvarna Mowers Price List
Below is a price list for some of the most popular Husqvarna lawnmower models across all categories.
Types of Husqvarna Mowers
Models
Price
Residential Zero-Turn Mowers
Xcite Z350
$5,499.00
Xcite Z380
$6,999.00
Z248F premium special edition
$3,699.00
Z242F special edition
$3,299.00
MZ54
$5,499.00
MZ61
$5,799.00
Commercial Zero-Turn Mowers
Z448
$8,399.99
Z460
$9,199.99
Z560L
$13,399.99
Z460XS
$10,899.99
Riding Lawn Mowers
TS 354XD
$4,899.00
TS 248XD
$3,899.00
Commercial Walk Mowers
W520
$1,299.99
W520i
$1,299.99
Stand-On Mowers
V548
$11,299.99
V554
$11,499.00
Robotic Lawn Mowers
Automower 550
$3,299.99
Automower 115H
$699.99
Automower 415X
$1,999.99
Automower 430X
$2,499.99
Automower 310
$2,099.00
Does Husqvarna Mower Provide a Warranty?
Husqvarna lawnmowers are built to be high-performance, high-quality machines that give consistent performance year after year.
Husqvarna provides a three-year limited warranty on consumer-grade wheeled equipment, including Z200 series zero-turn mowers, riding lawn mowers, riding lawn tractors, push mowers, walk mowers, battery push and battery walk mowers.
Husqvarna's robotic mowers have a three-year professional warranty too. It also covers its cutting blades against material and workmanship faults for life.
This guarantee covers material and workmanship faults under normal use and maintenance, with the exception of specified components, such as typical wear parts.
Where to Buy Husqvarna Lawn Mowers?
Husqvarna makes mowers for everyone. Consumers can use the dealer locator to find a Husqvarna Dealer. For fast and successful lawn work, a professional dealer can help them choose the right product. Possible alternatives are:
Lowe's
You'll find the perfect lawn mower for your needs at Lowe's. With a large selection of Husqvarna products, this dealer is dedicated to offering the highest quality customer service.
Powered By Moyer
Paul B. Moyer & Sons, Inc., a Doylestown Husqvarna Power dealer, sells lawnmower. They provide new and used mower which will fulfill your demands.
Frequently Asked Questions (FAQs)
Who makes Husqvarna mowers?
Husqvarna mowers is manufactured by Husqvarna Group.
How many hours will a Husqvarna riding mower last?
Husqvarna lawn mowers are reliable. Husqvarna mowers last 50–500 hours, depending on model and upkeep. Newer models with regular care can last years.
Are Husqvarna mowers easy to operate?
Husqvarna lawn mowers make lawn maintenance easy and efficient. You can tailor your mowing experience with AutoWalk technology, changeable cutting heights, and compact maneuverability.
How safe are Husqvarna mowers?
Husqvarna mowers provide safety. Husqvarna mowers have a pressure-sensor kill switch beneath the seat to stop the rotary blades if you get off. This lawn mower feature protects you.
Related Posts: