Who Makes Snapper Mowers: Details Brand Information
Since 1951, Snapper mowers have been a reputable brand of lawnmowers. These mowers are recognized for their price, durability, and quality.
Briggs & Stratton is now the manufacturer of power equipment, engines, and outdoor products, producing Snapper mowers.
This article will cover who makes snapper mowers, the several types of mowers they offer, and why their mowers are the most dependable and effective mowers on the market.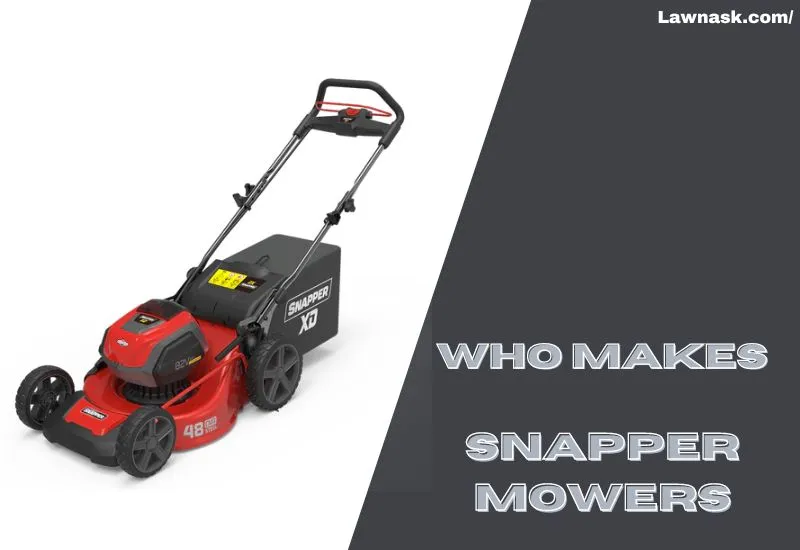 Overview of the Manufacturer – Who Makes Snapper Mowers?
Snapper rose to fame in the 1994 because of Tom Hanks using it in the film Forrest Gump. He was mowing the grass using a Comet riding lawn mower from the 1960s.
Snapper lawn mowers are in manufacture since 1951. But Briggs and Stratton did not own it at first.
Fuqua Industries purchased Snapper from its original owner, McDonough Power Company, in 1967. Then it was bought by Simplicity bought back in 2002.
Afterwards, Simplicity sold the brand to Briggs & Stratton in 2004, who is now the current owner.
Snapper weed trimmers, hedge trimmers, and leaf blowers were introduced in 2020 and they now are available at Dealers and WalMart.
Where Are Snapper Mowers Made?
Snapper is a global brand that engineers and designs items in the United States, but has supply and production partners around the world. All of their products are manufactured in Milwaukee, Wisconsin, and Sherrill, New York.
Briggs and Stratton closed its McDonough, Georgia, factory in 2014 and relocated operations to Wauwatosa, Wisconsin.
Briggs & Stratton, the parent company of Snapper, is headquartered in Milwaukee and supports 3,000 American employees.
How Good Snapper Mowers Are?
With a Snapper, everything is simple. In so many mower owners' opinion, this is one of the greatest mowers available. It can function as a lawnmower, ATV, bulldozer, or automobile.
These mowers stay for a long time (easily 25 years) with a little maintenance every few years. We've all had a granddad who was crazy about these things and had 7 or 8 of them at once.
They simply have something that modern riding mowers do not. They are quite easy and dependable. If they've been sitting for a while, simply clean the carburetor, drain the tank, and replace the oil and batteries.
Durability, reliability, smooth performance, and toughness – all these make these mowers one of the best mowers out there.
Snapper Mower Quality Assurance and Service
When it comes to producing top-notch lawn mowers, Snapper leaves no stone unturned. This is why users still look for it in Walmart and give generous reviews on it on forums.
Of course, before the mower hits the market, Snapper runs a thorough investigation on each piece of equipment. The company conducts extensive durability testing.
For example, Snapper encouraged the Torture-Testing of Snapper Mowers, where Snapper mowers were subjected to harsh conditions, including uneven terrain and heavy usage, demonstrating their exceptional durability.
The mowers are evaluated based on various performance criteria such as cutting efficiency, speed, and precision. Additionally, Snapper is equally committed to safety.
Their mowers adhere to strict safety standards and regulations. Snapper takes green-friendly responsibilities seriously. Their mowers ensure compliance with emissions and efficiency standards.
Mowers from Snapper – A Wide Variety of Models to Pick From
Snapper's several models make it easy to select the right one for your lawn. Different types of Snapper mowers are:
Push Mower
Snapper push mowers are ideal for any lawn maintenance duty. Some of the models are:
The HI VAC mower's vacuum-like suction and large 10″ wheels make yard work easier on steep terrain and thick grass.
ReadyStart technology and a Briggs & Stratton 850 PXi Series OHV engine ensure smooth starts and effective mowing.
The NINJA walk-behind mower fertilizes grass better. A six-edged blade delicately mulches grass, which is subsequently returned to the lawn for a more natural look.
ReadyStart technology and the Briggs & Stratton 850 PXi Series OHV engine make the mower easy to start and run well.
Commercial walk mowers are powerful and maneuverable. With a 14-gauge steel mowing deck, steel axle-strengthened braking, and professional-grade power, your mower will last. With 10″ rear wheels, you can handle slopes and flats.
Riding Mower
Snapper riding lawn mowers are simple to use and maintain. Popular models are:
Snapper SPX is manufactured with a steel deck, cast-iron front axle, and steel front bumper making it durable. Its 5.5 mph ground speed ensures fast work.
SPX ride-on mowers are multifunctional. Whether mowing the lawn or tackling snow removal in the winter, the SPX can handle a variety of tasks with its optional attachments.
The RPX is a powerful, robust ride-on mower, equipped with Briggs and Stratton engine, a steel cutting deck, a mulching plug, and a 350L grass collector. It also boasts a front bumper and all-metal panels for durability.
Zero-turn Mower
Snapper's Zero Turn Mowers make yard maintenance easier than ever with their smooth ride and effortless maneuvering.
The 360Z zero-turn mower lets consumers trim their lawns quickly and easily. Its optional cargo bed makes hauling mulch, soil, and other goods easy. This powerful mower can handle any grass size.
Larger chores are easy with the 360Z XT zero-turn mower. This mower's powerful engine, bigger deck, and 8.5 MPH top speed make it efficient.
Electric Mower
With a robust engine and lightweight construction, Snapper electric mower has different models like:
A Briggs & Stratton Lithium-ion battery powers Snapper XD 82V Max Cordless Push Mowers. The 3-in-1 steel mowing deck can mulch, side discharge, or bag, and a single lever adjusts it to 7 cutting heights.
XD 82V MAX cordless self-propelled
Mowing is simple with the Snapper XD electric cordless self-propelled lawn mower with a Briggs & Stratton 82V Max lithium-ion battery. With a self-propelled drive system, push-button start, and intelligent load-sensing technology, you can finish your lawn work quickly.
XD 82V MAX stepsense cordless
This 82V MAX stepsense cordless lawn mower is packed with premium features, such as intelligent load sensing technology, dual-battery powerhead, and StepSense automatic drive system, to give you the perfect lawn.
Related Post: 5 Snapper Self-Propelled Lawn Mower Problems and Simple Solutions!
Pro Zero-turn Mower
Snapper Pro ZT lawn mowers will help you keep a lush lawn. Well known models are:
Pro S120 is featuring heavy-duty components, larger 52" or 61" deck diameters, and strong engine options, the S120 can finish huge jobs at up to 10 MPH. The S120's revolutionary iCD Cutting Technology ensures a great lawn after each operation.
The S200XT commercial zero-turn mower has large 61″ and 72″ deck widths, an available Vanguard BIG BLOCK Engine with EFI, and a 10 MPH speed. With a 10-gallon fuel tank and an Oil Guard system that doesn't need to be changed for 500 hours.
Snapper Mowers Price List
Here is a price list of different models of Snapper mower:
Types of Snapper mower
Models
Price
Push mower
HI VAC mower
$799.00
Ninja push mowers
$799.00
Commercial walk mowers
$1,199.00
Riding Mower
SPX riding mower
$2,949
Zero-turn Mower
360Z zero-turn mower
$3,365.00
360Z XT zero-turn mower
$5,304.00
Snapper Pro Zero-turn Mower
Pro S120
$7,399.00
S200XT
$9,999.00
Frequently Asked Questions (FAQs)
How can I properly store the lithium-ion batteries of Snapper mowers?
Store lithium-ion batteries in a cool, dry place away from heat and moisture. Remove from charger after charging to prevent overcharging.
What is the maximum speed of a Snapper lawnmower?
The Snapper 82V battery-powered lawnmower's no-load blade RPM was 2776. Its 20-inch blade propels its tips at 165.1 mph.
What Engine Does Snapper Mower Use?
Snapper Mowers use Briggs & Stratton engines. These engines are available in a variety of sizes, ranging from 5.5 to 27 horsepower.
Does Snapper Mower Provide Warranty?
It comes with a 2-year domestic guarantee and a 90-day commercial warranty. The engine has a 2-year residential and 1-year commercial warranty.
Related Posts: