Who Makes Exmark Mowers: The Brand You Can Count
Exmark mowers are among the most popular and reliable lawnmowers in the industry. The brand has been around since the mid-1980s and is known for its powerful and durable mowers. But who actually makes these mowers?
In 1982, Exmark Manufacturing was incorporated as an independent manufacturer of professional turf care equipment. In 1997, Exmark became a division of The Toro Company, providing additional resources to ensure its continued growth and market leadership.
This article will closely look at who makes exmark mowers, the company, its products, and the reasons why they are an ideal option for your lawn care needs.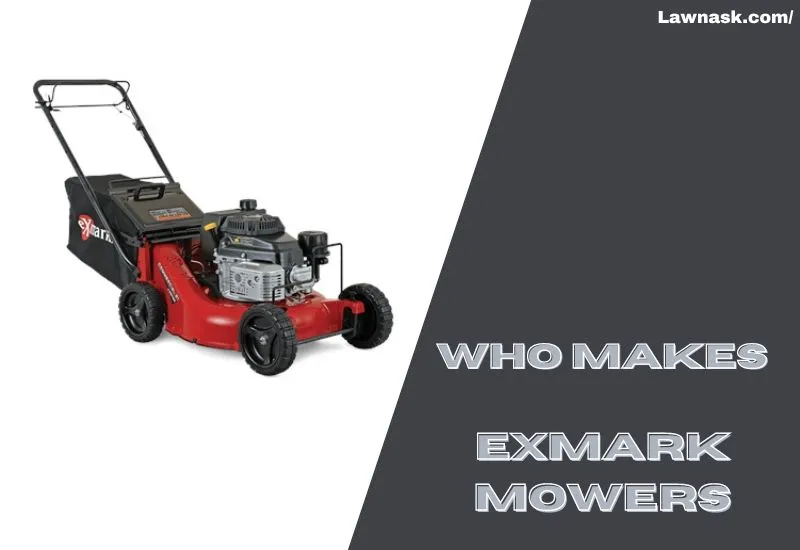 About the Manufacturer – Who Makes Exmark Mowers
Exmark Manufacturing has led grass care equipment since 1982. From a little garage in Beatrice, Nebraska, the company today creates some of the most popular commercial mowers in the US.
Throughout the 1980s, Exmark has led the grass care business with cutting-edge products and technology, from mid-size walk-behind mowers and turf rakes to the 1995 Lazer Z zero-turn riding mower.
Toro's 1997 acquisition has boosted growth. This collaboration has enabled Exmark to make the best commercial mowers while improving their products.
Exmark is proud to lead the professional grass care industry with the greatest products and services.
Where Are Exmak Mowers Made?
Located in Beatrice, Nebraska, Exmark is pleased to manufacture the vast majority of its mowers in the United States. In 1983, Exmark had seven employees and was located in a garage-like building; today, it is part of the Gage County Industrial Park in Beatrice.
Windom, Minnesota is where Exmark builds its Quest series mowers. When purchasing an Exmark mower, customers can rest easy knowing that the company places a premium on American-made products without sacrificing quality or craftsmanship.
Are Toro and Exmark the same?
NO. Exmark is a proud subsidiary of Toro, the world's top manufacturer of professional and commercial lawn care equipment.
Exmark has been able to expand its reach and offer a wide range of products that make life easier for lawn care professionals due to the financial and operational stability given by the Toro Corporation.
Exmark is one of several brands in the Toro family, which also includes Ditch Witch and Spartan Mowers.
Toro has over a century of experience in offering quality and effective solutions to help make outdoor jobs easier and more pleasant.
Related Post: How To Fix Exmark Zero Turn Steering Problems? Easy 5 Steps (Solved!)
What Types of Mowers Does Exmark Produce?
Exmark provides commercial and professional grade lawn mowers of the highest quality to ensure that businesses get the best cut faster. Some of them are mentioned below:
Walk-behind mowers
Exmark's commercial walk-behind mowers are powerful. These mowers' self-propelled drive systems help users to work faster and more efficiently.
The sturdy and easy-to-maintain blade design trims precisely. These mowers simplify grass care for commercial and home use. Exmark walk-behind mowers offer fast, reliable performance.
Some of the models are:
Commercial 21 (deck width starting at 21″)
Commercial 30 (deck width starting at 30″)
Turf Tracer (deck widths from 36″ to 60″)
Zero-turn Mowers
For decades, Exmark has been working hard to create the world's best zero-turn mower in order to meet the needs of landscape professionals.
Subsequently, they put in the research to develop a top-of-the-line zero-turn mower with the best ergonomics, maneuverability, cut quality, and durability.
Now landscapers and homeowners can handle any task with Exmark zero-turn riding mowers.
Some of the models are:
Quest (deck widths from 42″ to 54″)
Radius (deck widths from 48″ to 60″)
Lazer Z (deck widths from 48″ to 144″)
Navigator (deck widths from 42″ to 48″)
Stand-on Mowers
Exmark stand-on mowers are designed with the customer in mind, delivering maximum performance, reducing operator fatigue and providing easy maintenance.
The all-new Exmark Vertex commercial stand-on mower features a lower center of gravity for superior traction and maneuverability. With both models, users can expect the commercial performance and durability they've come to expect from Exmark.
Staris (deck widths from 32″ to 36″)
Vertex (deck widths from 48″ to 60″)
Electronic Fuel Injection (EFI) Mowers
Offering select models of mowers with Electronic Fuel Injection (EFI), E-Gov and Red Technology, Exmark makes sure to prioritize efficiency.
With fuel efficiency boosted up to 41%, Exmark mowers maximize operator efficiency and comfort with a range of seated and stand-on models. As a result, landscapers and homeowners can enjoy a mower that works just as efficiently as they do.
Commercial 21 V-Series (with 21-inch width of mower deck)
Vertex V-Series (with 52-inch width of mower deck)
What Engines Do Exmark Mower Use?
Exmark mowers are powered by:
Kawasaki
Kohler
Briggs & Stratton
These engines are air-cooled, V-twin OHV designs featuring Magnetron electronic ignition for dependable starts. The engines come with a three-year manufacturer's limited warranty from Exmark.
The most common engines are Kawasaki and Kohler, with some lasting as long as 5,500 hours. Regular maintenance and oil changes are essential to keeping these engines running well.
Related Post: Exmark 708cc Engine Problems: DIY Fixes Explained!
How Good is Exmark Mowers?
ExMarks are performance-optimized. These mowers are designed to last and easy to repair. Reasons behind choosing an Exmark:
Ultra-cutting deck
Their ultra-cut deck is simply incredible. Their top-notch engineering makes sure that the cut always looks good and, more importantly, that the mower keeps cutting.
Durability
Exmark is a supplier of mowers with high levels of power, speed, and durability. They have provided high-quality equipment that has served its purpose well.
Repairability
These mowers have been designed to have an as little downtime as possible, but every mower will break at some point. You are able to fix them if they break, which is another great thing about ExMark mowers.
What is the Best Product of Exmark Mower?
Landscapers nationwide use the Exmark Lazer Z zero-turn mower for its ingenuity and standard-setting. The Lazer Z E-Series, S-Series and X-Series mowers are the best commercial zero-turn mowers.
The Exmark Lazer Z X-Series is widely considered the top-of-the-line zero turn mowers. With their advanced engineering and high-end components, they have consistently been rated as some of the best on the market.
The Lazer Z has a floating deck, ergonomic suspension seat, and deck widths from 48 to 144 inches. Most notably, the Lazer Z has Exmark's zero-turn technology with dual hydro gear systems for greater maneuverability, precision cutting, and unmatched durability.
Exmark Mowers Price List
The price list of different models of Exmark mowers are given below:
| | |
| --- | --- |
| Exmark Mower Models | Price range |
| Walk-behind mowers | $1,799- $8,599.00 |
| Zero turn mower | $3,899.00- $18,999.00 |
| Stand on mower | $9,899.00- $12,699.00 |
| Electric mower | $2,599.00- $39,999.00 |
Does Exmark Mower Provide a Warranty?
The mower's warranty is assured if a part fails. If the defect is caused by bad handling, avoidable damage, or lack of maintenance, you will pay. If you're not at fault, you'll get the following warranties.
| | |
| --- | --- |
| Exmark Mower Models | Warranty |
| Lazer Z | 5 year |
| Lazer Z X series | 5-year, 1500-hour warranty With no hour limit for the first two years. |
| Lazer Z E & S series | 5-year, 1250-hour warranty |
| Radius X series | 4-year, 1000-hour warranty |
| Radius E series | 4-year, 500-hour warranty |
Where to Buy Exmark Lawn Mowers?
The best places to buy an Exmark lawn mower:
Best Line Equipment
Best Line Equipment offers Exmark lawn mowers for personal and commercial use, turf maintenance, and parts and servicing.
MacAllister Outdoors
MacAllister Outdoors provides excellent after-sales servicing for new and used Exmark products. They're adept in preventive maintenance, troubleshooting, and major repairs. To keep your Exmark mowers running well, they also sell several replacement parts.
Frequently Asked Questions (FAQs)
Who makes Exmark mowers?
Exmark mowers are manufactured by the Exmark Manufacturing Company, a division of the Toro Company.
What is the distinction between Exmark and Toro?
Both Toro and Exmark are Toro mowers. These mowers, however, differ in some ways. Exmark is primarily designed for professional use. Toro, on the other hand, manufactures residential lawnmowers and other small-type mowers.
How long do Exmark mowers last?
Hydraulic pump-to-wheel motor drive powers Exmark. Pre-2009, these systems lasted 1,000 hours. In 2009, they merged these two units to eliminate hydraulic lines, changing this design. These parts last 1,500–2,000 hours.
Are Exmark lawnmowers worth the investment?
ExMark makes a terrific mower. Any mower will eventually break if used frequently, but with ExMark, you can always have replacement parts the same day. This is a significant benefit if you are a professional, and it is quite convenient as a homeowner.
Related Posts: