Who Makes Encore Mowers: Are they Any Good?
When it comes to lawn care, the Encore mower is a popular choice. They are intended to deliver a high-quality cut as well as a smooth, efficient ride. But who makes encore mowers?
Worldlawn Power Equipment, Inc. has been manufacturing Encore Lawn Mowers since 2011. They are the top producer of walk-behind, ride-on, and stand-on mowers in the United States.
This article will provide an in-depth discussion of the manufacturer of the widely used encore mower.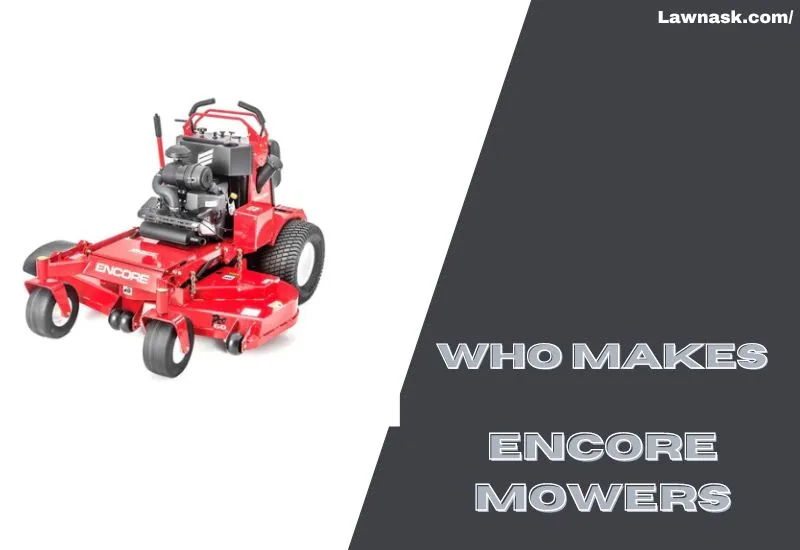 About the Manufacturer – Who Makes Encore Mowers
Encore has manufactured high-quality mowers since 1988. Worldlawn Power Equipment, Inc. acquired Encore in March 2011. Encore, a division of Worldlawn Power Equipment, Inc., offers high-quality commercial mowing services worldwide.
Encore mowers thrive in performance, efficiency, and durability due to their quality and reliability.
Where are Encore Mowers Made?
Encore Mowers are a popular option for homeowners looking for a high-quality lawn care and maintenance service. Encore lawn mowers are made in Nebraska, United States of America.
The frame, motor, tires, and deck of the mower are all made in-house to make sure quality. The engineering and technical staff at Encore make sure that its mowers use the latest technologies to work as well as possible.
What Types of Mowers does Encore Produce?
At Encore, they design and manufacture top-notch mowers with robust components, while also taking into consideration the convenience of routine maintenance. The popular types of Encore mowers are mentioned below:
All of their mowers come at competitive prices.
Encore Walk-behinds Mower
The Encore Walk-Behinds are two models of powerful, yet lightweight, lawn mowers that are ideal for trimming and maintaining small to medium-sized lawns.
Hydro drive models have a positive locking tooth & sprocket brake and 6.5 mph forward speed.
FS Kawasaki's hydro drive engine is reliable and fuel-efficient. It turns tight and has a 4-gallon petrol tank.
The Encore Belt Drive Mower is agile and powerful due to Kawasaki FS Series engine and belt drive technology.
The mower covers greater ground with a 5.0 MPH forward speed and 4-gallon fuel capacity.
Belt drive positive locking band brakes ensure mower safety and reliability. It cuts tight bends.
Encore Zero-turn Mower
Encore zero-turn offers different models – Fuzion, Prowler, Edge, Caliber, and Dirt.
Homeowners should choose the Fuzion mower. Its long lifespan and maintenance-free spindles minimize the need for repairs. Side discharge, bagging, or mulching make cleanup easy with this model.
Wide-track rear wheelbases improve stability and traction.
Prowler is powered by Yamaha, Kawasaki, or B&S engines, and features an 8-gauge steel floating deck, a R.O.P.S and electric deck lift standard, the ability to discharge, mulch, or collect, an articulating front end, powerful Hydro-Gear ZT-5400 Transmissions, and a 72" deck available with rear or side discharge.
The Roll-Over Protection System (R.O.P.S) protects the operator as the Hydro-Gear transmissions smoothly power the wheels. The user can discharge, mulch, or collect cut grass, and the triple-layer spindle support improves cutting performance and blade life. Kawasaki FR or FX engines are best for power and performance.
Kawasaki FX engines power the Caliber riding lawn mower. The engine performs well. Its 14-gallon gasoline tank lets you mow longer without refueling.
Triple-layer spindle support strengthens the mower's blades and deck. This allows your mower to handle rough terrain.
Maintenance-free spindles make dirt durable and easy to use. Mulch, bag, or side discharge for versatility.
Wide-track rear wheels improve stability and handling. Simple controls maintain the perfect cut. Dirt is built for efficiency and speed.
Encore Stand-on Mower
The most common range of Encore stand-on mowers is Rage. Professional-grade Encore Stand Mowers cut efficiently and effectively every time.
It has floating decks with Kawasaki engines and Parker HTE and HTJ transaxles on 32″, 36″, 48″, 52″, and 60″. Its foldable operator platform makes it a walk-behind mower and easy to store.
The height adjustment knob guarantees accurate cuts. 32″ and 36″ models have an RDC option. Commercial and domestic uses suit the Encore Stand Mower.
What Engines Do Encore Mower Use?
Encore mowers offer:
Kawasaki engines
Yamaha engines
B&S engines
Encore ensures that customers can rely on their mower to deliver efficient performance every time. The transmission options also ensure that you can get the power you need for any kind of mowing task.
Are Encore Mowers Any Good?
For those seeking a reliable lawn mower, the Encore mower is an ideal option. Reasons behind having an Encore mower:
High-end engine performance
In order to provide you with the highest mowing performance, Encore mowers are equipped with robust Kawasaki engines and gears. The power is reliable and top-notch across all models.
Smooth cut
Encore mowers are known for their exceptional cutting performance, which is attributed to their high-quality, sharp blades with precise angles.
Efficient
Encore mowers are fairly reliable. These mowers are extremely fuel-efficient, so you won't have to worry about excessive fuel costs.
Comfortable
With seats and a big standing deck, Encore mowers are ideal for long mowing operations. The seats are really comfortable, and the standing deck provides adequate space for the feet, eliminating tiredness.
Which is the Best Encore Mower?
The mower from Encore Edge has consistently garnered the most attention. This zero-turn model provides power, performance, and dependability by utilizing high-quality components and a trustworthy warranty.
Encore Edge is equipped with a Hydro-Gear gearbox, an optional joystick, and Kawasaki FR or FX engines, so you can rely on it to get the job done. Edge is featured with a Roll-Over Prevention System to safeguard the safety of the operator. Encore Edge enables you to make the correct decision.
Encore Mower Price List
Here is a price list of different models of Encore mower:
Types of Encore mower
Models
Price
Walk-behinds mower
Hydro drive
$4339.00
Belt drive
$3,299.00
Zero-turn mower
Fuzion
$5,560.00
Prowler
$12,564.00
Edge
$7,799.00
Stand-on mower
Rage
$6,178.00
Does Encore Mower Provide a Warranty?
Encore warrants the mower purchased from an Authorized Encore Dealer to be free from defects in material and workmanship for three years commercial/residential and ten years for the deck shell.
Wear items like belts, blades, and tires are excluded from this limited warranty.
This limited warranty applies only to residential and commercial Mowers. A mower purchased for any other reason, such as a rental item, shall have a 90-day limited warranty under some terms and conditions.
Where to Buy Encore Lawn Mowers?
Authorized dealers sell Encore mowers. The Encore website's dealer locator lets you discover the nearest dealer. Alternative dealers are:
Roy at Fritts Farm & Equipment Sales
Roy at Fritts Farm & Equipment Sales has the best mowers and parts from Encore and other reputable brands. These brands are known for their engineering, performance, and dependability. They make machines for people who need to get things done.
Central Power Equipment
Central Power Equipment is your reliable supplier for any Encore model you may require. They provide the greatest local and online sales and service.
Frequently Asked Questions (FAQs)
Who makes Encore mowers?
Encore mowers are manufactured by Worldlawn Power Equipment, Inc.
What features do Encore mowers offer?
Encore mowers offer a range of features, including durable construction, powerful engines, and cutting decks designed for maximum efficiency.
What could have been better with Encore mower?
Encore mowers are praised for performance and reliability, but some users face issues like lack of availability and difficulty finding replacement parts. Research is needed to locate the perfect mower and replacement parts for repairs.
Are Encore mowers expensive?
The prices of Encore mowers vary depending on the model and features. However, Encore mowers are competitively priced and offer excellent value for money.
Related Posts: