Who Makes Cub Cadet Mower Engines?
Cub Cadet mower engines are EFI engines by Cub cadet. It comes the IntelliPower™ that gives more power to these engines. However, they often collaborate with Briggs and Stratton, Kohler etc. for their mower engines. But actually Who Makes Cub Cadet Mower?
Currently, Stanley Black & Decker is now the manufacturer of Cub Cadet engines by acquiring MTD in 2021. Besides this, the mower also uses B&S, Kohler and Kawasaki engines.
Besides, the OHV engines are produced by Cub Cadet in a joint venture with an Asian manufacturer company. More details will be available in this article, so stay tuned!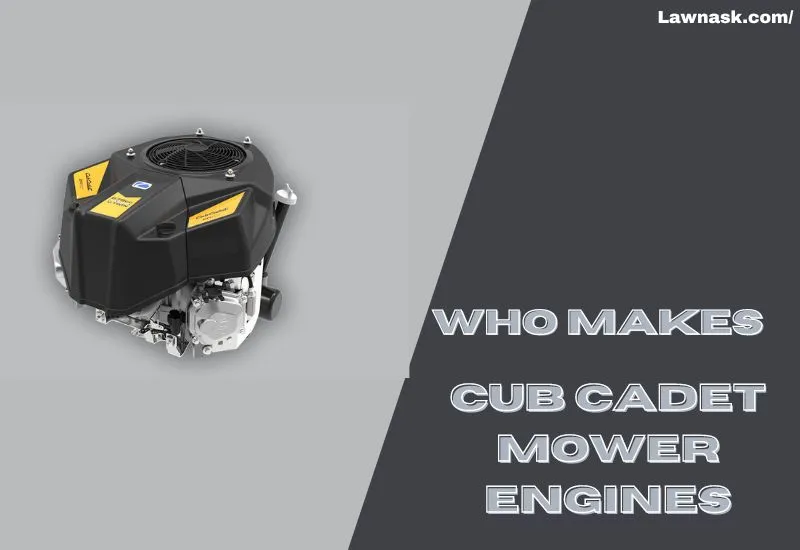 About the Manufacturer – Who Makes Cub Cadet Mower Engines
Cub Cadet is a brand of outdoor power equipment manufactured by Stanley Black & Decker. For its outdoor power equipment, the business designs and manufactures its own engines.
B&S cooperated with Cub Cadet and MTD took over Cub Cadet after their bankruptcy and started making engines for them. MTD purchased Cub Cadet in 2008 and started making high-quality engines.
Then Stanley Black & Decker finalized its acquisition of MTD, making it the industry's global leader in outdoor power equipment by 2021. Cub Cadet solely distributes and services their engines under the Powermore® engine brand.
Where Are Cub Cadet's Engines Made?
Stanley Black & Decker has its headquarters in the United States. Although they have collaborated with an Asian manufacturing company, the engines are made in the USA.
The company has more than 100 manufacturing locations throughout the world and 50 in the United States.
Many of their products used to be powered by Briggs & Stratton engines, And their high-performance power equipment was fitted with engines manufactured in the United States by Kawasaki, Honda, and Kohler. Now, MTD has the upper hand in manufacturing all Cub Cadet items.
Types of Cub Cadet Engines in the Mowers
The top two most popular types of engines are used in Cub Cadet mowers:
Cub Cadet Powermore Engines
Cub Cadet's Powermore engine is a premium small block engine with the latest in engineering and design innovation. The Overhead Valve (OHV) design ensures maximum efficiency and power. Additionally, the cast iron cylinder sleeve adds strength and durability.
The air cleaner is a dual element for superior filtration. And the low-tone muffler keeps noise levels to a minimum. The crankshaft is supported by a ball bearing for smooth, long-lasting performance.
It also has a large fuel tank capacity that provides plenty of fuel for long journeys.
Cub Cadet EFI engine
The powerful Cub Cadet EFI (electronic fuel-injected) engine is a reliable, fuel-efficient solution for any mowing job. With up to 679cc of power, it can tackle even the toughest jobs with ease.
Its fuel-saving technology enables consumers to get more mileage out of each tank. It decreases emissions and reduces the frequency of refueling.
And its upgraded controlling mechanism guarantees customers have the necessary power even when dealing with long, damp grass.
Reduced maintenance requirements and fewer oil changes will save you time and money. The Cub Cadet EFI engine has you covered when it comes to tackling challenging mowing tasks.
Cub Cadet's In-House Engines
Cub Cadet's in-house engines optimize performance and efficiency. This is because of customization that allows Cub Cadet to fine-tune engine components (such as the camshaft, carburetor, and exhaust system) to match the intended application.
They also encourage and play with innovative technologies by experimenting with new technologies and features. This is where the EFI and OHV technologies come to play.
Cub Cadet uses these engines in specific mower models. So that their power output aligns with the intended use.
Proper maintenance is crucial, and they typically offer warranties on their in-house engines.
Although they use in-house engines in some models, they also rely on engines from established manufacturers like Kohler and Briggs & Stratton.
Are Cub Cadet Engines Any Good?
No matter how cub cadet mowers are, their engines are actually surprising. They have a much better performance and quality. For example:
Fuel Efficient
Cub Cadet engines may run on a variety of fuels. It uses gasoline in its motors, while propane is used in its more environmentally friendly models.
Reliability
The reliability and accuracy of Cub Cadet's riding mowers and walk-behind mowers are well-known. This is due to the high-quality design and robust construction of their engines, lawn decks, and cutting systems.
Longevity
A few of the company's air-cooled engines survived only 1,000 hours. Several users have reported that their Cub Cadet engines have operated trouble-free for more than 3,000 hours.
Cub Cadet Engine Products
The most common Cub Cadet products are given below:
Lawn & garden tractors
Cub Cadet XT Enduro Series lawn tractors deliver power and precision. These tractors deliver consistently high-quality cuts with automotive-grade corrosion protection and a cutting system composed of the best materials.
These powerful tractors are comfortable with adjustable seats, comfort-grip steering, and rider-tailored ergonomics.
EFI technology reduces fuel usage and maintenance time by 25%. The XT Enduro Series steering system gives homeowners maximum control and command.
Push Mower
The 21-inch steel cutting decks of walk-behind push mowers are suitable for flat, modest to medium-sized lawns. The Cub Cadet Signature Cut series offers a three-in-one solution, permitting you to bag, mulch, or discharge grass clippings.
Snowblower
Cub Cadet snow blowers are quite durable. The X Series consists of single, two, and three-stage snow blowers with clearing widths of up to 34 inches and engines of up to 420 cc for snow day after snow day and every day.
Does Cub Cadet Engine Provide a Warranty
Cub Cadet brand is devoted to offering quality products and superior customer service in every country.
Cub Cadet LLC provides a limited warranty of two years on all new products purchased or leased in the United States.
Cub Cadet products are guaranteed to be free of material and workmanship faults, excluding normal wear parts.
With their two-year limited guarantee, you can be assured that your purchase is protected and that any problems you have will be resolved promptly and effectively.
Frequently Asked Questions (FAQs)
Who owns the Cub Cadet Engine?
Now Stanley Black & Decker owns the Cub Cadet engine.
Is Cub Cadet only USA based?
No. Cub Cadet designs, manufactures and sells residential and commercial outdoor power equipment in the US, Canada, Europe, and other countries.
Does Cub Cadet EFI engine accept diesel fuel?
No, it only accepts gasoline with ethanol mixtures of up to 20%.
Where Can I Get a Replacement of Cub Cadet Engine?
Cub Cadet engines and custom engine parts can only be replaced by the original engine manufacturer or an authorized service center of the original engine manufacturer.
Related Posts: