42 vs 48 Inch Mower Deck: 6 Key Differences
Generally, the Mower Cutting Deck size starts from 18" up to 72" or 120". However, 42" and 48" Mower Decks are the most popular & ideal for most (average) yard sizes.
Aspects such as lawn or yard length, budget, mower type, duration, available space, and flexibility or mobility help determine the correct deck size for your mower.
Continue reading the following article to learn and understand the actual difference between 42 vs 48 inch mower deck.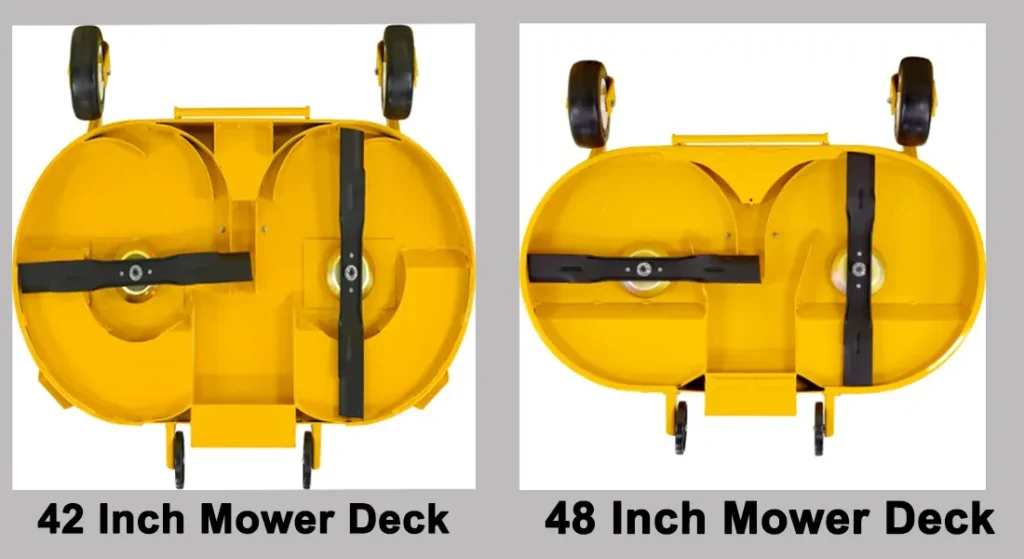 42 vs. 48 Inch Mower Deck: Quick Comparison Table
Check out the difference between these two through their specs-
| | | |
| --- | --- | --- |
| Specifications | 42 Inch Deck | 48 Inch Deck |
| Price: | Up to $3500 | Up to $4000 |
| Lawn or Yard Size: | Zero Up to 1.5 Acre | Up to 2.5 or 3 Acres |
| Power: | 21.5 HP (16 KW) | 21.5 HP (16 KW) |
| Displacement: | 44.3 Cu In. (726 cc) | 44.3 Cu In. (726 cc) |
| Blades: | 2 | 3 |
| Deck Material: | 12 Gauge Steel, 0.105 In. (2.7 mm) | 10 Gauge Steel, 0.135 In. (3.4 mm) |
| Cutting Width: | 42 In. (107 cm) | 48 In. (122 cm) |
42 vs 48 Inch Mower Deck – Complete Comparison
Six significant factors help to point out the main difference between 42" and 48" deck sizes.
First, read these factors to learn & understand the Differences Precisely-
1- Yard Size & Terrain:
First, consider the length or size of your yard and the terrain's needs because you don't need a bigger deck size to cover a small area like a 1- or 2-Acre yard.
Similarly, a smaller deck will not work more efficiently to cover a mid to bigger-length lawn area.
Another scenario is where you might have several smaller-sized lawns and require regular mowing. Then, opt for a deck size that's not too small or too big and can perfectly handle daily abuse.
The range between 42"-48" is perfect as a mid-range deck size, but 42 inches cutting deck is more suitable for up to 1.4/1.5 Acre area.
There are a few mowers with 42" decks that can cover up to 2.5 Acres, but those require more Horsepower than any typical 42" mower deck.
Besides, 48" decks are ideal for mowing 2 up to 3 Acre lawns or yards and are powerful enough to handle daily abuse.
2- Lawn Type:
Next, determine whether your lawn is flat and leveled or it has slopes, culverts, and is over-mounded.
A larger cutting deck like 48" will cut more evenly and straight on a flat or leveled lawn surface.
On the contrary, a smaller cutting deck like 42" delivers more even cuts on sloppy, steeper, or over-mounded lawn surfaces.
3- Length of Grass & Level of Obstacles:
It's equally important to consider whether you have longer or relatively shorter grass and the level of obstacle your mower has to deal with during mowing.
The 42-inch deck can easily mow 1/2 Acre of longer or shorter grass efficiently, but if you have 3/4 Acre of longer grass, you have to opt for a 48-inch cutting deck.
However, the 48-inch deck will work smoother and quicker than 42 inches for longer and thicker grass, even if it's a 1- or 2-Acre area.
Similarly, if you have smaller grass but the yard size is almost 3 Acres, a high-quality 42" deck mower with more horsepower can get the job done.
4- Budget or Price Range:
A new branded 42-inch mower deck will range from $2500 up to $3500. However, aftermarket Deck replacement options are available in the $800-$2000 range, and used parts are available from $100 up to $799.
Likewise, a branded new 48-inch deck will cost $3,300 up to $4000, but aftermarket options are available at $900-$2000.
So, decide based on budget preference.
5- Storage Capacity & Mowing Duration:
Bigger deck size means you will need bigger storage space to store your mower and a smaller cutting deck requires comparatively less storage space.
There is a 6-inch length difference between 42" and 48" cutting decks, but you should have enough free space while putting in and pulling out of the storage.
Since 42" decks come with 2 blades and 48" decks contain 3 blades, a 48-inch deck will cover a larger area quicker than a 42-inch deck with a similar 21 HP.
Generally, an average 42-inch deck can finish mowing 1.5 up to 2 Acres within 2.5 to 3 hours, and a 48-inch deck will take only half an hour to cover the same area.
6- Mobility:
If your yard features sharp corners and tight curves, then you will need a mower or tractor with a zero-turning radius and a smaller deck size to reach out those tiny pockets during turning.
For mowers with zero turning radius, a 42-inch deck will be more suitable than the 48-inch due to its 6-inch length difference.
Also, a 42" will be better than a 48" to offer more comfortable steering and maneuverability for lawns with tight corners.
Related Post: John Deere 54-Inch Mower Deck Belt Diagram Described
What Deck Size Is Right for Your Lawn or Yard?
The following chart will help you to determine the correct deck size for your lawn:
| | | |
| --- | --- | --- |
| Yard Size | Required Mower Type | Required Deck Width |
| Less than 1 Acre | Self-Propelled walk-behind type or Push Mower | (18 –36) inches |
| 1 up to 2.5 Acre | Zero-turn or Riding lawn mower | (40 – 46) inches |
| 3 up to 4 Acre | Riding or Zero-turn mower | (48 – 54) inches |
| 5 up to 10 Acre | Zero-turn lawn mower | (60 – 72) inches |
Which One Should I Get Between 42 vs. 48 Inch Mower Deck?
The short answer is, if you have a 1/2 or up 1.5 Acre yard, you should choose a 42-inch mower deck. If the yard size is more than that or up to 3 Acres, choose a 48-inch deck.
Yet some major aspects that can influence the final decision-
For instance, a bigger cutting deck size means faster cutting and can easily cover most areas at once. But available at a higher price range and require a larger storage area.
On the contrary, a slightly smaller deck size (42") will be slower and take longer to finish the job. It can even fail to cut/trim down thicker and longer grass evenly.
In that case, a bit bigger deck size (48") will be better.
However, a smaller deck size offers better steering and mobility. It tends to go deeper to reach each nook and corner of sloppy or over-mounded lawn areas. Even smaller deck sizes are easier to control and maintain.
Thus take your time to consider all the aspects carefully and decide.
Related Post: Craftsman 42 Inch Mower Deck Diagram and Locations
Frequently Asked Questions (FAQs):
Bigger or Smaller Deck- Which One Cuts Better?
Based on a test study report done by Agricultural and Food Chemistry, larger mower decks that are at least 21" width cut better and deeper.
Which one is better: Front Mount or Belly Mount Decks?
Front mount mowers are better due to their excellent maneuverability, ability to mow smoothly into wet spots, easier operation, and hassle-free maintenance.
What Deck Size Do You Need for Cutting or Trimming 3 Acre Lawn?
Between 48"-54" will be ideal for mowing a 3 Acre yard or lawn.
Related Posts: