John Deere Vs Scag: Which Is The Best Value?
Both John Deere and Scag Power Equipment are leaders in the lawn and garden care equipment business They offer some of the most high-end, robust, and dependable mowers on the market.
But if you must choose between John Deere and Scag, which one would give you the most value for your buck?
To find the correct answer, compare the shared features of John Deere & Scag mowers, such as:
Engine Capacity and Performance
Cutting Quality
Control and Maneuverability
Affordability
Durability, Reliability, and Comfort
Rather than becoming confused between John Deere vs Scag, explore their broad shared characteristics before deciding which is perfect for you.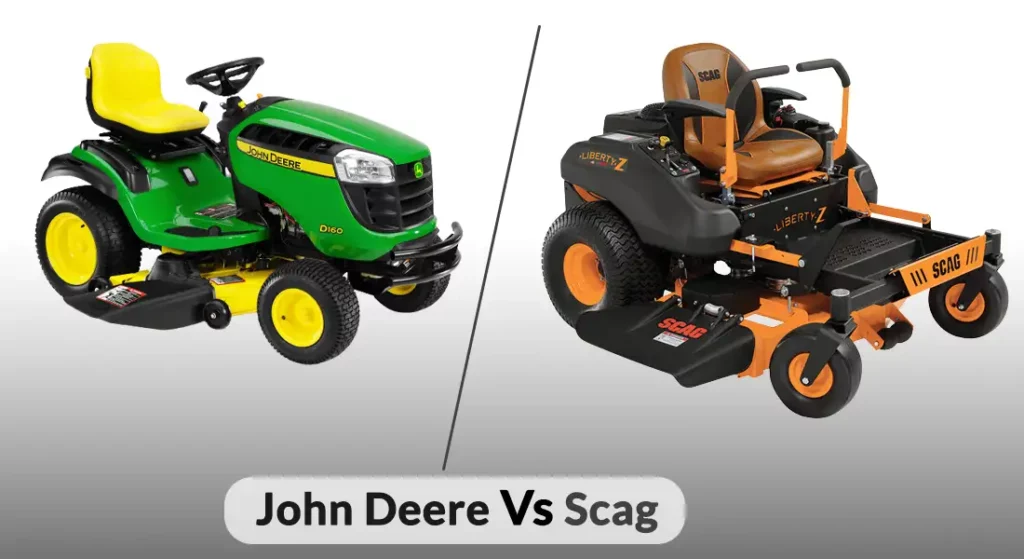 Quick Company Overviews
John Deere:
Mr. John Deere, a Vermont blacksmith, founded the John Deere Company in 1830. He discovered a broken steel sawblade and molded it into a one-of-a-kind success that he used to start a business and refine the product.
He produced a superb steel plow in 1837 that was an instant commercial success, and his firm was prospering by 1849.
With over 180 years of pioneering success, John Deere is now a driving force in the world. Read more about John Deere.
Scag:
Scag Power Equipment, also known as SCAG, is one of America's largest commercial mower manufacturers. Scag was created in 1983 as a subsidiary part of Metalcraft Of Mayville Inc. (MOM) in Mayville, Wisconsin.
After its acquisition by Metalcraft, Scag improved its three-wheel riding mowers in 1985. SCAG introduced and released its first walk-behind mower in 1986. Scag introduced the first Hydro walk-behind mower in 1989, complete with dual motors and two pumps. Learn more about SCAG.
What Are the Differences Between John Deere vs Scag Mowers?
Check out the complete comparison between John Deere and Scag based on their shared attributes_
1. John Deere Vs Scag Engine Capacity & Performance:
John Deere uses both its own developed and engines from popular brands such as Kawasaki or Briggs & Stratton to power its products. Each John Deere mower or tractor type has a distinct powerful engine model.
For example, John Deere® S100 models are either powered by (17.5-19) HP single cylinder, 22 HP V-twin, or 24 HP V-twin ELS, while John Deere® X500 models are either powered by iTorque™ Power engines with 24 HP or EFI gas and diesel engines with 25.5 HP.
John Deere has equipped these engines with advanced Electronic Fuel Management™ and 5-Step Cyclonic Debris Management systems for superior protection, easier starting, and longer engine life. These engines are intended to keep dirt and debris out of the JD Tractor engine.
Scag powers most of its mowers with:
However, Scag fuel-based mowers like the V-Ride II™ Stand-on,Turf Tiger II™ Zero-Turn, orSFC21 Walk Behind models are powered by:
Kawasaki® DFI,
Kubota®3-cylinder Diesel, or
Kohler®Command Pro-EFI engines.
Most SCAG mowers are equipped with engines that offer 16 to 25 HP. But some premium models, such as the Cheetah II™ ZT riding mower feature an air-cooled engine that offer up to 37 HP.
Scag also assures that these engines can reach speeds of up to 8 MPH, whilst John Deere can only reach 7.2 MPH.
Scag models tend to have more powerful engines and higher speeds than John Deere models.
2. John Deere Vs Scag Cutting Performance:
John Deere creates each series model with a unique cutting system, such as:
John Deere®S100 tractor models feature Edge™Mower Deck and STARLOCK™ blade design for superior mowing performance, convenience, and reliability.
John Deere®200, X300®, and X500® series models feature an Accel Deep™Mower Deck and optional Mulch Control™ kit compatible flat-top design to ensure clipping dispersion even at faster mowing speeds or in tall grass.
John Deere®Z700 ZTrak™ Zero-turn models either feature a High-capacity PRO deep-deck design with robust, 9-gauge steel welded reinforcement or a 7-Iron™ II Mower deck made from a single piece of 7-gauge steel.
JD decks also have an Anti-scalp wheel for increased strength and protection. Deck sizes range from 30 to 72 inches.
On the contrary, all Scag mowers are designed with Velocity Plus™ Cutter Deck technology, which features:
3 blades,
Rigid Tri-Plate deck Top design, and
7 strategic Anti-scalp rollers to match the standards of most experts.
Even at higher ground speeds, the Scag® deck provides high-velocity discharge and a well-groomed cut.
The Velocity Plus™ also enables high-velocity discharge and precision cutting.
You can even adjust the deck for increased productivity and performance due to its Front Baffle System.
Scag provides cutting widths of 48, 52, 61, and 72 inches.
The sturdy cutter blade spindles of Scag ensure long-lasting performance, and the removable trim-side wear pad protects the mower deck.
Even the newly released SCAG Walk-behind model ensures the ultimate final cut with its fine-tuned simple height adjuster feature.
Both offer precise and creative cutting systems for effective cutting performance.
Related Post: Scag vs. Toro Zero-Turn Mowers: 5 Key Differences
3. John Deere Vs Scag Overall Control & Maneuverability:
Most John Deere models have an ergonomic steering wheel with tension settings that may be adjusted for better control.
Their larger and more expensive models, like the X739® Signature, include both full-time (4WD) four-wheel drive as well as four-wheel power steering for enhanced agility and simple trimming.
Their ComfortGlide™ suspension system combined with an Adjustable mechanical suspension seat ensures a smooth ride while increasing control and stability.
John Deere mower and lawn tractor models also have a turning radius of (18 to 21) inches or (45.7-53.3) cm to ensure good mobility.
On the other hand, SCAG Cheetah™ Suspension is a smart, simple, and spacious system with an adjustable seat, armrests, and Quick-Fit™ control levers that eliminate quality-of-cut issues.
SCAG suspension surpasses "cushioned" caster forks and has fewer pivot points thanks to only three moving parts: a shock absorber, coil spring, and anti-sway bar.
Scag mowers feature five suspension settings that allow the operator to tune the ride from strong to moderate. This change is straightforward to make while sitting.
Scag tires are also engineered to give excellent grip and handling in a variety of terrains. All Scag models have a zero turning radius for best mobility.
But if you compare John Deere offers slightly better control and improved maneuverability over Scag mowers in some situations.
4. John Deere Vs Scag Durability & Reliability:
John Deere is known for its advanced engine technology, such as:
iTorque ™ power system,
Accel™ Deep mower deck,
Edge™ Cutting System,
Electronic™ Fuel Management, and
5-Step Cyclonic™ Debris Management
These ensure their long-term endurance while also allowing for higher cutting rates and better material flow.
Similarly, Scag mowers also come with several advanced technologies, such as:
Tiger Eye™Advanced Monitoring System,
Velocity Plus™Cutter Deck,
Cheetah™ Operator Suspension System, and
Hurricane Plus™ Mulch System to prove their endurance capacity and reliability.
Scag mowers are not only long-lasting and dependable, but they are also among the least-maintenance lawn tools made in the United States.
However, JD mowers are known for being the most dependable and long-lasting.
John Deere Vs Scag: Pricing Comparison
| | | | |
| --- | --- | --- | --- |
| John Deere | Price | SCAG | Price |
| S240®Lawn Tractor | ($3,699 – $3,399) | SFC-21® Walk-Behind | ($1,708 – $1,967) |
| X350®Lawn Tractor | ($3,999 – $4,599) | Liberty® Z Riding Mower | ($5,554 – $6,792) |
| X570®Lawn Tractor | ($7,799 – $8,099) | SWZ Hydro-Drive® walk-behind | ($7,749 – $10,799) |
| ZTrak™ Z994R | Zero-Turn | ($9,599 – $24,500) | V-Ride II™ Stand-On | ($9,499 – $13,349) |
| X739®Signature Lawn Tractor | ($14,669 – $16,469) | Turf Tiger II™Zero-Turn | ($16,199 – $23,999) |
John Deere Vs Scag – Which Is Right for You?
Remember that which mower brand is best for you is highly dependent on your needs, tastes, and financial range.
However, some general tips based on the comparison of John Deere and Scag may help you make a more informed decision_
In general, JD mowers last longer than most. So, if you want to upgrade, you might receive a better price for your old Deere. This greatly reduces the expense of acquiring a new mower.
Contrarily, Scag mowers are generally expensive in nature. But they give faster speed and longevity, which allows jobs in open regions to be finished faster and at a lower cost.
SCAG even included newer parts like the shaft over drive belts and roller, making them more durable.
Scag mowers often provide better traction and stability since they let you customize according to your specific needs, while John Deere provides a limited set of customization options for their tractors and mowers.
In short, there's no clear winner, and it completely depends on the consumers' choices and needs.
Related Post: John Deere 54-Inch Mower Deck Belt Diagram Described
John Deere vs Scag – FAQs
Are any John Deere tractors built in the United States?
Yes. That's one of their manufacturing locations where most production took place and the other one is in Germany.
Do Scag mowers retain their worth?
Yes, Scag mowers have a greater-than-average resale value.
Who makes the engines for John Deere?
Deere & Company's subsidiary John Deere Power Systems makes all engines for them.
Can Scag mowers be used on hills?
Yes, the Hydro-Drive system feature of Scag mowers allows them to be used on hills.
Related Posts: