Who Makes Huskee Mowers? Detailed Brand Information
Mowing your lawn can improve its appearance by creating a well-manicured and neat look. And when it's with the Huskee ones, lawning only gets better.
But who makes Huskee mowers? Huskee mowers are manufactured and sold by MTD Products Inc. For more than 90 years, it has grown to become a global leader in the outdoor power equipment industry.
That's just the beginning of your broader investigation into this mower. Let's get into the article for detailed information!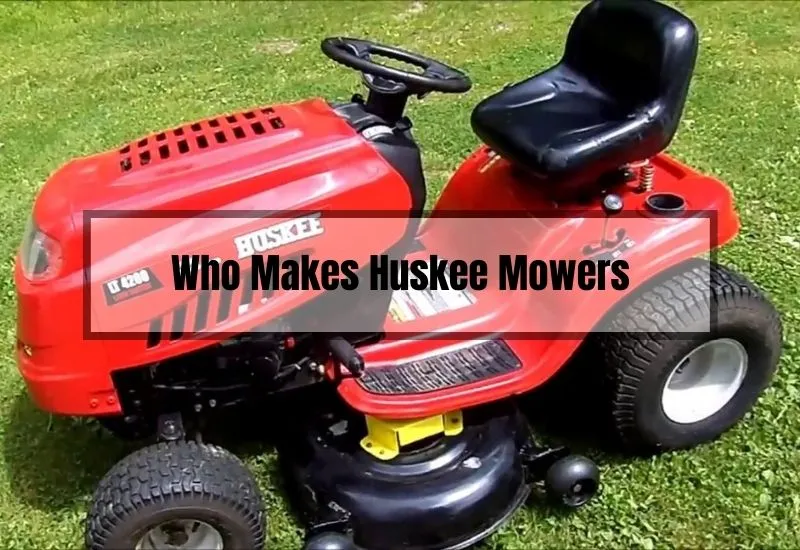 Who Makes Huskee Mowers?
Overview:
Company name- Huskee. Co
Manufacturer- MTD Holdings Inc.
Established- 1932
Origin- USA
Huskee mowers are a line of lawn tractors and push mowers manufactured by MTD Products Inc. under the Huskee brand name. These mowers are designed for homeowners who are looking for an affordable, and easy-to-use option for maintaining their lawn.
The MTD Inc. is primarily known for lawn tractors, walk-behind mowers, snow throwers, and other outdoor machinery among the most well-known categories.
Apart from Huskee mowers, all their well- known land equipment are sold in a variety of retail stores, including Tractor Supply Company and other regional retailers. It helps make them widely available across the United States.
About MTD Holdings Inc.
Founded in 1932, MTD Products is a well-known American manufacturer of outdoor power equipment. MTD Products Inc. has a global presence and sells its products in more than 160 countries around the world.
Earlier, it was a whole-packed family-owned company of Theo Moll, Emil Jochum and Erwin Gerhard. But after the acquisition in 2021, it became a public one throughout the United States.
MTD Products Inc. is committed to sustainability and has implemented several initiatives to reduce its environmental impact. It supports several community and philanthropic organizations, including the American Red Cross and the United Way.
What Type of Mower Does Huskee Sell?
Huskee operates several manufacturing facilities in North America, Europe, and Asia, and has a strong commitment to innovation and product development. And one of their most effective strategies is their high- end and large category of mowers.
Following are some types of Mowers Huskee mostly offers:
1. Riding Mowers
Huskee riding mowers are designed for homeowners with large lawns or gardens. They come in various sizes and feature powerful engines, comfortable seating, and easy-to-use controls. It includes both rear-engine and front-engine riding mowers.
Huskee LT4600 Riding Mower-Hood-USED is one of the best riding mowers of Huskee if you're looking for it.
2. Zero-turn Mowers
Huskee zero-turn mowers are ideal for homeowners who want precise control and maneuverability when mowing around obstacles. For example- trees, flower beds, or garden beds.
These mowers feature a pivoting front axle and a zero-turn radius, allowing them to turn on a dime. Huskee 54″ 24 HP Briggs & Stratton Zero-Turn is one of its examples.
Related Post: Top 7 Worst Zero Turn Mowers to Avoid in 2023
3. Self-propelled Mowers
Huskee self-propelled mowers are designed to make mowing easier and less strenuous. They feature a rear-wheel drive system that propels the mower forward, reducing the effort required to push the mower.
One of the examples of the best self-propelled mower is the Huskee 21″ 3-in-1 Self-Propelled Lawn Mower.
4. Push Mowers
Huskee push mowers are a more traditional option for homeowners with small to medium-sized lawns. They are lightweight and easy to maneuver, and are available in both gas and electric models.
To call for the most well-known, Huskee 21″ 2-in-1 Push Lawn Mower is their best one.
Overall, Huskee offers a variety of lawn mowers to suit the needs and preferences of different homeowners, whether they have a large or small lawn, prefer a riding or push mower, or require additional features such as self-propulsion or zero-turn capability.
Related Post: Best Push Mowers with Honda Engines in 2023
What is the Warranty Period of Huskee Mowers?
The warranty on Huskee mowers varies depending on the model and the retailer. However, the most common warranty offered by Huskee is a two-year limited warranty. This warranty covers defects in materials and workmanship under normal use and maintenance.
Under the terms of the warranty, if a defect is discovered within the warranty period, Huskee will repair or replace the defective part or mower free of charge. However, the warranty does not cover normal wear and tear, damage caused by misuse or neglect.
To claim warranty service, the customer must present proof of purchase and a description of the problem to an authorized Huskee dealer or service center. Any repairs or replacements made under warranty will not extend the warranty period beyond the original two years.
Huskee Vs. John Deere Vs. Husqvarna: Which Mower is Best for You?
Huskee, John Deere, and Husqvarna are all well-known brands in the lawn mower industry, and each offers a variety of models with different features and capabilities. Here are some general comparisons between these brands:
Huskee: Huskee mowers are typically priced in the mid-range and are often sold through retailers. They offer a range of models for homeowners with small to medium-sized lawns.
Their models include push mowers, self-propelled mowers, and zero-turn mowers. Huskee mowers are known for being reliable and easy to use.
John Deere: John Deere is a well-known brand in the lawn mower industry, offering a range of high-quality models for homeowners and commercial users. Their mowers are often priced in the higher range and are known for their durability and performance.
John Deere mowers are typically sold through dealerships and are available in a variety of styles, including push mowers, self-propelled mowers, and zero-turn mowers.
Husqvarna: Husqvarna is another popular brand in the lawn mower industry, offering a range of models for homeowners and commercial users. Their mowers are known for their innovative features and high-quality construction.
Husqvarna mowers are often priced in the mid to high range and are sold through dealerships and retailers.
In general, the choice between these brands will depend on one's specific needs and preferences. So, it is important to compare the specific models and features offered by each brand to determine which one best fits your needs.
Is Huskee a Good Choice for Mowers?
Huskee mowers offer a great combination of affordability, durability, and performance, making them a popular choice among homeowners. They offer a range of features that can vary depending on the model and type of mower.
1. Versatility
Huskee mowers come in a variety of models, including riding mowers and push mowers, with different cutting widths and engine sizes to suit different lawn sizes and terrains.
Additionally, they often offer multiple cutting height options, which can be adjusted easily to suit the user's preferences and the length of the grass.
2. Durability
Huskee mowers are built with durable materials and components, such as heavy-duty steel decks and cast-iron front axles, to ensure long-lasting performance and reliability.
They are designed with ergonomics in mind, featuring comfortable grips and easy-to-use controls for a more comfortable and efficient mowing experience.
3. Mulching and Bagging Capabilities
Many Huskee mowers offer options for mulching or bagging grass clippings, providing users with flexibility and convenience when it comes to lawn maintenance.
4. Self-propelled Options
Many Huskee mowers offer self-propelled options, which make it easier to navigate uneven terrain and tackle hills and slopes with less effort.
Not to mention, Huskee mowers are priced competitively compared to other brands, making them an affordable option for homeowners who want a reliable mower without breaking the bank.
How Often Should I Service my Huskee Mower?
It is recommended to change the oil in your Huskee mower after every 50 hours of use or once a season, whichever comes first. Be sure to use the type of oil recommended by the manufacturer.
Moreover, It is important to consult the owner's manual for specific recommendations on servicing your Huskee mower. The frequency of maintenance can vary depending on the model and usage.
How Do I Troubleshoot Problems with My Huskee Mower?
The first thing you should do when experiencing problems with your Huskee mower is to check the fuel level. Make sure that there is enough fuel in the tank to operate the mower. If the tank is empty or low, add enough fuel to start the mower.
Otherwise, if your Huskee mower has an electric starter, the battery could be the cause of the problem. Check the battery voltage with a multimeter and ensure it has enough power to start the engine. If the battery is low, charge it or replace it with a new one.
In case of air filter, a dirty or clogged air filter can prevent the engine from starting or cause it to run poorly. You can remove the air filter and clean or replace it if necessary.
Frequently Asked Questions (FAQs)
Who makes Huskee Mowers?
MTD Holdings Inc. solely manufactures Huskee mowers.
How do I adjust the cutting height on my Huskee mower?
The cutting height on Huskee mowers can usually be adjusted using a lever or knob located on the deck of the mower.
What is the warranty on Huskee mowers?
Huskee mowers typically come with a two-year limited warranty.
Conclusion
Mowing can actually promote healthy grass growth. So, when you are in need for the best, make sure to know who makes Huskee mowers before you buy one!
Related Posts: