Who Makes John Deere Lawn Mowers?
John Deere is widely known to produce agricultural equipment. With a broader vision, they started their lineup of trusty lawnmowers that are some of the best in the market.
Some believe that the John Deere lawnmowers are built by MTD which is nowhere near the truth. Are you wondering who makes John Deere lawn mowers? Deere and Company manufacture their lawnmowers under the John Deere name.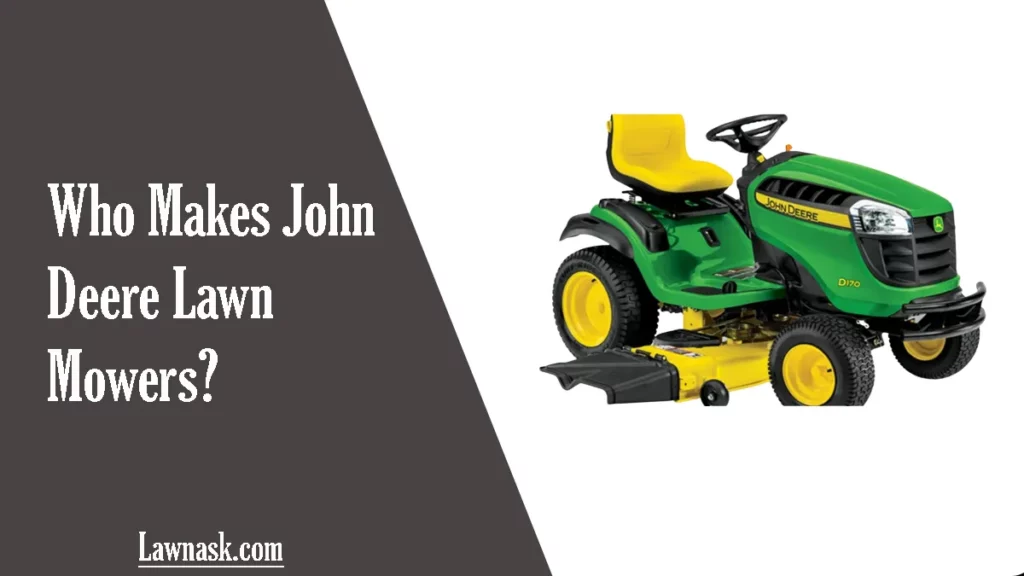 About the Manufacturer – Who Makes John Deere Lawn Mowers
The history and expansion of John Deere's tools and equipment is a fascinating one. The Company was founded in 1837 by the sole owner John Deere and is headquartered at Moline, Illinois.
He started his innovative journey with the introduction of steel plows in 1836. Back then the building material for a plow was cast iron. His steel plow revolutionized farming in the West.
The success of this new steel plow led him to start a farming equipment manufacturing business known as Deere & Company and started to expand its products.
Later they released their first lawn tractor in 1963. The John Deere Model 110 popularized small lawn tractors for residential use. It boasted a front-mounted, Kohler single-cylinder air-cooled engine.
From there it just went uphill. John Deere lawn mowers are now recognized as one of the most durable and reliable ones out there.
Let's look at the innovative milestones of John Deere lawn mower production:
| | | |
| --- | --- | --- |
| Year | Initiatives | Description |
| 1963 | The Model 110 | Compact, versatile, four-wheeler |
| 1966 | Model 60 | Hydrostatic Transmission |
| 1983 | F1145 | Commercial Front Mowers |
| 1987 | Model 430 | Diesel Tractor |
| 1997 | John Deere Sabre | Attachments |
| 2001 | Z-Trak Series | Zero-Turn Capability |
| 2006 | Mulching | Accel DeepTM Mower Deck |
| 2013 | New Oil System | Easy Change 30-second Oil Changing |
Where are John Deere Lawn Mowers Made?
John Deere lawnmowers are mainly manufactured inside the United States. They have 4 plants in strategic places in different states to cope with the production of these mowers.
These locations include:
Horicon, Wisconsin: This is the largest residential lawn mower production house they own. They manufacture lawn and garden equipment along with utility vehicles, and some turf reel mowers and mower decks.
Fuquay-Varina, North Carolina: The main focus of this production house is commercial golf or turf mowers. But they also manufacture push lawnmowers.
Greeneville, Tennessee: John Deere manufactures the largest quantity of lawn tractors at this plant. They also produce zero-turn mowers and attachments here.
Augusta, Georgia: This factory mostly produces small tractors.
The Greenville, Tennessee plant is close to a small MTD fabricating plant. Because of this, some people think that the MTD plant is what manufactures these John Deere lawnmowers.
But the truth is these are completely different companies. John Deere uses some components from Tuff Torq Transmissions and Kawasaki but builds them in their factories.
What Types of Lawn Mowers Does John Deere Produce?
Whether you need a compact tractor for small lawns or a commercial mower for your business, John Deere has you covered. Their signature yellow and green color combination symbolizes agriculture and lawn care.
These are the lawn mower options available from John Deere
Lawn Tractors
John Deere lawn tractors are a staple of excellence in compact tractor making. These tractors have hydrostatic transmission and are very reliable.
For homeowners with relatively large lawns, nothing can beat the John Deere lawn tractors for effective lawn keeping.
Some models are:
100 series: S100, S120, S140.
200 series: S220, S240 42".
X500 Select: X570 48", X590 54".
X700 Signature: X730, X750, X758.
Zero-Turn Mowers
John Deere Residential Zero-Turn mowers are great for large properties. You can easily maneuver around any obstacles with its zero-degree turn radius.
They include the Accel DeepTM mower deck for precise cutting. The zero-turn capability heavily reduces mowing time.
Some models are:
Z300 Series: Z370R Electric, Z320R, Z325E.
Z500 Series: Z515E 48", Z545R 48", Z530R 54".
Commercial Mowers
John Deere also produces a wide range of big-league mowers. These include a full line of commercial mowers, golf mowers, and sports turf mowers.
These mowers are designed for businesses and sports turf maintenance.
Some commercial models are:
Z-TrakTM: Z760R, Z950M, Z994R.
QuikTrakTM: 652E 52".
M&R Series: W36M 36"
How Good Are John Deere Lawn Mowers?
John Deere lawnmowers are highly regarded by consumers. Although a bit more expensive than other brands, it will not disappoint in the long run.
Reasons you may want to buy a John Deere lawn mower:
Longevity and Maintenance
In an independent user survey, they found only 22% of John Deere mowers malfunctioned within the first 4 years. This is the lowest number among other manufacturers like Briggs and TTT.
John Deere lawn mowers are built with precision and high-grade materials. They include reinforced decks and durable steel frames.
Their quality control measures ensure a robust build and a greater lifespan for hassle-free lawn mowing.
Versatility and User-Friendly Design
They have a wide range of products to cater to the different needs and yard sizes. Most of their lawnmowers are compatible with a selection of attachments.
The control layout is intuitive and ergonomically designed for a better user experience. These mowers have adjustable cutting heights on the fly which makes a big difference.
If you've never used a ride-on mower from John Deere you are in for a treat.
Innovation and Performance
Over the years of making lawn mowing equipment, Deere and Company have come up with intriguing technologies to improve precision and control over them.
Hydrostatic Transmission, Electronic Fuel Injection, and Accel DeepTm mower decks are some of their innovative ideas. They also incorporate digital dashboards and smart controls.
One of their primary advantage over other manufacturers is the Mulch Control TM feature. This allows users to switch between mulching and discharging just by flipping a small lever.
You will never be able to go back to regular mulching after having a taste of this on-the-fly adjustment.
Best Lawn Mower from John Deere?
John Deere produces great tractors and lawnmowers in a broad price and feature range. You can choose based on your needs such as yard size, mower size, and power.
The best overall lawn mower from John Deere is:
John Deere S140 48" Lawn Tractor
However, there is no absolute best lawn mower. They have different models for different tasks and user preferences.
But if you are looking for one that will get the job done with the least amount of hassle, the S140 Lawn tractor should be your choice. Order here.
About John Deere S140:
22HP V-Twin Engine
Electric PTO, HT, Edge Mower Deck
Comfortable operator station
Standard front bumper
Price: $2799
John Deere Lawn Mower Price List
Here is a list of prices for the different lawn mowers from John Deere:
| | |
| --- | --- |
| John Deere Lawn Mowers | Price Range |
| Lawn Tractors | $2400 – $15029 |
| Zero-Turn Lawn Mowers | $3199 – $11479 |
| Commercial Lawn Mowers | $6649 – $21839 |
For better understand about John Deere, watch this video:
Frequently Asked Questions (FAQs)
Does John Deere make engines for their lawnmowers?
Yes. Sometimes they buy engine parts from other brands but they manufacture them in their warehouse.
Are all John Deere lawnmowers made in the USA?
No. They have manufacturing facilities in other countries as well.
Where can I buy John Deere lawnmowers?
You can purchase John Deere equipment from authorized dealers, online retailers, and the Deere website.