Who Makes Redmax Mowers: The Brand You Can Rely
A well-known manufacturer of lawn mowers, RedMax mowers are renowned for their dependability, effectiveness, and cutting-edge features. When RedMax hit the mower market in the late 1980s, they were certain to offer precise lawn mowers for both residential and commercial uses.
But who exactly manufactures these mowers?
Husqvarna Group is the company that makes RedMax lawn mowers now.
This article will take a thorough look at who makes Redmax mowers, the business, its products, and the reasons why they are a great choice for your lawn-care requirements.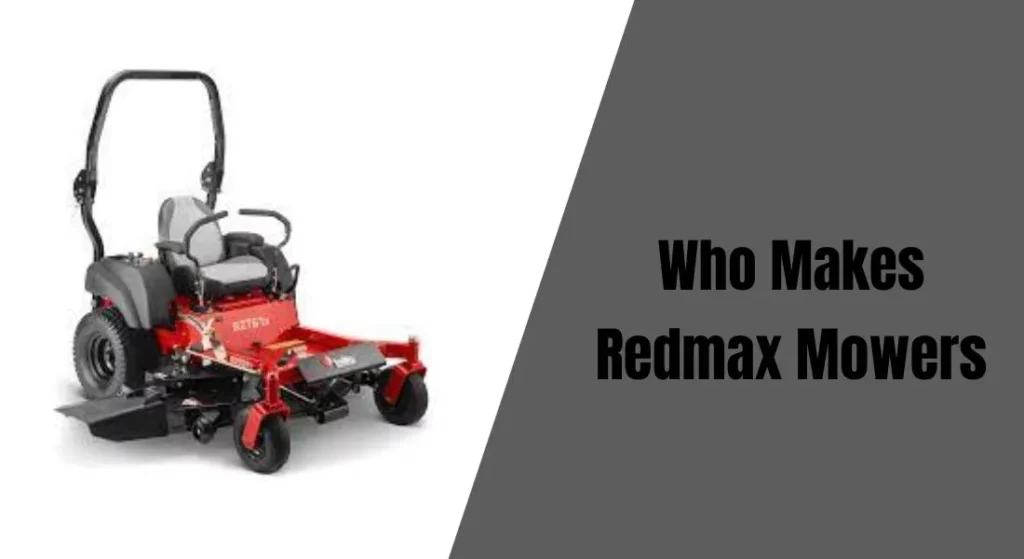 About the Manufacturer – Who Makes Redmax Mowers
It has already been mentioned that Husqvarna Group produces RedMax lawn mowers. So, let's go into the specifics and examine Husqvarna's history and relationship to RedMax lawn mowers.
Early in the 20th century, Husqvarna entered the lawn care business by creating cutting-edge lawn mowers and other garden equipment. The business became well-known and had a solid presence in the industry because of its dedication to quality and ongoing product development.
In 2007, Husqvarna Group acquired RedMax, a prominent company known for its high-quality handheld outdoor power equipment, in a calculated move. With the addition of this product line, Husqvarna was able to better serve a wider spectrum of customers.
Where Are Redmax Mowers Made?
RedMax's parent business, Husqvarna, operates manufacturing facilities across the globe to meet demand from all over the world and to ensure effective distribution.
The majority of RedMax mowers are produced in the US. The Husqvarna Group's production site in Orangeburg, South Carolina, is where RedMax mowers are manufactured.
The Husqvarna Group has made major investments in its American manufacturing capabilities as part of its commitment to American manufacturing.
The Orangeburg factory is home to cutting-edge manufacturing technology and staff members who are committed to making high-quality outdoor power equipment, including RedMax mowers.
What Types of Mowers Does RedMax Produce?
To ensure customers get the best cut more quickly, RedMax offers the highest quality commercial and professional lawn mowers. Here are a few of them:
1. Redmax Riding Lawn Mowers
The larger lawns and homes that benefit from a seated, ride-on mower are the target markets for Redmax riding lawn mowers. For customers who need to cover larger areas, these mowers offer comfort and ease.
RedMax riding lawn mowers include tough designs, strong motors, and effective cutting mechanisms.
Some of the models are:
YT1842 (deck width comes in 42″)
YT2142F (deck width comes in 42″)
YT2348F (deck width comes in 48″)
2. Zero-turn Mowers
RedMax zero-turn mowers are made for commercial use and larger properties. Because of its outstanding agility, operators can easily perform accurate turns and get around obstructions.
RedMax zero-turn mowers are renowned for their quickness, dexterity, and superior cutting abilities.
Some of the models are:
RedMax CZT54+ (deck widths 54″)
RedMax CZT54x (deck widths 54″)
RedMax CZTE60 (deck widths 60″)
3. Stand-on Mowers
RedMax also manufactures stand-on mowers, which are well-liked by commercial landscapers and others who have greater expanses to mow.
RedMax Stand-on Mowers offer an ideal blend of productivity and agility. They have a small footprint, which enables users to maneuver the mower effectively while standing on a platform.
Some of the models are:
RedMax CV48 (deck widths 48″)
RedMax CV54 (deck widths 54″)
What Engines Does RedMax Mower Use?
Exmark mowers are powered by:
Kawasaki
Kohler
Briggs & Stratton
Honda
RedMax chooses engines that are renowned for their longevity and high performance. These engines are designed to resist the demanding requirements of lawn mowing, including continuous operation and exposure to a variety of environmental factors.
The selected engines are made to consume the least amount of fuel possible, allowing for longer mowing sessions between fill-ups.
Furthermore, the RedMax mower's engines have an average lifespan of 500 to 5000 hours or more.
How Good are RedMax Mowers?
RedMax mowers are renowned for their high-quality design, effectiveness, and longevity in the market for outdoor power equipment.
Reasons behind choosing a RedMax mower:
Innovation
RedMax is constantly adding cutting-edge functions and technology to its mowers to improve efficiency and user experience. This contains attributes including comfortable operator platforms, adjustable cutting heights, and ergonomic controls.
Durability
RedMax places a strong emphasis on toughness in their mower designs, utilizing premium materials and parts to resist the demands of frequent use.
RedMax mowers are built to last because of their durable construction, strong frames, and reinforced cutting decks.
Various Options
RedMax offers a variety of mower types and models to satisfy customer preferences, industry standards, and a range of lawn sizes.
Whether it's a domestic homeowner or a commercial landscaper, RedMax wishes to provide suitable solutions for a variety of applications.
Service & Support
RedMax maintains a network of approved dealers and service facilities to guarantee that clients have access to professional support, warranty protection, and authentic replacement parts.
This support system aids in maintaining the functionality of RedMax mowers and resolving any difficulties as soon as they arise.
Cutting-Edge Efficiency
Excellent cutting performance is what RedMax mowers are built to provide. They have powerful engines, effective cutting decks, and sharp blades that enable precise and reliable cutting even through thick or long grass.
What is the Best Product of RedMax Mower?
The ideal RedMax mower model will differ depending on personal preferences, demands, and the particulars of the task at hand.
For professional landscapers and large property owners, the RedMax CZT Elite Series, in particular the CZT Elite 60-inch variant is frequently regarded as one of the best solutions.
This zero-turn mower has outstanding strength, dependability, and cutting ability. It has a vast coverage area and a 60-inch cutting deck, which shortens the mowing process.
RedMax Mowers Price List
Here is the price list for various RedMax mower models:
| | |
| --- | --- |
| RedMax Mower Models | Price range |
| Redmax riding lawn mowers | $4,670.00- $7,060.00 |
| RedMax zero-turn mowers | $$3,499.99- $15,999.00 |
| RedMax Stand-on Mowers | $$4,000.00- $11,499.99 |
Does the RedMax Mower Provide A Warranty?
RedMax warranties usually cover production flaws and workmanship problems for a predetermined amount of time beyond the date of purchase.
The following guarantees are given to you if you are not at fault.
| | |
| --- | --- |
| RedMax Mower Models | Warranty |
| RedMax CZT Commercial Series | 4 Years or 750 hours |
| RedMax RT Residential Series | 10-Year Limited Warranty. |
| RedMax YT Yard Tractor Series | 5-year warranty |
Where to Buy RedMax Lawn Mowers?
The best places to buy an Exmark lawn mower:
RedMax lawnmowers are available from Acro Lawn Equipments for both home and business use, as well as turf maintenance, parts, and repair.
RedMax products receive good servicing from Amarillo Outdoor Power. They are skilled at major repairs, troubleshooting, and preventive maintenance. They also offer several replacement parts to keep your RedMax mowers functioning properly.
Frequently Asked Questions (FAQs)
Are RedMax lawnmowers appropriate for home use?
Yes, RedMax sells a selection of lawn mowers that are suitable for both domestic and commercial use. They offer models for both small and big residential properties, as well as mowers of the highest caliber for use in commercial landscaping.
How frequently should I maintain my RedMax lawnmower?
Maintaining the best possible condition for your RedMax mower requires routine maintenance.
It is advised to keep the maintenance schedule listed in the owner's manual, which ordinarily calls for activities like oil changes, air filter cleaning/replacement, blade sharpening, and general inspections.
Can I use a RedMax mower to mulch?
Yes, a lot of RedMax mowers can mulch. They can effectively mulch grass cuttings because of their mulching blades and deck design.
Mulch encourages healthy grass by assisting in the return of nutrients to the soil.
Can I get a RedMax lawn mower loan?
RedMax mower financing solutions can be accessed through accredited dealerships. It is advised to ask your local RedMax dealer about financing alternatives or to visit their website for additional details.
Where can I buy spare components for my RedMax lawn mower?
Genuine replacement parts for your lawn mower are available via RedMax's network of accredited dealers and service facilities.
RedMax's approved online shops or straight from them are other options for ordering parts.