Who Makes Black Max Mowers? (Details about the Brand)
Black Max have been supplied the gardening and lawn care industries with high-end products for a long time. Professional landscapers should consider investing in this brand due to their dependable engines, sturdy designs, and extensive feature sets.
Black Max mowers from Husqvarna Outdoor Products are high-quality workhorses that can handle a wide range of gardening and maintenance tasks with ease.
Read this article to learn about who makes black max mowers and Black Max Mower's background and what makes their product unique.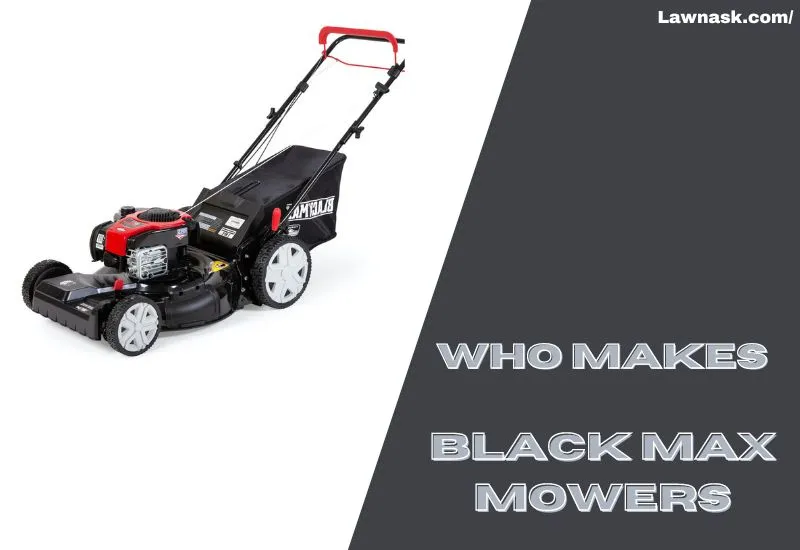 About the Manufacturer – Who Makes Black Max Mowers?
Husqvarna Outdoor Products manufactures Black Max mower which is designed to provide superior performance for a variety of lawn and garden tasks.
Husqvarna has a long history of crafting quality outdoor products, starting in 1620. In 1947, Husqvarna revolutionized the way people cared for their lawns by introducing the first motorized lawnmowers. They have continued to refine and innovate their products, like chainsaws, brush cutters, motorcycles, and mowers.
Husqvarna's Black Max series of mowers exemplify their commitment to providing quality, user-friendly outdoor equipment.
Where are Black Max Mowers Made?
Black Max mowers are made in the USA. They are manufactured in the United States at Husqvarna Consumer Outdoor Products N.A. Inc. factories in Orangeburg, South Carolina, and McRae, Georgia.
Is Black Max Manufactured by Honda or Husqvarna?
People are often puzzled since Husqvarna Outdoor Products makes Black Max lawnmowers but most of them use Honda engines.
They are only powered by Honda engines and utilize Black Max 2-cycle synthetic oil in their internal combustion engines.
There are also some Black Max mowers on the market that are powered by Briggs & Stratton engines.
What Types of Mowers Does Black Max Produce?
There are a few diverse Black Max mower models available. The following is a list of the most popular ones:
21-inch perfect pace mower
Equipped with a Briggs & Stratton engine
Convenient 2-point height adjustment allows easy customization of the cutting height
Takes only 5 minutes or less to assemble right out of the box (starting is easy with the Prime 'N Pull system – just push the priming bulb three times and pull the cord to get the job done)
21-inch self-propelled mower
Equipped with Briggs and Stratton engine
One-Step Starting system ensures easy and reliable operation
Mow N' Stow feature allows you to quickly fold up the mower for easy storage, saving up to 70% of space
The polymax deck ensures a lifetime warranty
Related Post: 5 Snapper Self-Propelled Lawn Mower Problems and Simple Solutions!
21-inch mow n stow gas push mower
Lightweight 160cc Honda GCV engine provides a powerful and quiet performance
ReadyStart starting system ensures a reliable start
3-in-1 cutting deck allows choosing the perfect cut finish for your lawn
The dual-lever height adjustment enables to customize the mower's cutting height
The high-domed steel deck mulches well
22-inch 2-in-1 self-propelled gas mower
Powered by Honda GCV 160 engine
4-point height adjustment and 22-inch cut width make it ideal for larger yards
Front-wheel drive system helps to maneuver lawn with ease
A deck wash port makes it easy to clean the mower's underside
21-inch 2-in-1 gas push mower
Powered by Briggs & Stratton 125cc E450 engine
With three bulb priming pulls, the Prime N Pull Easy Starting function starts this mower easily.
The 11″ high rear wheels provide great maneuverability
Six-position wheel height adjustment allows adjusting the cutting height
What Engines Do Black Max Mower Use?
Honda engines power the efficient and powerful Black Max mower. These engines are known for their fuel efficiency, allowing you to operate longer without refueling.
The recoil rope, improved ignition timing, and mechanical and automatic decompression systems make it one of the easiest to use.
If something goes wrong, Honda has a large network of US dealers and a three-year warranty on all engines.
Some Black Max mowers are powered by Briggs & Stratton engines.
Regardless of the engine you select, you can rest assured that your mower will deliver the performance and efficiency necessary for a flawless lawn
How Good are Black Max Mowers?
Here are some reasons why you should buy a Black max mower:
Easy to Assemble
Black Max mowers require minimal assembly. Just unfold the equipment, load the engine with petrol and oil, adjust the blade height, attach the bagger, and start.
Compact
The folding mechanism makes Black Max lawnmowers compact. You can swiftly mow your grass with their bagging feature.
Adjustable Cutting Heights
Black Max mowers' cutting heights are easy to adjust. The wheels spin with one hand. Deep tire treads allow steady climbing over hills and rocks. Slipping and creating an accident is also reduced by this function.
Budget-friendly
While competing with John Deere and Kubota, Black Max mowers are among the cheapest. These mowers' Honda engines ensure top performance.
Which is The Best-Selling Black Max Mower?
According to the Walmart Black Max Gas Push Mower with Briggs & Stratton Engine got the highest rating. About 3.9 in 5.
Powerful and convenient, the Black Max 21″ Walk Behind Gas Mower with Mow N Stow is an excellent choice. Honda's 160cc GCV engine is extremely lightweight for how much power it delivers, and it's also very quiet. The auto-choke function helps save money on gas.
With the ReadyStart starting technology, you can be sure that your lawnmower will always start, and the 3-in-1 cutting deck gives you flexibility in determining the ideal cut for your grass.
You may modify the cutting height of this mower to suit your demands with the help of the two levers located on the handle. You can depend on a clean, even cut every time because of the high-domed steel deck's improved mulching.
Black Max Mowers Price List
A price list of different models of Black max mower is given below:
| | |
| --- | --- |
| Models | Price |
| 21-inch perfect pace mower | $388.00 |
| 21-inch self-propelled mower | $348.00 |
| 21-inch mow n stow gas push | $329.00 |
| 22-inch 2-in-1 self-propelled gas mower | $297.00 |
| 21-inch 2-in-1 gas push mower | $282.18 |
Does Black Max Mower Provide a Warranty?
Black Max Product is free of defects in material and workmanship, and the Company commits to fix or replace any defective Product free of charge within the following time periods from the date of purchase:
If the Product is used purely for personal, family, or household purposes, the warranty period is two years; 90 days if the Product is utilized for business or commercial purposes.
This warranty is non-transferable and does not cover damage caused by flaws other than defects in materials or workmanship, or damage caused by unreasonable usage, including failing to provide reasonable and necessary maintenance.
Where to Buy Black Max Lawn Mowers?
The best sites to buy Spartan lawnmowers are:
Walmart
From basic to advanced, Walmart has the perfect Black Max mower for your lawn care needs! With prices ranging from $282.18 to $454.00, you'll be able to find the perfect mower for your budget and needs.
eBay
eBay also offers a wide variety of Black max mower models, so you can select the one that's best for your lawn. You may purchase the highest-grade mower for your money with prices ranging from $115.00 to $442.99
Frequently Asked Questions (FAQs)
Who makes Black Max mowers?
Black Max mowers are manufactured by Husqvarna Outdoor Products.
Are Black Max mowers self-propelled?
Yes, some Blackmax mowers are self-propelled, which allows you to mow your lawn with less effort.
Are Black Max mowers easy to assemble?
Yes, Black Max mowers are designed for easy assembly. Most models can be put together in just a few minutes.
What type of blade is used on Blackmax mowers?
Black Max mowers use hardened steel blade that is sharpened and balanced for a smooth cut.
Are replacement parts available for Black Max mowers?
Yes, replacement parts are available for Black Max mowers. You can find them at most home improvement stores and online retailers.
Related Posts: