Who Makes DeWalt Lawn Mowers?
DeWalt is a renowned brand in the market. It's known for its durable, sustainable, strong electronic tools for outdoors and indoors. From screwdrivers to lawnmowers, the company has come a long way. Has it ever occurred to you, who makes DeWalt lawnmowers?
DeWalt makes its own production. However, DeWalt partnered up with MTD and started manufacturing lawnmowers. Yes, the best lawnmower that you can find and are willing to pay extra bucks are a joint production of DeWalt and MTD. In this article, we are going to give you some insights about DeWalt, MTD, and DeWalt lawnmowers.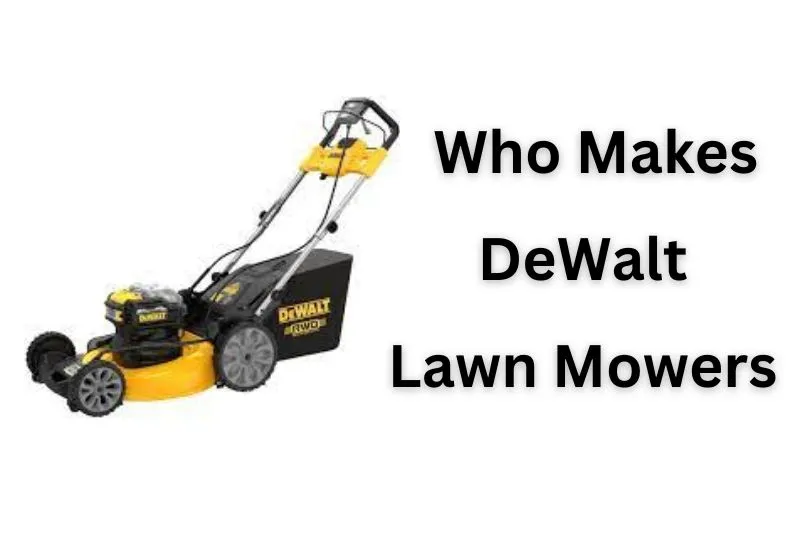 DEWALT Lawn Mowers
DEWALT's lawnmowers are the perfect examples of heavy-duty mowers. The DEWALT mowers are designed to handle 4-10 acres of land with ease, giving a uniform, expert cut in difficult circumstances and across wide tracts of land. These heavy-duty mower components are all built with the expert in mind. The high-force engine provides professional performance while being efficient, and its most powerful gearbox gives an output torque of about 500 ft./lbs.
 A strong tubular steel structure with convenient access ports for frequent maintenance delivers maximum stiffness and durability. Modern tire and caster structure produces a more polished cut, enhances trim features, and ensures a comfortable ride at greater speeds, whilst the extra-wide cutting deck speeds up the operation.
The best anatomical and configurable comfort features including a fully adjustable, automotive-inspired, cushioned high-back comfy seat, a dial-in movable lap bar, as well as a wide feet pan will keep operators safe for extended periods of time. These mowers are intended to withstand the challenges of everyday professional usage and come with the best industry-leading guarantee.
Related Post: What is a PTO on a Lawn Mower?
Who Makes DEWALT Lawn Mowers?
MTD Products Inc. manufactures and sells DEWALT gas OPE via the license from SBD (Stanley Black & Decker). MTD Products Inc. introduced a new range of DEWALT premium gas OPE (outdoor power equipment) at GIE+EXPO. The alliance with GIE+EXPO was announced in December 2019. This series comprises walk-behind as well as hydro-walk lawnmowers, stand-on lawnmowers, and zero-turn riding lawnmowers, increasing the company's array of worksite products and filling a unique market niche.
About DeWalt Inc.
Raymond E. DeWalt, who is the creator of the famous radial arm saw, founded the initial firm in 1923. It flourished swiftly and was reformed and introduced as DeWalt Inc. in 1947. The firm was purchased by American Machine & Foundry Co., Inc. in 1949, and in 1960, it was resold to Decker & Black. In 1992, Decker & Black embarked on a massive rebranding drive to rename their professional-grade and high-efficiency equipment DeWalt.
DeWalt acquired the German woodwork power equipment manufacturer ELU in 1994, and leveraged ELU's tech to extend their tool range. Decker & Black acquired competitor power tool company Porter-Cable in 2004 and merged this one with DeWalt situated in Jackson, Tennessee. DeWalt introduced a series of professional hand tools in 2011. It was extended in 2013 to cover mechanics' equipment. It introduced a variety of cordless lawnmowers in 2018.
History of MTD
Theo Moll, Erwin Gerhard, and Emil Jochum, MTD's initial founders, were entrepreneurs from Germany to generate work for themselves as well as other Americans. They thought that people had an impact and that the company they would develop in MTD must have been a God-given gift.
They emphasized stewardship, honesty, passion, and respect, as well as being worthy managers of the gift that had been bestowed upon them. MTD's legacy is carried on presently by sticking to these key beliefs, generating employment, and inventing creative products to encourage people all around the globe to look for the natural environment.
Types of DEWALT Lawn Mowers
DEWALT offers a variety of lawnmowers depending on your needs and preference. These are:
Gas lawnmower.
Electric lawnmower with no cable.
A gas lawn mower that propels itself.
Electric lawnmower
Trimmer lawn mowers
Zero-turn lawnmowers
Stand-on lawnmowers
Hydro-walk lawnmowers.
Features of DEWALT lawn Mowers
Decrease the mowing time with this branded lawnmower which comes with a service solution as well as maintenance information, direct tech support, parts along with a service dealer locator, and more through product registration.
Beginning with the commercial-grade engine, you can expect consistent, exceptional performance and dependability.
Operators of various sizes may feel at ease on the broad foot pan, which allows them to place their legs comfortably for hard hours and difficult tasks.
Customize your comfort with completely flexible lap bars which can be tuned in for a precise fit.
With different height options and straightforward dial-in deck auto leveling, you may get optimal results with no effort.
With different height options and straightforward dial-in deck auto leveling, you may get optimal results with no effort.
A stronger frame designed for increasingly difficult tasks.
Its automotive-inspired, completely adjustable, carved, and stitched high-back comfortable seat with armrests allow you to relax while working; developed with gardeners in mind, its seating absorbs the shock of the landscape, allowing each drive less unpleasant on the driver.
The front wheels are staggered, which gives higher trim possibilities and improved performance while keeping steady deck control for a neat, crisp cut upon each lawn blade in the first stroke.
Upper structures with rollover prevention bars plus seat belts were built with a focus on safety.
With only an electronic PTO, you can quickly activate the blades to complete the operation at hand.
Power projects and extended workdays are made easier with the gas tank.
Built and designed to endure the demands of professional usage.
You can quickly and effectively gather grass cuttings from the yard. Restore grass cuttings and valuable fertilizers in your yard.
Count on DEWALT blades to achieve an exact and consistent cut quality. DEWALT blades have the design to resist the severe and demanding workloads which your DEWALT lawnmower faces each week.
Pros & Cons of Owning DEWALT Lawn Mowers
DEWALT lawnmowers are one of the best lawnmowers that are available in the market. It is best for a reason. Its quality, durability, and functionality are what make DEWALT lawnmowers loved by every landscaper. 
 Pros of DEWALT lawnmowers
High power with little noise.
Grass collecting bag with a large capacity.
Steel manufacture that is powder coated to avoid corrosion.
Height may be adjusted
  Cons of DEWALT lawnmowers
A little expensive.
The charging of the batteries takes a long time.
DEWALT Mower Warranty
DEWALT's every product comes with a generous warranty period. If you register on their website with the buying information, you'll get up to 3 years of warranty!
Related Post: Gravely vs Kubota: Recognize The 6 Key Differences
Where to buy DEWALT Lawn Mowers?
You can find DEWALT lawnmowers on Amazon, DEWALT official website, or any online or real store where lawnmowers are sold.
Maintenance Tips
If you leave the batteries in place while storing your mower, they will deplete. So, don't leave them
Always remove your lawnmower's mulching kit and remove the bag.
Always have an additional set of batteries on hand.
Common problems with DEWALT Mowers
Low battery life.
The initial setting is a bit tricky for getting the perfect cut.
Clogging problems might arise.
If you forget to remove the mulching attachment, it might decrease the battery life.
 Frequently Asked Questions (FAQs)
Do the mowers come with batteries?
Ans: Yes, they come with batteries.
Are parts of these lawnmowers replaceable if needed?
Conclusion
This article started with a little question, "Who makes DeWalt lawnmowers?" In search of this question, we found out about MTD, MTD, and DeWalt's history, and how these two companies combined and started manufacturing lawnmowers together. The variety and different cutting options with different height adjustment options are what make DEWALT loved by everyone even though it's a little pricy compared to the other companies.
Related Posts: