Know Who Makes Troy- Bilt Mowers in 2023
When you are used to your basic push mower and afraid to buy a new one- the situation seems really confusing, right? To keep you out of this hesitation, the Troy- bilt family is offering the best lawn mowers with rear wheels to give you better traction.
So, who makes Troy- bilt mowers? The well- known American brand MTD owns all the reservations of Troy- bilt mowers. For more detailed information, let's jump together in this article and explore the mowership.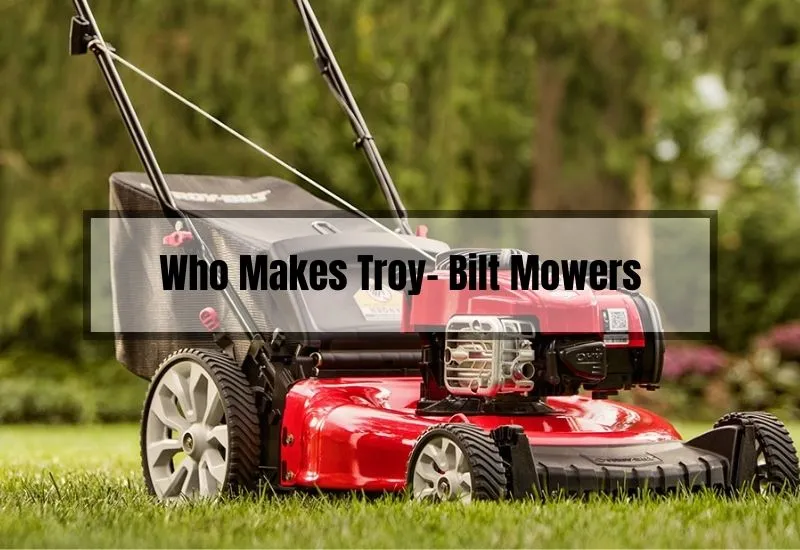 Who Makes Troy- Bilt Mowers?
MTD Holdings, the chief American manufacturing company of lawn maintenance, makes Troy Bilt mowers. Based in Ohio, the company manufactures several types of consumer and commercial ground machinery under the category of the same maintenance.
As for the engines, Troy- bilt produces its own engines under the supervision of the Powermore brand of USA. Recently, the company has signed a joint agreement with a famous Asian brand that assured the customer satisfaction to a better extent.
The CEO Rob has announced to shortly introduce their new OHV engine mowers to cut the budget and strive for a better lawn care.
Related Post: Top 5 Smallest Riding Lawn Mowers in 2023
About MTD Holdings
Founded in 1932, MTD began its journey as a Modern Tool and Die company. Theo Moll, Emil Jochum, and Enwin Gerhard jointly started this company in Cleveland, Ohio.
With nearly 7000 employees, MTD Holdings is now an award winning startup with their main headquarters in Valley city, Ohio, US. It is a subsidiary company of Stanley Back & Decker with 3 types of land maintenance areas-
Lawn Maintenance
Tree Care
Landscape Maintenance
Rob Moll, the present CEO of MTD strives to bring about a greenery change in the world of lawn and Groundskeeping equipment. For more than 90 years, MTD has made its place in Ohio, as well as the greater USA.
Where are Troy- Bilt Mowers Made?
With the 19 horsepower and 541 cc motor, it's quite obvious to guess the manufacturing origin- it is USA indeed. At the initial phase of Troy- bilt, the company used to import their engines from well-known authorities that frequently caused some distractions.
But in the last few years, TB, as the subsidiary of MTD, got together with the divisions like- Wolf- Garten, Bolens, Columbia etc. So, jointly, these Troy- bilt mowers are mostly made at their headquarters in Ohio, USA.
Although separately the walk-behind mowers and Zero-turn mowers are subsequently made in Mississippi and Martin, Tennessee, it is safe to say that their products are in general American-made.
Types of Lawn Mower Troy-Bilt Make
Where renowned brands in America are trying hard to push their mower off with a single or hardly two types of category, Troy- bilt has made its way through 5 categories to serve the customer needs. Following are some best examples of it:
1. Riding Mower
Most of their riding mower collection is 19 horsepower 541 CC motor. One thing to note about it is a full pressure oil system on this mower. What that means is,they have all pumps in there and instead of old times when we had motors in the lawn mower, Troy-bilt offers a new era now.
Additionally, all the intake parts, mostly yellow ones, are removable. So, if you don't like any of the inner parts, you can easily replace it within their warranty period!
2. Push Mower
The 140cc Briggs & Stratton ReadyStart engine is the first thing to look about in this very mower. An additional arrangement of mulch kit helps to maintain a good condition of the lawn, as well as offering a sharp- cut of grass.
A 1.9 bushel rear bag to collect the wastage as the mower goes down provides an extra care to your beautiful lawn. Then again, the 11″ high rear wheels, another beauty of the push mower category adds a note on relying on it undoubtedly.
3. Zero- Turn Mower
This invention is quite new, and quite famous at the same time. The initial advantage one will get in this category is the 2- way adjustable lap bars for driving the mower. This economic feature is adjustable to people of any size.
One more thing that the mower-owners face is that the overall timing is very much hazy sometimes. So, zero-turn mowers offer dual hydrostatic transmission to eliminate that problem. Also, the high-end cushions and foam grip gets one energized even after a long session.
What Kind of Engine Does Troy- Bilt Mowers Use?
In most of their recent mowers, Troy – bilt has used Honda engines as their prior material. For example, Troy-Bilt TB490 XP is seen as one of their most demandable mowers and the CEO Rob ensured that they'll continue building it with  Honda engines.
This engine has great fame in the lawn and groundskeeping industry for its self- propelling usage too. With the Auto Choke system, the engine offers a no choke method to help the owners enjoy a wreck- free journey on the lawn!
Is Troy Bilt a Good Brand Compared to Others in 2023?
Troy- Bilt, Honda and Craftsman– these 3 brands have significant fame in the industry of lawn and groundskeeping continuance. So, it is very important to know the comparable key components between them and choose accordingly. Here's the kicker:
| | | |
| --- | --- | --- |
| Craftsman 37640 | Troy- bilt TB230 | TORO Timecutter MX4225 |
| 1. It is a walk-behind mower with front-wheel drive and long rear wheels. | 1. It is a front-wheel drive self-propelled walk-behind lawn mower. | 1. It is an electric start system mower that is available in wheel drive and walk-behind category. |
| 2. The drive system has variable speed to match it with walking speed. | 2. It offers a front rake feature to help in lifting up the grass. | 2. It offers a blade stop system through which one can turn off the blade and not the motor directly. |
| 3. Its cutting width is 22 inches across. | 3. Its cutting width is 21 inches across and is housed under a steel deck. | 3. Cutting width is nearly 21 inches across. |
| 4. It offers a deck- wash system to wash out the grass clippings. | 4. Troy- bilt also has a deck- wash feature for cleansing. | 4. No deck wash feature in most of the models. |
| 5. Craftsman mowers are generally powered from a 190 cc Briggs and Stratton engine. | 5. Powered from a 190 cc Briggs and Stratton engine that does not need any priming to start. | 5. Toro mower is powered from 190ccBriggs & Stratton Electric self start system. |
| 6. Its pricing ranges between $370 to $380. | 6. Its pricing ranges near $290. | 6. Pricing remains as $9000. |
Is Troy- Bilt Mower Worth Your Expectation?
To find the original features of a lawn mower, is to find the reasons on why you should or should not buy one.
Want to know the best part? Here are some massive features of Troy- bilt mowers to guide through the way:
Solid Metal Axle
Both the front and back axles are independent of the deck which keeps the wheels running straight. It causes less wear on the wheels.
In most cases, one has to bend down to adjust each wheel separately, but at Troy, with the pass- through axles, the owner can get the same thing done in half the time.
Symmetrical Deck Area
For its built- in design, there is no room left for flat areas. This helps to create a vacuum strong enough to let the grass circulate freely without clogging up the whole thing.
Additionally, it creates the perfect airflow pattern delivering finer mulch and nearly eliminating clumping. The deck also extends beyond the wheels on both sides allowing for edge to edge cutting.
The Rake Guard
It has teeth that stand the grass up, allowing it to remain upright and be funneled into the deck for a more even cut. Along with the blade in the deck, the rake guard creates the tri- action cutting system, a Troy- bilt original.
Steel cutting Deck with Twin-blade Design
The mower has a steel cutting deck- design, which is a rockwell 45 hardened steel with thicker ends. So, sometimes with edgers one has to make two passes to get a clear design on the deck.
As with the teeth of the blade, it not only cuts better but it clears out the debris out of the way. So, when the owner would run the edgers a lot, especially when it is wet, this blade would work as a magic.
Reliable Setting
First, on the right side of the mower, there is a high- end controller that helps to control the deck height. Right next to it, there is a PTO lever that engages power to the deck and get the blade spinning.
Ignition, break and clutch are positioned side by side to help the owner control the mower precisely, just sitting on the seat. Their setting and powerful design is way more affordable to pick it as a reliable source to clean your grass!
What is the Warranty Period of Troy- bilt Mowers?
In general, the warranty period of most of the Troy- bilt mowers is 3 years. According to their Limited Lifetime Warranty, one can claim this offer within 3 years of his purchase.
But this warranty does not include any changes which are made from the buyer's part. So, before claiming it, make sure to provide the proof or contact their customer care.
Frequently Asked Questions (FAQs)
Is Troy- bilt a Good Brand?
Yes, with high- steady building quality and reasonable pricing, it sure is a good brand.
Who manufactures Troy- bilt Mowers?
MTD Holdings is the prominent American company that makes the Troy- Bilt mowers.
Does Troy- bilt have Honda Motors?
Troy- bilt TB490 XP model offers Honda motors since last few years.
Who makes Troy- bilt small engine?
MTD consumer group makes Troy- bilt small engines.
Conclusion
At Troy- bilt, the CEO and employees feel the same as a buyer feels for his land. Maybe it's finally time to sit back and make a decision to long for a better lawn!
And whenever you need a suggestion, comment down below for answers!
Related Posts: