Should I Fertilize Before or After Top Dressing? Know the Truth! 
Top dressing is the only way to get your lawn back to healthier than before. Here, you may have confusion about fertilizing the lawn before or after top dressing! To get rid of confusion, I used fertilizer both before and after top dressing on a small area of my lawn. Hence I made the right decision to get my lawn back! So, you don't need to worry. The answer is ready to reach you.
You should fertilize the lawn before top dressing. It will boost the growth of your grass as well as recover the recent problems of your lawn. Fertilizer gives necessary nutrients to the existing soil. Hence, the lawn problem gets solved and the proper nutrients provide for new turf growth and health.
Some experts suggest fertilizing the lawn after top dressing. So, it's a big debate actually. Let's dive into more details to get a clear answer with proper instructions.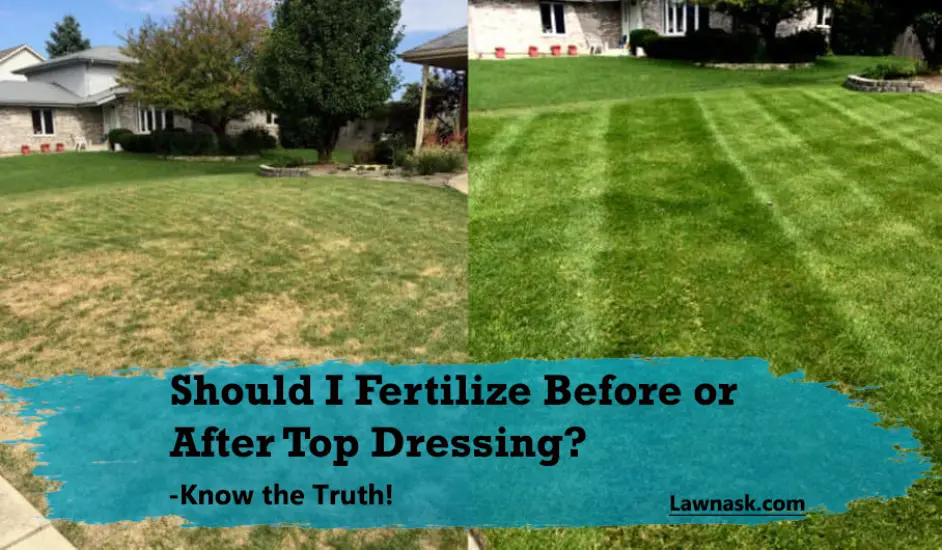 Should I Fertilize Before or After Top Dressing?
Top dressing is a process of adding a topsoil layer or compost to fill bald spots or repair uneven lawns. So, fertilize the lawn for what? Obviously for improving the grass or turf growth and provides extra nutrition to your soil. Although it's an optional way, boosting the growth of grass is quickly done by fertilizing the lawn properly.
If you think of fertilizing the lawn before top dressing then it's an overall good decision. At least, you should use the fertilizer on your for awn at least 2 weeks before topdressing. In my experience, using fertilizer on your lawn before topdressing will benefits as like as follows-
Give the turf enough nutrients to deal with top dressing.
Before topdressing, the uneven lawn will get its proper nutrients back to give the best result.
The dead spot, the bald spot, also starts to recover.
This ensures that your turf properly germinates and has good growth before topdressing
Existing soil gets enough nutrients and organic material.
Reduce the compaction of the soil.
I also took the experience of fertilizing the lawn after topdressing. It's good but not harmful as well. You can also get a good result after topdressing. The nutrients from fertilizer give the grass immediate growth for slow microbial activity.
Once you have to topdress your lawn without fertilizing the lawn, you don't actually need to worry! The top dressing process is enough to give your grass the possible growth and nutrients. So, yeah! Fertilizing the lawn after topdressing is optional.
Related Post: Can I Use Garden Soil for Lawn?
When Should You Top Dress Your Lawn?
The spring season is best for top-dressing your lawn. You can also choose between spring to summer any season for topdressing. But, don't do it in winter. This is the end of the discussion about the best season of top dressing. Now, how to identify that your lawn needs a light topdressing. Well, when you find a bald or dead spot, uneven layers, or grass dying then you should decide to top-dress your lawn as soon as possible. However, the main thing is to provide enough nutrients to get back an even and smoother lawn by topdressing.
Frequently Asked Questions (FAQs):
Should I top dress before or after seeding?
You can top dress before or after seeding. While you have to do lightly topdressing, it's better to overseed after topdressing. Again, if it will heavily top dressing, then overseeding before top dressing is the best.
Should I water lawn after top dressing?
Giving enough moisture to your lawn after the top dressing is essential. You should water the lawn after top dressing and it should continue regularly for at least 2-3weeks.
How often should you top dress your lawn?
One should top dressing the lawn once a year. This will give enough satisfactory results to get the lawn healthier. Frequently topdressing after 2-3 weeks can kill your law. So, make sure to maintain your lawn regularly and topdress while it is necessary. 
Final verdict
The debate will go on! While fertilizing the lawn is optional, you can do it both before or after top dressing. But, fertilizing the lawn before a top dressing is the best way to see your healthier lawn. Reminder! Never frequently topdress your lawn, otherwise, you'll badly kill the lawn immediately. So, topdress your lawn while it is necessary. Hope that you get the right answer which you are looking for. Now, it's time to say goodbye! Will be met to solve another debate in the next article!
Related Posts: