A Complete Guide on Lawn Mower Blade – Everything You Need to Know!
A lawn mower blade is a sharp-edged metal cutting tool mounted on the lawn mower to cut grass and other vegetation in a uniform manner. It is an essential tool to keep your lawn healthy, but you must choose the right blade for your lawn mower to achieve that.
So, what should you look for when selecting a new blade for your mower?
First, grasp what type of lawn & mower model you own. Then consider factors such as engine power capacity, required blade type, size, built-in design & material.
Continue reading the following article to learn everything you need to know about mower blades to make the right decision.
What Type of Blade Do You Need for Your Lawn Mower?
Lawn mower blades are built for specific jobs, which implies that particular mower blades will excel at some chores while failing at others. 
Read all the information below carefully to understand each blade type and choose the best one for your lawn mower.
1. The Standard (Medium Lift) Straight Mower Blades:
Medium-lift or standard straight mower blades are used on lawnmowers that spin horizontally and release debris from the side.
Their small curves & edges help create an uninterrupted flow of air when the blade turns, allowing for accurate cutting.
Benefits:
The gently curved ends aid in suctionCuts through heavy grass patches (including dry and dump terrain) with easeSuitable for all soil types
Drawbacks:
Blocks the chute and limits bag storage spaceCan't cut small clumps, resulting in uneven lawns
2. The Lifting Lawn Mower Blades:
Lifting blades create better air movement and suction for bagging and side discharging.
Low lift: theseare 3-4 inches long and require less energy from the engine, resulting in a longer life span for lawnmowers. Their low suction and low lift features ensure long-term durability and quiet operation.
High lift: allows for maximum airflow and vertical suction, allowing for accurate trimming and a clean, tidy look. They have strong suction force, making them ideal for bagging.
| | | |
| --- | --- | --- |
|   | Benefits | Drawbacks |
| Low Lift Cutting Blades | Ideal for cutting under 3-inch-tall grass, sandy terrains, & stiff grasses like BermudagrassGuarantees effective but quiet mowing | Requires more power to functionUnable to suction dirt into a bag |
| High Lift Cutting Blades | Appropriate for cutting grass over 3-inch tall & flimsy turf-type tall fescueFlawlessly vacuums and storing the remnants | Higher power consumptionsNot ideal for sandy soil conditions.Quickly wears out |
3. The Mulching Blades:
These multi-purpose Mulching Blades chop the grass into smaller bits and expel it back into the ground, a great way to fertilize it while maintaining an attractive finish.
Even their curved surfaces allow for cutting grass and blowing away clippings.
Benefits:
Serves multiple functions at onceHas various curves that allow for precision cuttingEnsures the enrichment of soil
Drawbacks:
Useless for dumping clippings or bagging.Not suitable for mowing dense grassLow suction capacity
4. The Gator (Toothed) Blades:
Gator blades are modified to fertilize soil more effectively.
They are designed to generate maximum suction and pull grass upwards, which allows the mower to cut grass with precision and permits tall grass to be cut into smaller pieces.
Benefits:
Curved teeth easily push the grass upwardIdeal for soil enrichment & mulching leavesIdeal for using in fall & cutting overgrown grass.
Drawbacks:
Not good for sandy terrainEdges quickly get dull
Two other types of blades are quite popular among users these days_
a) The Flat Mower Blades:
These blades are designed to be completely flat and create zero lifting movement during mowing.
Benefits:
Perfect for extremely sandy soil conditions or mowing rigid grass typeSimpler to sharpen than curved blades
Drawbacks:
Not ideal for regular useDoes not perform well on thicker or tougher grasses
b) The Self-Sharpening Mower Blades:
Self-sharpening blades are the newest edition in lawn mower blade types or categories. These blades use patented technology to sharpen themselves.
Benefits:
Require less maintenancesuited to a broader range of grass species
Drawbacks:
Comparably priced to standard blades
How Do You Know What Size of Lawn Mower Blade You Need?
The deck and blade sizes are typically specified as being the same across most riding or lawn mower models.
Thus, the simplest way is to check your mower deck size to determine blade size.
For example, if the lawn mower has a 42" or 46" cutting deck, the blades are normally labeled 42" or 46" tractor blade/similar language.
Otherwise, Check Out The Following 4 Steps To Determine The Right Lawn Mower Blade Size:
Step-1:
To determine the right lawn mower blade, consider factors such as:
The type of grass you have,
The terrain of your yard, &
The size of your mower deck.
Step-2:
Consider the make and model of the lawn mower. Then, compare the current blade to the specifications of your lawn mower or look up the owner's manual for the lawn mower.
Step-3:
Measure the current blade/s to verify that you have the right blade type & size on your mower:
Measure the length diagonally from one cutting tip of the blade to its opposite cutting tip.
Measure the width by calculating the widest and flattest part of the mower blade.
Measure the center hole diameter based on the type of hole your mower blade has.
Measure the center-to-center distance between the side holes on your current blade to find out the thickness.
If your blade has outer holes, measure them accordingly.
Step-4:
After measuring the current blade, compare it with the specifications mentioned in the owner's manual of your lawn mower. If it matches, search for a similar OEM or aftermarket option.
Or, if you find the process hard, consult a professional or manual for guidance.
How to Choose the Right Lawn Mower Blade?
The easiest way is:
Identify the mower model,
Locate the mower deck blade & get the part number,
Look for the OEM replacement option or best alternatives.
Check for a label on your mower to find out the details about the model & parts number.
Generally, you will find such information on a sticker or plaque attached somewhere on your mower, such as on the handlebars, beneath the motor cover, or near the cutting deck.
Selecting a lawn mower blade requires consideration of the following factors:
1. Size of Lawn, Grass & Terrain Types:
A larger lawn may require a bigger blade to cover more ground, while hilly terrain may require a blade with more lift to prevent scalping.
The impact will vary based on terrain types because Self-propelled mowers are ideal for hills and slopes, while low lift or flat blades are better for sandy terrain.
Similarly, different types of grass require different blades.
For example, Bermuda grass requires a sharp blade, while St. Augustine requires a duller one.
So, determine your lawn length, terrain & grass type before sorting out your options.
2. The Type of the Blade:
The blade size & shape should match the size of your mower deck.
In general, a larger blade will produce more power and operate better in dense grass.
Different materials offer different degrees of durability, sharpness, and performance. Steel blades are usually more robust than plastic blades, but they are also heavier.
So, choose a blade that is suitable for your mower's model and type.
3. Engine Power of the Lawn Mower:
Choose a blade that fits the power output of your engine. Because some blades consume more power than others and these specific blades designed for higher horsepower mower engines won't perform well on lower horsepower ones.
4. Frequency of Use & Budget:
The frequency of using a mower helps to determine the level of importance placed on it. This information mainly guides you to decide whether you need a regular, a special, or a high-performance one.
Even the amount of money you are willing to spend will have a great influence on your purchasing decisions.
How Do You Measure A Mower Blade?
If you're new and wondering how to measure your mower blade correctly, don't worry since you can do it in 6 simple steps.
So, just follow the instructions thoroughly_
Step-1: Measuring
First, you need to measure the accurate length of the blade, and to do so, put your lawn mower blade on a flat surface.
Then, get a measurement tape and measure from one cutting tip to another cutting tip diagonally across your blade. Note the length measurement.
Step-2: Type of Center Hole
Next, you need to find out what type of center hole you have on your blade. See whether it's a single circle or not and if it's a single round one, measure the diameter of that hole.

If the hole looks like one of the above stars, a Rectangle, hourglass, Rounded Rectangle, or Double D shape, measure the number of the points that the star has. Or measure the width and length of the rectangle and take note of that measurement.
Step-3: Measure the Center Diameter
Now measure the Center diameter directly across the center hole.
Step-4: Check Similar Outer Hole
Some mower blades contain a series of outer holes in their body too. So, check whether you have similar outer holes on your mower blade or not.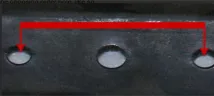 If you have, simply estimate by measuring the center of the outer hole to the center of the opposite hole distance. Take note of the outer hole diameter.
Step-5: Calculation
After that, you need to calculate the widest and flattest portion of the mower blade to determine its width. Remember to measure from the center of your mower blade.
Step-6: Thickness Measuring
Lastly, you need to measure the thickness of your blade and it should be taken at the blade's middle.
How Much Does A Mower Blade Cost?
The actual price of the particular blade will vary depending on the blade type, size, mower model or type, brand of the blade, the current pricing, and the local dealer or retailer rate.
But you can get an overall pricing concept of a lawn mower blade from the below chart:
| | |
| --- | --- |
| Blade Type | On Average Pricing Range |
| Mulching Blade | ($12 up to $31) |
| High-lift Blade | ($12 up to $25) |
| Gator Blade | ($10 up to $30) |
| Low lift Blade | ($15 up to $50) |
| Standard Blade | ($10 up to $30) |
| Flat Blade | ($10 up to $40) |
| Self-sharpening Blade | ($20 up to $80) |
Frequently Asked Questions (FAQs)
Is it possible to switch my lawnmower blade to a mulching blade?
Yes, most standard mower models are compatible to modify them with mulching blades. But verify it by checking your user manual.
Are all lawn mower blades interchangeable?  
No, all blades are universal. So, some of them are not interchangeable.
Can you put any blade on a lawn mower?  
No, you can't do that since mower blades are not universal and they are more like mower model specific.
How long should a mower blade last?
Since most manufacturers suggest changing the mower blades after every 1 to 2 years, they must last one to a couple of years max.
What size bolt holds on the lawn mower blade?  
It varies depending on the mower model or type, and blade type or size, but the standard sizes are 1/2-inch, 3/4-inch, and 5/8-inch.
What are the most popular Lawn Mower Blade brands?  
The top five most popular lawn mower blade brands are:
Maxpower Commercial
Toro Mower
EGO Power+ Lawn Mower
Honda Lawn Mower
Gator Fusion
What is the best material for a mower blade?  
High-carbon, Boron, and Stainless Steels.